Current Affairs 20 January, 2020
Current Affairs 20 January, 2020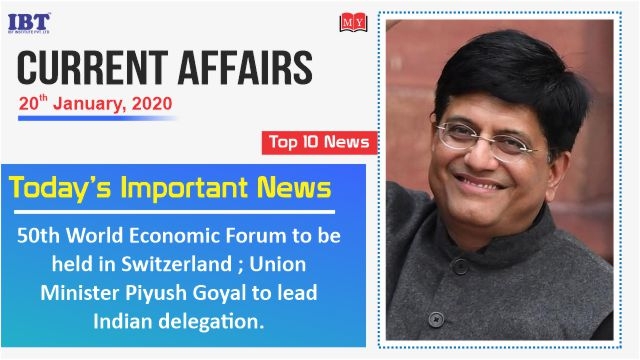 1. Russia to deliver S-400 air defence systems to India by 2025.
Russia said it has started production of S-400 long-range surface-to-air missile systems for India, and all five units will be delivered by 2025. In October 2018, India signed a USD 5 billion deal to buy the air defence missile systems.

Russian Deputy Chief of Mission Roman Babushkin also said that a contract will be finalised shortly for joint production of Kamov lightweight multi-role military helicopters for India.

The Indian Armed forces will receive the first batch of 5,000 Kalashnikov rifles this year as well. These will be produced in India under a joint venture.
Foot Notes:
About Russia
President: Vladimir Putin
Capital: Moscow
Currency: Russian Ruble
2. 50th World Economic Forum to be held in Switzerland; Union Minister Piyush Goyal to lead Indian delegation.
The four day 50th World Economic Forum at Davos in Switzerland will begin on 21 January. 53 heads of state or government from 117 countries are participating in the event.

The theme of this year's WEF is 'Stakeholders for a Cohesive and Sustainable World'. Union Minister for Commerce and Industry Piyush Goyal will lead the Indian delegation.

Among other highlights of the forum is Indian actress Deepika Padukone, who will be given a WEF crystal award for her work on mental health while the US rapper William Adams will be talking about ending gun violence.
3. 9th International Children's Film Festival begins in Kolkata.
The 9th International Children's Film Festival begins in Kolkata with the screening of Aizaz Khan directed Hamid. About 250 films from 45 countries will be screened in the week-long festival.

The National Award winner Children actor, Talha Arsad Rishi will inaugurate the festival.

Besides the screening of films, an exhibition on the children's film festival will also be organised.
4. Kiren Rijiju and Pramod Sawant flag off 'Fit India Cyclothon' in Panaji.
The Fit India Mission under the Ministry of Youth Affairs and Sports organized the inaugural event of 'Fit India Cyclothon' event in Panaji.

The Cyclothon was flagged off by Union Minister of Youth Affairs and Sports Kiren Rijiju and Goa Chief Minister Pramod Sawant from the Campal Parade Ground in the city.

The Cyclothon event witnessed participation by over 500 cycling enthusiasts who came together to cycle through a five-kilometre stretch within the Panaji city.
Foot Notes:
Panaji, also known as Panjim, is the state capital of Goa
About Goa
Chief Minister: Pramod Sawant
Capital: Panaji (Executive Branch)
Governor: Satya Pal Malik

5. Centre appoints Nripendra Misra as chairman of NMML executive council.
Former principal secretary to the Prime Minister, Nripendra Misra, has been appointed chairperson of the executive council of the Nehru Memorial Museum and Library (NMML).

According to a government order, the Executive Council of the NMML has been reconstituted and it will be now chaired by Mr Misra.

Mr Misra is a 1967-batch retired IAS officer. The Nehru Memorial Museum & Library is a museum and library in New Delhi, which aims to preserve and reconstruct the history of the Indian independence movement.
6. Arjun Munda becomes President of suspended AAI.
Union Minister Arjun Munda was elected as President of the suspended Archery Association of India (AAI) in its much-delayed elections.

The elections were held as per the Delhi High Court order.Mr Munda had a smooth sailing as he beat his rival B V P Rao by a margin of 34-18 votes.

A three-time Jharkhand Chief Minister, the 51-year-old Munda is a hugely popular tribal leader who also runs an archery academy which was instrumental in the rise of former world number one Deepika Kumari.
7. Former cricketer Bapu Nadkarni Passes Away.
Former India all-rounder cricketer Bapu Nadkarni, who built an extraordinary career with his parsimonious left-arm spin, has died at the age of 86.

Nadkarni enjoyed a 13-year international career, during which he played 41 Tests and snared 88 wickets.

The legendary cricketer will be best remembered for bowling 21 consecutive maiden overs against England in a Test match in Chennai.

He also served as a member of the National Selection Committee and also as the Joint Honorary Secretary of the Mumbai Cricket Association (MCA).
8. 3rd Edition of North Zone Conference of MIB's of Media Units held in Jammu.
The 3rd edition of North Zone Conference' of Media Units of Information and Broadcasting Ministry, held in Jammu. The Conference is being organised by the Regional Outreach Bureau, Jammu and Kashmir region.
Foot Notes:
About Jammu and Kashmir
Lieutenant Governors: Girish Chandra Murmu.
9. China and Myanmar signed 33 agreements to accelerate BRI.
China and Myanmar signed 33 deals on 18 January 2020. The agreements aimed to speed up key infrastructure projects to provide China a stepping stone to the Indian Ocean.

The agreement was signed after a meeting between President Xi Jinping and State Counsellor Aung San Suu Kyi. Suu Kyi was on a two-day visit to China. He held talks with Xi on the final day of his two-day visit.

The agreements covered areas such as politics, investment, trade, and people-to-people communications for China's flagship Belt and Road Initiative (BRI).
Foot Notes:
About Myanmar
President: Win Myint
State Counsellor: Aung San Suu Kyi
Currency: Kyat
Capital: Naypyidaw
10. DRDO successfully test fired K-4 ballistic missile from an underwater platform.
India has successfully test-fired nuclear-capable K-4 ballistic missile off the coast in Andhra Pradesh on 19 January 2020. The missile was launched from a 3500 kilometer strike range nuclear-capable submarine, underwater platform. The missile was developed by the Defence Research and Development Organisation (DRDO).

K-4 ballistic missile will be equipped on indigenous INS Arihant class nuclear-powered submarines of the Indian Navy. The missile has a range of around 1,500 km.

K-4 missile is one of the two underwater missiles that were being developed by DRDO. DRDO's other underwater missile is the over 700 kilometre strike range BO-5 missile.
Foot Notes:
Headquarters location: New Delhi
Founded: 1958
Motto: बलस्य मूलं विज्ञानम्; "Strength's Origin is in Science" (Sanskrit)
Chairpersons: Satheesh Reddy

Read More:
Current Affairs 18-19 January, 2020
Current Affairs 17 January, 2020
Current Affairs 16 January, 2020