Current Affairs 18-19 January, 2020
Current Affairs 18-19 January, 2020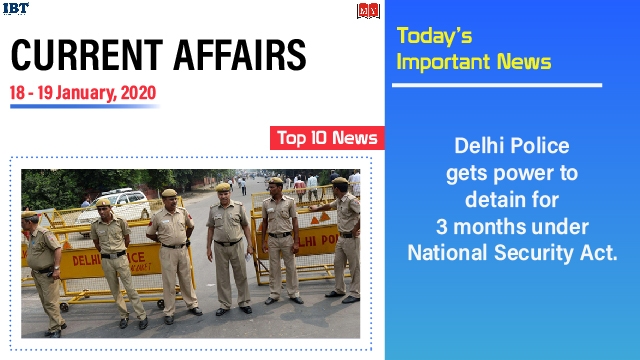 1. Brazil's new US$100 million Antarctic base, built by China.
Brazil has inaugurated a new US$100 million

Antarctic base, built by Chinese company CEIEC to replace a research station destroyed by fire almost seven years ago.

The new 48,375 sq ft facility was bigger and safer, with 17 laboratories, a heliport, and other advances.

Scientists will use the base to study microbiology, glaciers, and climate, among other areas.
Foot Notes:
About Brazil
President: Jair Bolsonaro
Capital: Brasilia
Currency: Brazilian real
2. State of Art Tejas express train between Mumbai-Ahmedabad flagged off.
The state of art- new Tejas Express train between Ahmedabad and Mumbai Central has been flagged off by Gujarat Chief Minister Vijay Rupani at Ahmedabad Railway Station. The train will have stoppages at Nadiad, Vadodara, Bharuch, Surat, Vapi and Borivali en-route to Mumbai Central.

The first train under the private sector has world-class comfort and facilities for passengers. The train operated by IRCTC will run between Ahmedabad and Mumbai on a six days a week- basis except.

The second Tejas Express by IRCTC is being called a 'private' train since its operational

control is entirely under IRCTC, instead of Indian Railways.
3. ICC U-19 World Cup Cricket begins in South Africa.
Indian team, under the captaincy of Priyam Garg, will look to defend the title when it begins its campaign against Sri Lanka at the Oval, Bloemfontein.

India are placed in Group 'A' and will face New Zealand, Sri Lanka and Japan, who will be making their first-ever appearance in any World Cup.

India is the most successful team in the tournament, having won four titles till date, including the last edition in 2018.
4. BoB and Kotak Mahindra Bank exit Equifax Credit Information Services.
State-owned Bank of Baroda (BoB) and Kotak Mahindra Bank has exited from credit information bureau Equifax Credit Information Services for a consideration of Rs 91.03 crore.

In a regulatory filing, BoB sold 1,35,00,000 shares of a face value of Rs 10 for Rs 67.43 per unit.

Kotak Mahindra Bank also existed from Equifax Credit Information Services.

This is part of capital-raising exercise by exiting non-core business.
Foot Notes:
About Kotak Mahindra Bank
Headquarters: Mumbai
CEO: Uday Kotak
About BoB
Headquarters: Alkapuri, Vadodara
Founder: Sayajirao Gaekwad III

5. Harish Salve appointed Queen's Counsel for courts of England & Wales.
Senior Advocate Harish Salve has been appointed the Queen's Counsel for the courts of England and Wales. This was announced by the United Kingdom's Ministry of Justice Department.

The title of Queen's Counsel is usually awarded to lawyers possessing demonstrated skill and expertise in the conduct of advocacy.

Advocate Salve served as a Solicitor General for India until 2002. He is known for representing India before the International Court of Justice in the Kulbhushan Jadhav extradition case.
Foot Notes:
About England
Capital: London
Currency: Pound sterling
6. Winged Raider: Indian Army's largest airborne exercise,500 troops participate.
The Indian Army recently conducted the largest air borne exercise called the Winged Raider. Around 500 troops participated in the exercise. The exercise was conducted in the north-eastern theatre.

The exercise was conducted to demonstrate the operational readiness of the paratroopers and air warriors. The C-130 Hercules, Dhruv Helicopters and C-17 globe master transport aircraft participated in the exercise.

The exercise was telecasted live. It focused on encountering China in the border region. The exercise also included capacity building programmes and habitats. It also focused on moving certain advanced weapon system to the eastern side.
7. Exim Bank to raise up to $3 billion from overseas borrowings in FY21.
The Export-Import Bank of India (Exim Bank) is looking to raise up to $3 billion (about Rs 21,000 crore) from overseas borrowing in next financial year (2020-21).

The bank has raised $1.7 billion (about Rs 11,900 crore) of overseas borrowing through bond issues and foreign loans in the current financial year.

It has also raised $350 million in foreign loans so far in FY20.In terms of geographic distribution, 44 per cent bonds were distributed in Asia, 36 per cent in the US and 20 per cent from EMEA (Europe, Middle East and Africa) region.
Foot Notes:
About Exim Bank
CEO: David Rasquinha
Headquarters: Mumbai
8. First edition of Krishi Manthan begins in Ahmedabad.
In Gujarat, the first edition of Krishi Manthan- the largest Food, Agri-business and Rural Development Summit of Asia organized by Indian Institute of Management, Ahmedabad began.

More than 1,500 delegates including students and academicians are participating in the two-day event organized by the Food and Agribusiness Committee of IIMA.

The students along with working professionals from Food, Agriculture and allied sectors are getting benefited from the workshops during this summit.
9. World Bank & GoI signs MoU for loan of Assam Inland Water Transport Project.
World Bank & GoI signs MoU for loan of $88 million of Assam Inland Water Transport Project. The loan agreement seeks to modernize the Assam's passenger ferry sector by improving the infrastructure and its services.

The government ferries are operated by the Assam Shipping Company (ASC) while the terminals and terminal services are provided by the Assam Ports Company (APC) in the state of Assam.

The $88 million agreement will provide technically better designed terminals and energy-efficient vessels to make the ferry services more efficient, modern and safe mode of river transport system.
Foot Notes:
About World Bank
Headquarters: Washington, D.C., United States
World Bank President: David Robert Malpass
10. Delhi Police gets power to detain for 3 months under National Security Act.
Delhi's Lieutenant Governor Anil Baijal granted Delhi Police Commissioner the power to detain under the National Security Act, 1980 for next three months. The Delhi Police will get emergency detention power with effect from January 19, 2020 till April 18, 2020.

The National Security Act, NSA allows for the preventive detention of an individual or individuals who are seen as threat to the national security or harm law and order. The person detained under the act is not charged by the Police.

Delhi Police detention authority comes amid rising protests in Delhi against the controversial Citizenship Amendment Act (CAA) as well as the National Register of Citizens (NRC).

Read More:
Current Affairs 17 January, 2020
Current Affairs 16 January, 2020
Current Affairs 15 January, 2020