Current Affairs 14 November, 2019
Current Affairs 14 November, 2019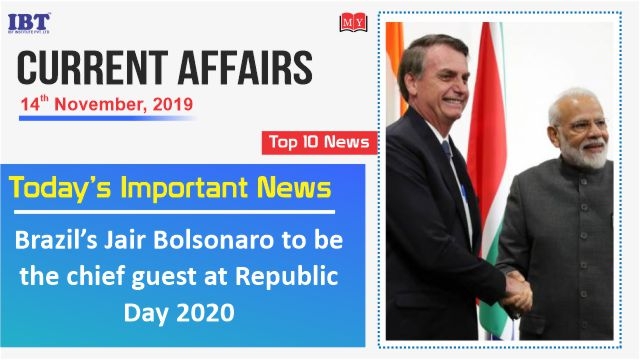 1. Brazil's Jair Bolsonaro to be the chief guest at Republic Day 2020
Brazilian President Jair Bolsonaro has accepted Prime Minister Narendra Modi's invitation to be the Chief Guest at India's Republic Day celebrations in 2020. Prime Minister Modi met Bolsonaro on the sidelines of the 11th BRICS Summit, which is being held in Brasilia.

Former French President François Hollande was the chief guest at the Republic Day celebrations in 2016. In 2017, Crown Prince Mohammed bin Zayed Al Nahyan of United Arab Emirates took part in the Republic Day celebrations as the chief guest.

The year 2018 was historic as leaders of the 10 ASEAN nations attended the event as chief guests. In 2019, South African President Cyril Ramaphosa was in attendance as the chief guest. He was the second South African president, after Nelson Mandela, to attend the grand event as its chief guest.
Foot Notes:
About Brazil
1. President: Jair Bolsonaro
2. Capital: Brasilia
3. Currency: Brazilian real
2. Unilever appoints Nils Andersen as new Chairman
British-Dutch consumer goods company Unilever named non-executive director Nils Andersen as its new chairman to utilise his deep experience across consumer goods and logistics industries.

Andersen will replace Marijn Dekkers, who is standing down after more than three years as chairman, to focus on his responsibilities as founder and chairman of investme

nt and advisory firm Novalis LifeSciences.
Foot Notes:
About Unilever
1. CEO of Unilever: Alan Jope
2. Founded: 2 September 1929.
3. Headquarters: London, United Kingdom(UK)
3. Prakash Javadekar takes charge as Union Minister of Heavy Industries and Public Enterprises
Prakash Javadekar took charge as the Union Minister of Heavy Industries and Public Enterprises. This decision was taken after Shiv Sena leader Arvind Sawant resigned from the Union Cabinet.

Javadekar also holds information & broadcasting, and environment, forest and climate change portfolios.
4. World Diabetes Day is celebrated on 14 November across the world every year.
Theme for diabetes awareness month and World Diabetes Day 2019 is "Family and Diabetes". World Diabetes Day (WDD) was created in 1991 by the International Diabetes Federation (IDF) and the World Health Organization in response to growing concerns about the escalating health threat posed by diabetes.

World Diabetes Day became an official United Nations Day in 2006. It is marked every year on 14 November, the birthday of Sir Frederick Banting, who co-discovered insulin along with Charles Best in 1922.
5. World-famous mathematician Vashishtha Narayan Singh passes away in Patna
World famous mathematician Vashishtha Narayan Singh, who came to be known as India's Einstein, passed away in Patna. Born in Bihar, he was suffering from a prolonged illness from the last 35 years.

Vashishtha Narayan passed away at the age of 74 today at Patna Medical College and Hospital. He was suffering from mental disorder Schizophrenia since he was 40.
About Vashishtha Narayan
1. Born: 2 April 1942, Bihar
2. Died: 14 November 2019
3. Known for: Reproducing kernel Hilbert space

6. Children's Day: Now an App to Report Child Rights Abuse, Assam Govt. Launches Initiative
Since the beginning of 2019, at least 125 complaints have been reported to the Assam State Commission for Protection of Child Right (ASCPCR) — including those concerning child marriage, child trafficking and child sexual abuse. Apart from these, there are many that go unreported.

This Children's Day, November 14, as a remedy, the ASCPCR is launching Sishu Suraksha, a mobile application to lodge complaints on child rights violation, and address them in an appropriate and timely manner.

To file a complaint earlier, one would require to write a formal letter to the ASCPCR head office in Guwahati. Available on iOs and Android platforms, the app can be used by anyone in the state to lodge complaints. The complaints, in turn, will be directly sent to the commission.
Foot Notes:
About Assam
1. Capital: Dispur
2. Chief Minister: Sarbananda Sonowal
7. India-U.S. tri-services exercise Tiger Triumph begins in Visakhapatnam
India-U.S. tri-services amphibious exercise Tiger Triumph got off to a gala. Tiger Triumph will continue for nine days off the Visakhapatnam and Kakinada coasts. The training events will enhance U.S.-India military-to-military relations and hone individual and small-unit skills in humanitarian assistance and disaster response.

The exercise includes staff-planning events as well as field training that simulates moving a humanitarian assistance/disaster relief force from ship to shore.

More than 500 U.S. Marines and sailors and about 1,200 Indian soldiers, sailors and airmen are participating in the exercise
Foot Notes:
About United States
1. President: Donald Trump
2. Capital: Washington, D.C.
3. Currency: United States Dollar
8. FIFA ban three officials including former Peru Football Federation Manuel Burga for life over involvement in corruption
FIFA banned three former top South American football officials for life in connection with a corruption scandal that has shaken world football since 2015.

Former Peru Football Federation Manuel Burga and Argentinian officials Eduardo Deluca and Jose Luis Meiszner took secret payments while allocating marketing and media contracts for regional competitions.

The bans are the latest sanctions linked to revelations in 2015 by US prosecutors of a web of corruption involving millions of dollars in bribes concerning marketing and TV rights for South American football tournaments
Foot Notes:
About FIFA
1. President: Gianni Infantino
2. Headquarters: Zürich, Switzerland
3. Founded at: Paris, France
4. Senior Vice-President: Salman bin Ibrahim Al Khalifa
9. Navy selects Karabi Gogoi as assistant naval attache in India's Moscow Embassy
The Navy has selected Lt. Commander Karabi Gogoi as assistant naval attache at the Moscow Embassy, sources said, making her the second woman defence personnel to be appointed for a diplomatic assignment.

Currently posted as a naval engineer at the Karwar base of the Navy, the officer is also learning Russian and is expected to take up her new assignment in Moscow next month.

Wing Commander Anjali Singh became India's first female military diplomat to be posted in any of the Indian missions abroad. Singh, who is trained on MiG-29 fighter aircraft, is the Deputy Air Attache in the Indian mission in Moscow.
Foot Notes:
About Naval Staff
1. Vice Chief of the Naval Staff: Vice Admiral G. Ashok Kumar
2. Chief of the Naval Staff: Admiral Karambir Singh,
3. Deputy Chief of the Naval Staff : Vice Admiral M. S. Pawar
4. Headquarters location: New Delhi
10. Godrej Locks to Commemorate 3rd Home Safety Day on 15th November
Godrej Locks, a brand synonymous with trust, quality, and safety, will be commemorating 3rd Home Safety Day observed every year on 15 November.

Home Safety Day aims to encourage people to be protected against threats like robberies, burglaries, and thefts. The company is all set to observe this day with newer initiatives to be announced.

In 2018, on Home Safety Day, Godrej Locks unveiled #HarGharSurakshit, India's biggest public awareness campaign to make citizens home safety conscious.

Read More :
Current Affairs 13 November, 2019
Current Affairs 11-12 November, 2019