Current Affairs 11-12 November, 2019
Current Affairs 11-12 November, 2019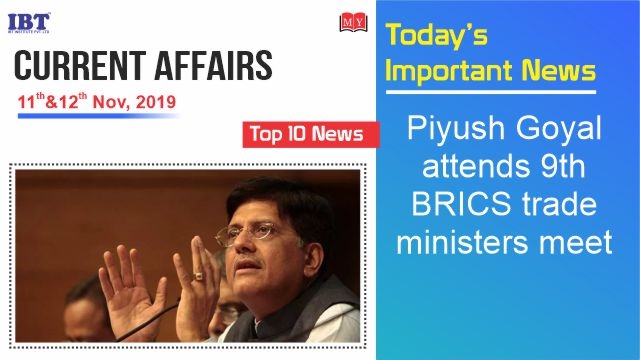 1. India to host Men's Hockey World Cup in 2023
International Hockey Federation (FIH), in Lausanne, has recently selected India to host the 2023 Men's Hockey World Cup.

According to the FIH, the Men's Hockey World Cup will be played in India from January 13 to 29. The format of the 2023 World Cup will be the same as in the previous tournament.

India will thus become the first country to host the Men's Hockey World Cup four times. Earlier in India, this tournament has been organized in 1982, 2010 and 2018.
2. Newly discovered spider species named after Sachin Tendulkar
Dhruv Prajapati, a PhD research scholar in spider taxonomy with the Gujarat Ecological Education & Research (GEER) Foundation, recently discovered two new species of spiders. He named one after Sachin Tendulkar and the other after Saint Kuriakose Elias Chavara, who played an important role in creating awareness about education in Kerala.

He named one spider Marengo sachintendulkar because Sachin happens to be his favourite cricketer and another name is inspired by Saint Kuriakose Elias Chavara who was a crusader in creating awareness about education in Kerala.
3. India wins T20 series against Bangladesh
India defeated Bangladesh by 30 runs in the third and final T20 International match played at Vidarbha Cricket Association Stadium in Nagpur. India won the three-match T20 series by 2-1.

Team India scored 174 runs in 20 overs and gave Bangladesh a target of 175 runs to win. In response, Bangladesh's team could only manage 144 runs for 10 wickets in 19.2 overs.

Deepak Chahar made a unique record of taking six wickets for seven runs. He has become the best bowler in T20 Internationals.
4. Justice AP Sahi sworn-in as Chief Justice of Madras High Court
Justice AP Sahi has recently sworn-in as the Chief Justice of the Madras High Court. Tamil Nadu Governor Banwarilal Purohit administered the oath of office to the Chief Justice.

Justice AP Sahi practised in Allahabad High Court to gather expertise in constitutional and civil matters.

In 2004, he was elevated as an Additional Judge of the Allahabad Court. He became permanent Chief Justice of Allahabad High Court in 2005.
5. Iran has discovered an oil field with an estimated 53 billion barrels of crude
Iran has claimed to have discovered a large oilfield. This oilfield, found in the southern province of Iran, is estimated to have about 53 million barrels of crude oil.

Iran's oil reserves will increase by one-third after this discovery. Employees of Iran's oil industry have discovered this large oilfield.

According to the reports, this 80-meter deep oilfield is spread over 200 kilometres from Iran's Khuzestan border with Iraq to the city of Omidia.

6. Socialists win election but no majority in Spain, as far right doubles seats
The Spanish Socialist Workers Party (PSOE) won the country's election with 120 seats, but fell short of securing a working majority, as the far-right Vox party shot to third place by more than doubling its seats in parliament.

This second election in Spain in just over six months - and the fourth in as many years -- has failed to clear a political impasse in Europe's fifth-largest economy.
7. Aiming at clean and beautiful beaches, Environment Ministry launches Swachh Nirmal Tat Abhiyaan
The Ministry of Environment, Forest and Climate Change launched a mass cleanliness drive "Swachh – Nirmal Tat Abhiyaan" to make beaches clean and create awareness amongst the citizens.

The cleanliness drive will be undertaken at 50 identified beaches during November 11-17, 2019. The identified beaches are in 10 coastal States/Union Territories (UTs) namely Gujarat, Daman & Diu, Maharashtra, Goa, Karnataka, Kerala, Tamil Nadu, Puducherry, Andhra Pradesh, and Odisha. The beaches have been identified after the consultation with the States/UTs.
8. Piyush Goyal attends 9th BRICS trade ministers meet
Commerce and Industry Minister Piyush Goyal attended the 9th BRICS trade ministers meet in Brasilia on Tuesday during which he deliberated on the global economic climate with his counterparts from other member nations.

Taking to Twitter, Goyal said that he spoke about advancing Trade and Investment cooperation between BRICS nations, as well as on the growing trend of non-tariff barriers.
9. Prakash Javadekar gets charge of heavy industries ministry
The President of India has assigned Union Minister Prakash Javadekar the heavy industries and public enterprises portfolio after Arvind Sawant, the minister in charge, resigned on Monday.

Javadekar is already in charge of the Ministry of Environment, Forest and Climate Change, and the Ministry of Information and Broadcasting.
10. Dharmendra Pradhan inaugurates India Pavilion at ADIPEC in UAE
Union Petroleum and Natural Gas Minister Dharmendra Pradhan inaugurated the India Pavilion along with CEO of the Abu Dhabi National Oil Company (ADNOC) Sultan Al Jaber at the Abu Dhabi International Petroleum Exhibition and Conference (ADIPEC) here on Monday.

The India Pavillion has been set up by the Federation of Indian Petroleum Industry (FIPI), Directorate General of Hydrocarbons (DGH) and Confederation of Indian Industry (CII).

Read More :
Current Affairs 09-10 November, 2019
Current Affairs 08 November, 2019