Current Affairs 08 November, 2019
Current Affairs 08 November, 2019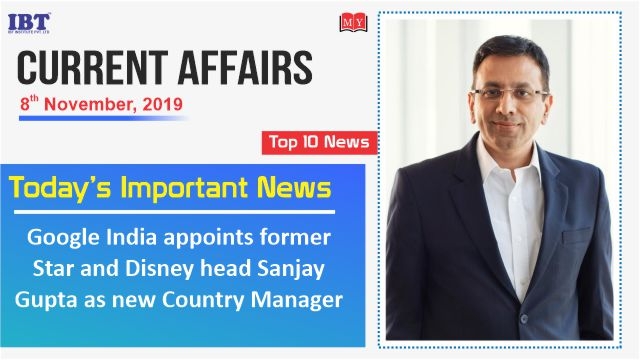 Current Affairs 08 November, 2019
1. India to host men's Hockey World Cup in 2023
India will host the Men's Hockey World Cup for the second consecutive time after the country was picked to host the game's showpiece event in 2023 by the International Hockey Federation (FIH) in Lausanne.

According to the FIH, the Men's Hockey World Cup will be held in India from January 13 to 29.

In another decision made by the Executive Board during the FIH's last meeting of the year, Spain and the Netherlands were named as the co-hosts of the 2022 Women's World Cup scheduled to be held from July 1 to 22.
2. CBSE to observe Fitness Week in the second and third week of November as part of Fit India Movement
In an attempt to promote fitness among school children, the Central Board of Secondary Education (CBSE) will be observing Fitness Week in the second and third week of November as a part of Fit India Movement.

The prime objective of the initiative is to bring about a behavioural change in school children from spending "Passive Screen Time" to "Active Field Time". As many as 22,000 CBSE schools from all over the country will participate in this first-of-its-kind endeavour.

Union Minister of Youth Affairs and Sports Kiren Rijiju expressed his happiness over CBSE's move and said Fit India Movement is the need of the hour.
Foot Notes:
About CBSE
1. Chairperson: Anita Karwal
2. Headquarters : New Delhi
3. Devendra Fadnavis Resigns as Maharashtra CM, Chances of President's Rule Likely
After political drama that spanned 15 days, Bhartiya Janata Party leader Devendra Fadnavis finally resigned as the chief minister of Maharashtra. The resignation was first handed over to state governor Bhagat Singh Koshyari and subsequently an announcement was made at a press conference in Mumbai.

The two parties have been having a public war ever since the elections, with the Sena demanding an "equal share" in government and asking for the chief ministerial post for two-and-half years along with plum ministerial berths

Of the 288 state assembly seats, BJP managed to snag 105, while the Sena picked up 56 seats. The Shiv Sena, ever since the results have been declared, has been asking for a lot more than the BJP has been willing to give. Fadnavis, in the media, said that the talks for equal share was never conducted in his presence.
Foot Notes:
About Maharashtra
1. Governor: Bhagat Singh Koshyari
2. Capital: Mumbai
4. Forex reserves soar $3.5 billion to new lifetime high of $446.09 billion
The country's foreign exchange reserves rose by USD 3.515 billion to touch a fresh lifetime high of USD 446.098 billion in the week to November 1, helped by increase in foreign currency assets. In the previous week, the reserves had increased by USD 1.832 billion to USD 442.583 billion.

The increase in reserves in the reporting week was mainly on account of a jump in foreign currency assets (FCA), a major component of the overall reserves.

Expressed in US dollar terms, the foreign currency assets include the effect of appreciation or depreciation of non-US units like the euro, pound and the yen held in the foreign exchange reserves. During the week, gold reserves increased by USD 301 million to USD 27.353 billion.
5. West Bengal based writer Abhishek Sarkar wins award at Dhaka Lit-fest
At the 9th edition of the Dhaka Literature festival, West Bengal-based writer Abhishek Sarkar and Bangladeshi poet Rofiquzzaman Rony were given the Gemcon Young Literature Award and Gemcon Young Poetry Award.

Abhishek and Rofiquzzaman won the awards for their manuscripts, "Nishiddho" and "Dhoashar Tamate Rong," respectively.

The special focus of this year's lit-fest is on Indigenous Languages as the UNESCO has marked 2019 as the year of Indigenous Language Protection.

6. IAF launches multiplayer version of mobile game ''Indian Air Force - A Cut Above''
The Indian Air Force launched the multiplayer version of its interactive mobile game which lets users experience the thrill of flying a combat aircraft.

The multiplayer version of the game named "Indian Air Force - A Cut Above" was launched by Vice Chief of Air Staff Air Marshal Harjit Singh Arora here.

The then chief of air staff, B S Dhanoa, had launched the single-player version of the game on May 31.
Foot Notes:
About IAF
Founded: 8 October 1932, India
Headquarters: New Delhi
Commander-in-Chief: President Ram Nath Kovind
7. The National Steel Policy released on November 8, 2019 aims at developing globally competitive steel industry.
The National Steel Policy that was released on November 8, 2019 aims at developing globally competitive steel industry. It aims at creating 300 million tons of steel per annum by 2030. The policy was released by Ministry of Steel.

The policy aims at promoting scientific collection and processing activities of recyclable ferrous and non-ferrous scraps. The objective of the policy is to produce high quality ferrous scrap that helps to increase high quality steel production.

It also promotes the '6R' principle. It includes Reduce, Recycle, Reuse, Recover, Remanufacture and Redesign
Foot Notes:
1. Minister of Steel: Shri Narendra Singh Tomar.
8. PM Modi To Visit Brazil On November 13, 14 For BRICS Summit
Prime Minister Narendra Modi will visit Brazil from November 13-14 to attend the BRICS Summit where deliberations are expected to focus on key areas such as trade, investment and counter-terrorism. During the visit, PM Modi will also hold a bilateral meeting with Brazilian President Jair Bolsonaro.

The BRICS comprises Brazil, Russia, India, China and South Africa.

He will hold bilaterals through the day and then attend the closing ceremony of the BRICS Business Forum in the evening along with other BRICS leaders.
About BRICS
1. Founded: June 2006
2. Formation: 2006
3. Official language: English, Russian, Hindi, Chinese
4. State Leaders: Jair Bolsonaro; Vladimir Putin; Narendra Modi; Xi Jinping; Cyril Ramaphosa
5. Founders: India, Brazil, China, Russia
7. Leaders: Jair Bolsonaro, Vladimir Putin, Narendra Modi, Xi Jinping
9. 2nd 'No money for terror conference 2019' held in Australia
The 2nd 'No Money for Terror' 2019 conference going on in Melbourne, Australia. Union Minister of State for Home Affairs, G.Kishan Reddy is leading a five-member delegation to the 'No Money for Terror' Ministerial Conference taking place in Melbourne, Australia.

This conference is Organised by Financial Intelligence Units (FIUs) of over 100 countries. This conference jointly called The Egmont Group, which was created to provide FIUs around the world a forum to exchange information confidentially to combat money-laundering, the financing of terrorism and other predicate offences.

The first "No Money for Terror" conference was held in France in 2018. India would host the next 'No Money for Terror' Conference in 2020.
Foot Notes:
About Australia
Prime Minister: Scott Morrison
Capital: Canberra
Currency: Australian dollar
10. Google India appoints former Star and Disney head Sanjay Gupta as new Country Manager
Google India has appointed Sanjay Gupta, former Star and Disney head as its new country manager. Gupta will also serve as Vice President of Sales and Operations for India.

Gupta will be taking over his role at Google early next year.

Gupta will be replacing Rajan Anandan, the VP for Google South East Asia and India, who had resigned in April 2019. Anandan was replaced by Vikas Agnihotri, Google's director of sales, who took on the role of Google Interim MD.

Read More :
Current Affairs 07 November, 2019
Current Affairs 06 November, 2019