Current Affairs 06 November, 2019
Current Affairs 06 November, 2019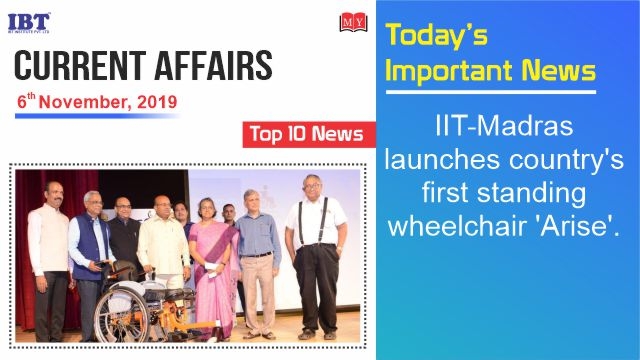 1.The first-ever tri-services India-US amphibious exercise named Tiger TRIUMPH in Andhra Pradesh from November 13 to 21.
The first-ever tri-services India-US amphibious exercise named Tiger TRIUMPH will be conducted from November 13 to 21 near Visakhapatnam and Kakinada in Andhra Pradesh.

Tiger TRIUMPH will include events and field training that simulate moving a humanitarian assistance and disaster relief force from ship to shore, a press release from the US Consulate said.

The exercise helps build the capacity of both the Indian and US participants, while improving their ability to operate together.
Foot Notes:
About Andhra Pradesh
1. Capitals: Hyderabad, Amaravati
2. Governor: Biswabhusan Harichandan
3. Chief minister: Y. S. Jaganmohan Reddy

2. Nehru Memorial Museum and Library society reconstituted, all Congress leaders replaced: PM is President and Defence Minister is Vice-President
The Centre reconstituted the Nehru Memorial Museum and Library society by removing Congress leaders Mallikarjun Kharge, Jairam Ramesh and Karan Singh as its members. It instead inducted Home Minister Amit Shah, TV journalist Rajat Sharma and censor board chief Prasoon Joshi, among others, PTI reported. Prime Minister Narendra Modi is the society's president and Defence Minister Rajnath Singh its vice president. The Centre also inducted Union ministers Nirmala Sitharaman, Ramesh Pokhriyal, Prakash Javadekar, V Muraleedharan and Prahlad Singh Patel.

The committee has been cut down from 34 members to 28. The reconstitution gains significance as the government plans to extensively revamp the museum.

"The term of the members is for a period of five years or until further orders, whichever is earlier," the order dated November 5 said. Former Culture Secretary Raghavendra Singh was appointed the museum's director in October for a six-month period.
Foot Notes:
About Nehru Memorial Museum
1. Located in: Teen Murti House
2. Director: Shakti Sinha
3. Founded: 9 November 1964
4. Architect: Robert Tor Russel
3. IIT-Madras launches country's first standing wheelchair 'Arise'
IIT-Madras has launched the country's first indigenously designed standing wheelchair. The project, in collaboration with Phoenix Medical Systems, enables a differently-abled person requiring a wheelchair to shift from sitting to standing position, and vice versa, independently and in a controlled manner.

The wheelchair 'Arise' was launched in the presence of Union Minister of Social Justice and Empowerment Thawarchand Gehlot at the institute.

Union Minister Gehlot lauded IIT-Madras for its initiative, and also recalled the Narendra Modi government's various welfare measures for the 'divyang', including setting up five national-level sophisticated sports centres for differently-abled sportspersons in different parts of the country.
Foot Notes:
About IIT-Madras
1. Director: Bhaskar Ramamurthy
4. MCG organises 'Ganga Utsav' in Delhi to spread awareness about river cleaning
The National Mission for Clean Ganga (NMCG), in coordination with the Jal Shakti Ministry, organised 'Ganga Utsav' in the Major Dhyanchand stadium in the national capital to mark the 11th anniversary of Ganga being declared as the national river.

The event was organised in a bid to create awareness and gather public participation in the efforts to clean River Ganga and its tributaries.

Union Minister for Jal Shakti Gajendra Singh Shekhawat and Director General of NMCG Rajiv Ranjan Mishra also attended the event.
5. Tata Literature Live! to honour Shanta Gokhale, K Satchidanandan with Lifetime Achievement award
Writer Shanta Gokhale will be honoured with the Tata Literature Live! Lifetime Achievement award 2019, while poet K Satchidanandan will receive the Poet Laureate award for their work which has made a significant impact in the Indian literary field.

Recipient of the Sangeet Natak Akademi Award, Gokhale is a multihyphenate personality. She recently published her memoirs, "One Foot on the Ground: A Life Told Through the Body".

Satchidanandan has represented the country at several literary meetings overseas and has headed several national literary institutions. He is the recipient of numerous national and international awards, including the Sahitya Akademi Award in 2012.

6. China launches Sudan's first ever satellite "SRSS-1"
Sudan's first-ever satellite for conducting research in military, economic and space technology has been launched by China. Sudan's remote-sensing satellite (SRSS-1), was developed by the Shenzhen Aerospace Oriental Red Sea Satellite Co.

The satellite was launched aboard China's Long March-4B rocket along with other Chinese satellites including Gaofen 7, Xiaoxiang-1 08, Whampoa 1 from the Taiyuan Satellite Launch Center in northern China.

The Sudanese satellite has been mainly designed for civil and military remote sensing over Sudan.
Foot Notes:
About Sudan
1. President of: Omar al-Bashir.
2. Capital: Khartoum
3. Currency: Sudanese pound.
7. International Day for Preventing the Exploitation of the Environment in War and Armed Conflict Observed on Nov 6
The International Day for preventing environmental exploitation during war and armed conflict was observed on November 6, 2019. The day aims to ensure that the environment is not destroyed during incidents of armed confrontations.

The environment has often remained a silent victim of wars and armed conflicts, as war casualties are usually counted in terms of the dead or wounded or the destruction caused to livelihoods and cities.

However, the most common target during the conflicts has been the environment, as forests have been cut down, water wells polluted, crops burned, soil poisoned and animals killed.
8. China Is World's Worst Abuser of Internet Freedom: Freedom House Report
China was again ranked the worst among governments for increased exploitation of the internet for social control and political purposes, according to a report released by Freedom House .

The report surveyed 65 countries and concluded that 33 of them had an overall decline in their internet freedom score compared to a year earlier. The score is assessed based on factors including obstacles to internet access in that country, limitations set on content, and user rights violations.

The report also noted that at least 40 countries possessed advanced social media surveillance programs, including China.
Foot Notes:
About China
Currency: Renminbi
Capital: Beijing
President: Xi Jinping
9. India attends China's biggest import expo as 'Guest of Honour Country'
Making a strong pitch for increasing its exports to China to reduce the trade deficit, India took part in China's 2nd International Import Expo (CIIE) where it has been accorded the status as the "Guest of Honour Country".

An Indian delegation headed by Commerce Secretary Anup Wadhawan took part in the import expo which is aimed at enabling countries from the world over to showcase products to enhance their exports to China.

In this year's expo inaugurated by Chinese President Xi Jinping, India is among the fifteen nations given the symbolic designation of "Guest Countries of Honour".
10. Nepal's President appoints new governors in all seven provinces
Nepal's President Bidya Devi Bhandari has appointed new governors in all seven provinces of the country. According to a press release issued by the Office of President, new governors have been appointed on the recommendation of cabinet.

Somnath Adhikari 'Pyasi' will be the new governor of Province 1, Tilak Pariyar for Province 2, Bishnu Prasad Prasai for Province 3, Amik Sherchan for Gandaki Province, Dharmanath Yadav for Province 5, Govinda Kalauni for Karnali Province and Sharmila Kumari Panta for Sudur Paschim Province. They are likely to be administered oath of office and secrecy.

Nepal adopted federalism after the promulgation of new constitution in September 2015. First time in the history of the country elections for seven provincial assemblies were held in two phases on 26 November and 7 December 2017. Left Alliance had registered landslide victory in the historic elections.
Foot Notes:
About Nepal
1. Capital: Kathmandu
Currency: Nepalese rupee
Prime minister: KP Sharma Oli

Read More :
Current Affairs 05 November, 2019
Current Affairs 04 November, 2019