Current Affairs 05 November, 2019
Current Affairs 05 November, 2019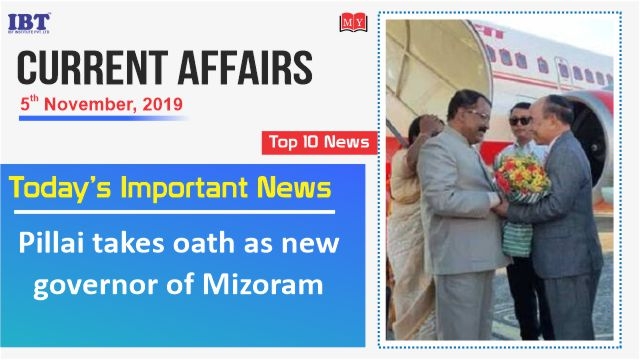 1. India decides to opt out of RCEP, says key concerns not addressed
India won't join the Regional Comprehensive Economic Partnership (RCEP) because concerns about getting swamped by imports under the agreement — putting its domestic industry and agriculture at risk — haven't been assuaged.

The RCEP, which includes China and the Association of Southeast Asian Nations (ASEAN), aims to cover about a third of the world economy and half its population.

"The present form of the RCEP Agreement does not fully reflect the basic spirit and the agreed guiding principles of RCEP,"
2. RBI issues new guidelines over private bank CEO remuneration
The Reserve Bank of India has told private banks to raise the variable portion of remuneration to at least half of the total for their chief executives and whole-time directors so that top management rewards reflect the 'pay for performance' principles.

"In order for incentive-based remuneration to work, the variable part of remuneration should be truly and effectively variable, and can even be reduced to zero in line with the symmetry principle," the RBI said.

The new rules are applicable to private sector banks, including local area banks, small finance banks and payments banks from April 1, 2020.
Foot Notes:
About RBI
1. Bank rate: 5.40%
2. Headquarters: Mumbai
3. Governor: Shaktikanta Das
3. WHO will identify online shopping as addictive disorder by 2024
By 2024, the World Health Organisation (WHO) will identify online shopping as an addictive disorder, as millions abuse digital commerce and encounter financial stress, predicts research firm Gartner.

Consumer spending via digital commerce platforms will continue to grow over 10 per cent year over year through 2022, according to its top strategic predictions for 2020 and beyond.

The ease of online shopping will cause financial stress for millions of people, as online retailers increasingly use artificial intelligence (AI) and personalisation to effectively target consumers and prompt them to spend discretionary income that they do not have, it said.
Foot Notes:
About WHO
1. Headquarters: Geneva, Switzerland
2. Head: Tedros Adhanom
3. Founded: 7 April 1948
4. US notifies UN of withdrawal from Paris climate accord
The US has formally notified the UN of its withdrawal from the 2015 Paris climate accord, a landmark global agreement which brought together 188 nations, including India, to combat global warming.

The Paris Agreement, in which Trump's predecessor Barack Obama and Prime Minister Narendra Modi played instrumental roles, was adopted at the UN climate conference "COP 21" held in the French capital in 2015 with an aim to reduce the hazardous greenhouse gas emissions.

Although Trump announced his decision to withdraw from the historic agreement on June 1, 2017, the process began with the formal notification and the US will be out of the pact on November 4, 2020.
Foot Notes:
About UN
1. Founded: 24 October 1945, San Francisco, California, United States
2. Headquarters: New York,United States
3. Secretary General: António Guterres
5. French Resistance member and concentration camp survivor Yvette Lundy dies at 103
French Resistance legend & Nazi camps survivor Yvette Lundy who helped Jewish prisoners of war to escape prison during the Nazi occupation of France passed away at the age of 103.

She was born on 22 April 1916 in France, Yvette was made Grand Officer of the Legion of Honour, which is one of the highest decorations in France.

6. World Tsunami Awareness Day: 5 November
The World Tsunami Awareness Day was observed across the world on 5 November. The day is celebrated to spread awareness among people across the world in matters related to the dangers of tsunami. In December 2015, the UN General Assembly designated 5 November as World Tsunami Awareness Day.

In 2019, World Tsunami Awareness Day promotes Target of the "Sendai Seven Campaign," which focuses on reducing disaster damage to critical infrastructure and disruption of basic services.

World Tsunami Awareness Day was the brainchild of Japan, which due to it's repeated, bitter experience has over the years built up major expertise in areas such as tsunami early warning, public action and building back better after a disaster to reduce future impacts.
7. IFFCO launches nano-tech based fertilizers for on-field trials
The world's largest fertilizer cooperative Indian Farmers Fertilizer Cooperative Limited (IFFCO) introduced India's 1st nanotechnology-based product range by introducing Nano Nitrogen, Nano Zinc, Nano Copper for on-field trials at an event held at its Kalol unit in Gujarat.

The products were produced at IFFCO's Nano Biotechnology Research Centre (NBRC) in Kalol unit.The first phase of the launch was tested with support from Krishi Vigyan Kendras (KVK)/Indian Council of Agricultural Research (ICAR).These nanostructured formulations effectively deliver nutrients to the plants.

Other benefits of these Nano-products include a reduction in the requirement of conventional chemical fertilizer by 50%, up to 15-30% increase in crop production, improvement in soil health, reduction in the emission of greenhouse gases.
Foot Notes:
About IFFCO
1. MD: Dr.Uday Shankar Awasthi
2. Headquarters: New Delhi
3. Founded: 3 November 1967, New Delhi
8. Kolkata students create Guinness World Records with largest astrophysics assemble
The Guinness World Records for the largest astrophysics lesson (45 minutes) and assembly of spectroscopes was created at the Science City Kolkata on the first day of India International Science Festival (IISF) 2019 with the participation of over 1,598 students.

An official release said astronomers use spectroscopes to know details like temperature, the chemical composition of celestial objects hundreds or millions of light-years away from us.

On the second day of IISF, the largest electronics lesson and assembly of optical media communication units at a single location will be attempted with the participation of over 1,000 students. (ANI)
9. DRDO Igniter Complex inaugurated at High Energy Materials Research Laboratory (HEMRL), Pune
A Defense Research Development Organization (DRDO) Igniter Complex was inaugurated at High Energy Materials Research Laboratory (HEMRL), Pune. The main purpose of the laboratory is to design, process, evaluate ignition systems for any kind of DRDO projects.

The new complex is equipped with sieve shaker, granulating machine, planetary mixer, pelleting machine, etc.A design, modelling, simulation laboratory are a part of the complex.

The complex also has an assembly centre and a testing centre.
Foot Notes:
About DRDO
1. Headquarters location: New Delhi
2. Motto: बलस्य मूलं विज्ञानम्; "Strength's Origin is in Science" (Sanskrit)
3. Founded: 1958
10. Pillai takes oath as new governor of Mizoram
PS Sreedharan Pillai was sworn-in as the new governor of Mizoram at the Raj Bhavan. The oath of office was administered by Chief Justice of Guwahati high court Justice Ajai Lamba.

Mizoram Chief Minister Zoramthangam his cabinet colleagues, legislators, former chief minister Lal Thanhawla and senior officials attended the swearing-in ceremony.
Foot Notes:
About Mizoram
1. Governor: P. S. Sreedharan Pillai
2. Capital: Aizawl
3. Chief Minister: Zoramthanga

Read More :
Current Affairs 04 November, 2019