Current Affairs 01 November, 2019
Current Affairs 01 November, 2019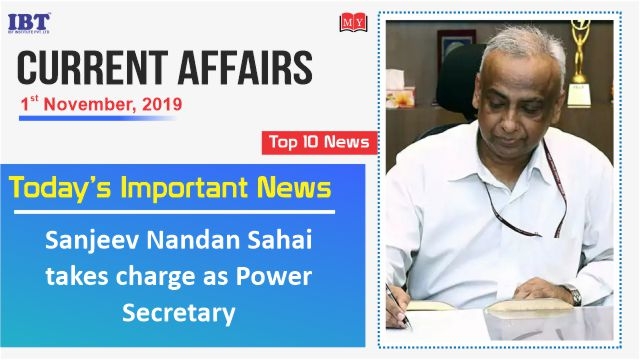 Current Affairs 01 November, 2019
1. World Vegan Day is celebrated on 1 November
World Vegan Day is observed on 1 November. The Day provides an opportunity to promote the benefits of a vegan diet and veganism in general. On the Day, vegan groups and practitioners organize workshops to highlight the importance of animal rights.

Donald Watson coined the term Vegan which was derived from the word Vegetarian in 1944. During that time, the differentiation was that Vegans did not consume dairy products. It then extended to eggs, and by 1951, veganism became a movement of people who did not partake in the exploitation of animals.

The vegan food diet omits all animal products, including dairy, eggs, and meat. Vegan diet is accepted by more people for both ethical and environmental reasons, and also to improve health.
2. 1st Nov State Formation Day of Kerala, Haryana, Madhya Pradesh, Karnataka, Chhattisgarh
On November 1, several Indian states including Kerala, Haryana, Madhya Pradesh, Chhattisgarh and Karnataka were formed. The day is thus recognised as Statehood Day of State Formation Day.

While Karnataka and Kerala were formed in 1956, Haryana was formed in 1966. On Kannada Rajyotsava or Kannada Day, also known as Karnataka Formation Day, all the Kannada language-speaking regions of South India were merged to form the state of Karnataka.
3. Bamboo Technology Parks to be set up in the two new UTs of Jammu & Kashmir and Ladakh
The Union Minister of State (I/C) Development of North Eastern Region (DoNER), MoS PMO, Personnel, Public Grievances & Pensions, Atomic Energy and Space, Dr Jitendra Singh, said Bamboo Technology Parks will soon be set up in the two new Union Territories of Jammu-and-Kashmir and Ladakh.

"This will be a gift from the DoNER Ministry to the two UTs that came into existence today," he said chairing a review meeting of the DoNER Ministry.
About Ladakh
1. Governor: Radha Krishna Mathur
About Jammu & Kashmir
1. Governor: GC Murmu
4. Spain to host COP25 climate summit in December after Chile withdraws
Spain has offered to host COP-25 UN Climate Change Summit as it was called off by Chile due to heaving anti-government protests.

Spain is all set to hold general elections on November 10 and schedule dates of COP25 are December 2-13.

Earlier, Sebastian Pinera, Chile's President, said that Spanish PM Pedro Sanchez had made a generous offer to host COP-25 summit in Madrid.
Foot Notes:
About Spain
1. Capital: Madrid
2. King: Felipe VI of Spain
3. Currency: Euro
5. China rolls out 5G telecom services
China's three major state-run telecom operators have unveiled their 5G network, as the country aims at becoming the global leader in next generation telecom technology surpassing the US and other western nations.

The US, the UK and South Korea have already rolled out their 5G networks this year, according to a BBC report.

5G is the next generation cellular technology with download speeds stated to be 10 to 100 times faster than the current 4G LTE networks.
Foot Notes:
About China
1. President: Xi Jinping
2. Capital: Beijing
3. Currency: Renminbi

6. Sanjeev Nandan Sahai takes charge as Power Secretary
Sanjeev Nandan Sahai has assumed charge as Secretary of the Power Ministry. "Sanjeev Nandan Sahai assumed charge as Secretary, Ministry of Power. Prior to this, he was serving as the Special Secretary in the Ministry of Power,".

Sahai is a UT cadre IAS officer of 1986 batch. He has also served as Additional Secretary in the Ministry of Power from May, 2018 to July, 2019 according to the statement.

Sahai has succeeded Subhash Chandra Garg. Garg, who is a former Finance Secretary, had sought voluntary retirement, which was approved by the government. Garg was to retire on October 31, 2020.
7. IOC names Mary Kom in boxing's athlete ambassadors group for 2020 Olympics
The 6-time world champion Mangte Chungneijang Mary Kom has been inducted into the 10-member sports ambassador group by the International Olympic Committee (IOC) on Boxing workforce to represent boxers ahead of the 2020 Tokyo Olympic Games.

Mary Kom will represent the Asian bloc in the group, which also comprises the likes of Ukrainian legend Vasyl Lamachenko (Europe), a two-time Olympic and world gold-medallist who now plies his trade in the professional circuit, and five-time world champion and 2016 Olympic gold-winner Julio Cesar La Cruz (Americas) among others.
Foot Notes:
About IOC
1. Headquarters: Lausanne, Switzerland
2. President: Thomas Bach.
3. Formation: 23 June 1894.
8. Telugu actress Geetanjali Ramakrishna dies at 72 in Hyderabad
Popular Telugu actress Geetanjali, who is remembered for her role as Goddess Sita in Sitarama Kalyanam, passed away.

The actress starred in about 500 films and some of her other memorable films include Doctor Chakravarti, Letha Manasulu and Sambarala Rambabu.
9. IIT Delhi, ISRO jointly setting up space technology cell in campus
Indian Space Research Organisation (ISRO) in collaboration with IIT Delhi going to set up a space technology cell in New Delhi.

Earlier, Space Technology Cells (STCs) have been set up at IIT Kanpur, IIT Roorkee, IIT Kharagpur, IISc Bangalore.

It will also help the institution in various research areas like Artificial Intelligence, smart manufacturing, textile and nanotechnology.
Foot Notes:
About ISRO
1. Headquarters: Bengaluru
2. Founder: Vikram Sarabhai
3. Founded: 15 August 1969
4. Director: Kailasavadivoo Sivan
10. India and Germany signed 17 MoUs, five joint declarations of intent exchanged
Seventeen agreements have been signed between India and Germany in the fields of agriculture, maritime technology, ayurveda and yoga among others, the external affairs ministry said.

Five joint declarations of intent were also exchanged between India and Germany, the ministry said in a statement.

The joint declarations of intent included cooperation on strategic projects, partnership for green urban mobility, research and development on artificial intelligence and cooperation in the field of prevention of marine litter, it said.
Foot Notes:
About Germany
1. Chancellor: Angela Merkel
2. Capital: Berlin
3. Currency: Euro

Read More :