Current Affairs 02-03 November, 2019
Current Affairs 02-03 November, 2019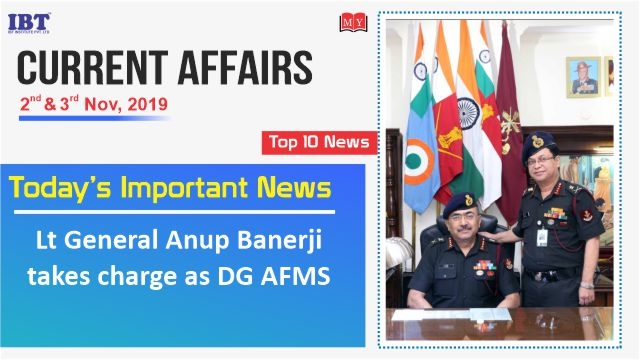 Current Affairs 02-03 November, 2019
1. Union Minister of Home Affairs Shri Amit Shah to inaugurate SCO Joint Urban Earthquake Search & Rescue Exercise (SCOJTEX)-2019
Union Minister of Home Affairs Shri Amit Shah will inaugurate the Shanghai Cooperation Organization Joint Exercise on Urban Earthquake Search & Rescue (SCOJtEx-2019) on 04th November, 2019 at Dr. Ambedkar International Center, New Delhi.

Union Minister of State for Home Affairs, Shri Nityanand Rai will be the chief guest for closing ceremony scheduled for 07th November, 2019.

The four day long simulation exercise shall be held from 4-7 November, 2019 at Delhi. The participants of all 08 member countries namely China, India, Kazakhastan, Kyrgyzstan, Pakistan, Russia, Tajikistan and Uzbekistan shall be participating in this exercise.
2. Rajinikanth to get 'Icon of Golden Jubilee' award at IFFI
The 50th International Film Festival of India (IFFI) will honour superstar Rajinikanth with a special 'Icon of Golden Jubilee' award, Information and Broadcasting Minister Prakash Javadekar announced.

The festival will be held in Goa from November 20 to 28 with close to 250 films from various countries being screened.

"The festival's steering committee had recommended a special icon award which will be conferred on legendary actor Rajinikanth. This will be a great attraction during IFFI," the minister told reporters here.

Rajinikanth, who is one of the biggest cinema icon's of the country, thanked the government for conferring him with the honour.
Foot Notes:
About IFFI
1. First awarded: 1965
2. Last awarded: 2018
3. Awarded for: Excellence in cinematic achievements
4. Presented by: Directorate of Film Festivals
5. Location: Goa, India
About Goa
1. Chief Minister: Pramod Sawant
2. Governor: Satya Pal Malik.
3. Punjab Govt to institute Sri Guru Nanak Dev Ji Award
Punjab State Cabinet passed a unanimous resolution to institute Sri Guru Nanak Dev Ji Award for Promotion of Peace and Interfaith Understanding, in commemoration of the 550th Prakash Purb of Sri Guru Nanak Dev Ji. The award would carry a citation and a cash prize of 11 lakh rupees.

This coveted award would be given each year and would be adjudicated by a jury to be notified by the State Government.

Cabinet also approved the modalities of the Special Session of the 15th Punjab Vidhan Sabha, to be presided over by the Vice President M. Venkaiah Naidu, on 6th of November to commemorate the 550th Prakash Purb celebrations of Sri Guru Nanak Dev Ji.
Foot Notes:
About Punjab
1. Capital: Chandigarh
2. Governor: V.P. Singh Badnore
3. Chief Minister: Amarinder Singh
4. International Day to End Impunity for Crimes against Journalists
The International Day to End Impunity for Crimes against Journalists is a UN-recognized day observed annually on 2 November.

The day draws attention to the low global conviction rate for violent crimes against journalists and media workers, estimated at only one in every ten cases.

This year's International Day to End Impunity for Crimes against Journalists, is focused on local journalists.
5. PM Modi attended the 16th India-ASEAN summit held at Bangkok
PM Modi on the sidelines of 353th ASEAN summit and 14th East Asia Summit, met the President of Indonesia H.E. Joko Widodo and the Thailand PM Prayut Chan-o-Cha.

The leaders discussed the threat to extremism and terrorism and agreed to work closely. The meeting on terrorism is important for India's interests in the Indo-Pacific region.Also, they discussed on trade, investment and connectivity and Indo-Pacific

The meeting also gains its importance as India and Indonesia are celebrating their 70th anniversary of establishment of diplomatic relations. The countries are close maritime neighbors having historical and cultural linkages. Also India's 'Act East Policy' is complimented by Indonesia's 'Look West' policy.
Foot Notes:
1. About Indonesia
2. Capital: Jakarta
3. Currency: Indonesian rupiah
4. President: H.E. Joko Widodo
6. Govt to set up anti-human trafficking units in all districts using Nirbhaya Fund
Union Ministry of Women and Child Development will be setting up anti-human trafficking units in all districts of the country with the help of Nirbhaya Fund. The announcement in this regard was made by Minister of Women and Child Development Smriti Irani.

Besides these anti-human trafficking units, women help desks will also be set up in all police stations across the country using Nirbhaya Fund. The initiative is an example of interdepartmental cooperation leading to effective governance in the country.

This initiative will strengthen women safety as well as will instill a greater sense of security among them. The step will also go a long way in addressing women and children safety in the country.
7. Lt Gen Anup Banerji takes charge as DG AFMS
Lt Gen Anup Banerji assumed office as Director General, Armed Forces Medical Services (DG AFMS) today. An alumnus of the prestigious Armed Forces Medical College, Pune, the General Officer is reputed to be an outstanding cardiologist and an exceptional administrator.

He has held various important clinical and staff positions during his illustrious career in AFMS. These include Head of the Department of Medicine and Cardiology at MH CTC Pune and Army Hospital R&R, Consultant (Medicine and Cardiology) at CH (EC), MG (Med) MG & G Area, Comdt AMC Centre and College Lucknow and DGMS (Navy).

Lt Gen Banerji was awarded the Sena Medal for his distinguished service in 1986. He was appointed President's Honorary Surgeon (PHS) on January 27, 2019. Lt Gen Anup Banerji served as the DGMS (Army) prior to the present appointment.
8. Novak Djokovic Beats Denis Shapovalov to Win Paris Masters 2019 titles
Novak Djokovic won the Paris Masters 2019 title. He won the title for the fifth time. He sealed his 34th Master's title and fifth overall ATP victory of the year 2019. He defeated Canada's Denis Shapovalov.

He secured 6-3 6-4 to win the title.
Result
Men's Singles:
Serbia Novak Djokovic
Men's Doubles:
France Pierre-Hugues Herbert, Nicolas Mahut
Foot Notes:
About 2019 Rolex Paris Masters:
Edition: 48th
Location: Paris, France
The 2019 Rolex Paris Masters is the 48th edition of the tournament. It was held from 28 October to 3 November.
9. Four Guinness World Records slated during the 5th India International Science Festival
Around four Guinness World Records is to be attempted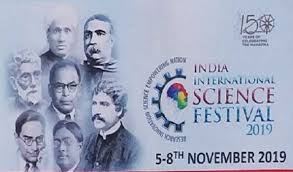 during the course of the 5th India International Science Festival (IISF) that has been scheduled to begin in Kolkata on 5 November 2019.
1) A small personal model of advanced spectroscope ban is made by anyone using a box made of cardboard that has a very narrow window used to channel light into the spectroscope. A piece of a Compact Disc is used to split the light by a process called diffraction. This attempt is dedicated to renowned scientists Meghnad Saha and C. V. Raman.
2) The largest electronics lesson and assembly of optical media communication units at a single location will be attempted with the participation of over 950 students on 6 November.
3) The record attempt for most people assembling Radio kits simultaneously will be attempted on 7 November 2019 with the participation of over 400 students.
4) The largest human image of a human chromosome will be attempted to be formed on 8 November 2019 with the participation of over 400 students.

10. Film producer Champak Jain passed away
Film producer Champak Jain passed away. He was one of the owners of Venus Records and Tapes which produced hit films like the 1994 blockbuster Main Khiladi Tu Anari starring Saif Ali Khan and Akshay Kumar.

Read More :