Current Affairs 09-10 November, 2019
Current Affairs 09-10 November, 2019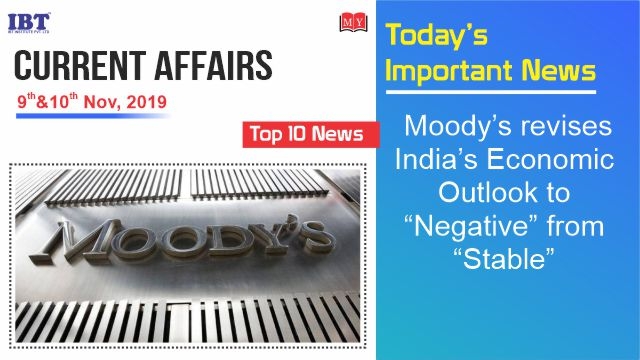 1. Indo-Russian Joint Tri-Service Exercise INDRA 2019 to be held from December 10-19
The first-ever joint tri-service exercise between India and Russia codenamed INDRA 2019 will be conducted from December 10-19.

Company-sized mechanised contingents, fighter and transport aircraft as well as ships of respective Armies, Air Forces and Navies will participate in this 10-days exercise.

INDRA 2019 is expected to enhance interoperability between both National Armed Forces to jointly undertake operations under the UN flag. In light of the threat of global terrorism facing both nations and by countries around the world, the theme of the exercise is contemporary and relevant.
About Russia
1. Capital: Moscow
2. Currency: Russian ruble
3. President: Vladimir Putin
2. Ullas Karanth, was awarded the George Schaller Lifetime Award in Wildlife Conservation Science
Wildlife biologist K. Ullas Karanth, Director, Centre for Wildlife Studies, Bengaluru, was awarded the George Schaller Lifetime Award in Wildlife Conservation Science for his contribution to the field of conservation.

He is the first recipient of the award instituted by the Wildlife Conservation Society (WCS), New York, in honour of Dr. George Schaller, who is considered one of the greatest wildlife scientists and conservationists globally.

A release said the WCS George Schaller Lifetime Award in wildlife conservation science has been created to honour WCS colleagues for outstanding contributions to saving wildlife and wild places.
3. Moody's revises India's economic outlook to "negative" from "Stable"
The American financial service company Moody's has downgraded India's economic outlook to "Negative" from "Stable". This downgrade was due to slow growth in the economy. It also predicted that slow growth would be prolonged and would also have debt rises.

Moody's has also predicted a budget deficit of 3.7% of the Gross Domestic Product (GDP) in the year through March 2020, which is a breach in the govt's target of 3.3%.

This was due to corporate tax rate cuts, slow growth etc. The long term foreign currency bond and bank deposit ceilings were unchanged at Baa1 and Baa2(both being 2nd lowest investment-grade score), respectively.
About Moody's
1. CEO of Moody's: Raymond W. McDaniel Jr.
2. Headquarters: New York, United States
3. Founded: 1909
4. Sahitya Akademi awardee Nabaneeta Dev Sen passes away
A poet, novelist and short-story writer, Dev Sen won the Sahitya Akademi award in 1999 for her book 'Naba-Nita'. She was also the recipient of the Padma Shri in 2000.

She is the founder and president of the West Bengal Women Writers' Association. Nabaneeta Dev Sen's 1978 book on 'Naxal movement in Bengal' was published in English.
5. Meet Maxwell X-57, Nasa's first electric plane powered by 14 motors
NASA, most prominent for its many Florida-launched exploits into space, showcased an early version of its first all-electric experimental aircraft, the X-57 Maxwell in the aeronautics lab in the California desert.

Tecnam P2006T twin-engine propeller plane, the X-57 under development since 2015 and remains at least a year away from its first test flight in the skies over Edward Air Force Base.

The two largest of 14 electric motors that will ultimately propel the plane - powered by specially designed lithium-ion batteries - NASA deemed the Maxwell ready for its first public preview. The newly built simulator that allows engineers, and pilots to get the maneuver the finished version of the X-57 in flight, even as the plane remains under development.
About NASA
1. Headquarters: Washington, D.C., United States
2. Administrator: James Frederick "Jim" Bridenstine

6. T N Seshan, former chief election commissioner, passes away
TN Seshan passed away on November 10, 2019. He was famous for strictly enforcing electoral rules in India when he was Chief Election Commissioner of the country. He was 86. Seshan had played an important role in electoral reforms in the country in the 1990s.

TN Seshan's full name was Tirunellai Narayana Iyer Seshan. He was 10th Chief Election Commissioner of India. He held this position from 12 December 1990 to 11 December 1996.He made many changes in the Indian election system. The voter ID card was also started in India by him.

He also wrote the books 'The Degeneration of India' and 'A Heart Full of Burden'. TN Seshan was awarded the Ramon Magsaysay Award in 1996.
7. Civil Service officer Hitesh Dev Sharma replaces Hajela as NRC Coordinator
Assam Civil Service officer Hitesh Dev Sharma was on Saturday appointed as the NRC State Coordinator in place of Prateek Hajela, who ensured publication of the final version of the National Register of Citizens on August 31 under supervision of the Supreme Court.

Dev Sharma, who was serving as the Secretary to the Urban Development and Finance Departments, has been transferred as Secretary to the Home and Political Department and State Coordinator, NRC and in-charge Directorate of NRC.

Hajela has been transferred to his home state Madhya Pradesh following a direction of the Supreme Court and will relinquish charge as the NRC State Coordinator on November 11.
8. Legal Services Day to be observed on 9th of November
Legal Services Day is celebrated every year on the 9th of November in all the state Authorities. Legal literacy camps and functions are organized in many places in the capital city of the country. Legal Services Day which first started by the Supreme Court in the year 1995 all across.

The aim of celebrating Legal Services Day is to offer them free of charge, proficient, and legal services to the people of weaker sections of society.

The day celebration is organized all over India to increase awareness of free legal aid towards every weak citizen of the country.
9. Maharashtra tops list of states delivering justice, followed by Kerala: Report
According to 'India Justice Report 2019', Maharashtra is the top state in delivering justice to its citizens followed by Kerala, Tamil Nadu, Punjab and Haryana in the first-ever ranking of states on their capacity to deliver justice to citizens.

The ranking is part of the India Justice Report (IJR) 2019, an initiative of Tata Trusts in collaboration with Centre for Social Justice, Common Cause, Commonwealth Human Rights Initiative, DAKSH, TISS- Prayas and Vidhi Centre for Legal Policy.

The India Justice Report brings together, in the first such exercise, otherwise soiled statistics, from authoritative government sources, on the four pillars of justice delivery - police, judiciary, prisons and legal aid.
Foot Notes:
About Maharashtra
1. Governor: Bhagat Singh Koshyari
2. Capital: Mumbai
About Kerala
1. Governor: Arif Mohammad Khan
2. Capital: Thiruvananthapuram
10. Exim Bank grants $30 million line of credit to Ghana
The Export-Import (Exim) Bank has provided USD 30 million (about Rs 210 crore) line of credit to Ghana for a potable water project in the country.

Under the arrangement, financing of export of eligible goods, works and services from India would be allowed subject to their being eligible for export under the Foreign Trade Policy of India and whose purchase may be agreed to be financed by the Exim Bank.

As per the agreement, the terminal utilisation time is 60 months period after the scheduled completion date of the project.
Foot Notes:
About Ghana
1. President of: Nana Akufo-Addo.
2. Capital of Ghana: Accra
3. Currency of Ghana: Ghanaian cedi.

Read More :
Current Affairs 08 November, 2019
Current Affairs 07 November, 2019