Current Affairs 13 November, 2019
Current Affairs 13 November, 2019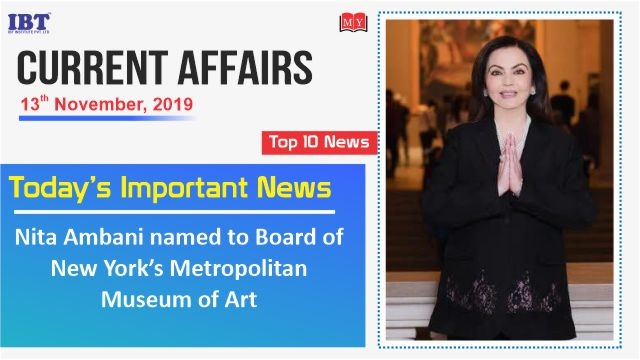 1.Maharashtra under President's rule for 3rd time in 59-year history
President's rule was imposed in Maharashtra on November 12, 2019 upon the recommendation of Maharashtra Governor Bhagat Singh Koshyar.

The Maharashtra Governor decided on sending the state under the direct rule of the centre after both the BJP and Shiv Sena failed to form the government within the given deadline.

Shiv Sena has approached the apex court protesting against the Governor's move to reject its request demanding extra time to prove the majority.
2. Karnataka: Supreme Court upholds disqualification of 17 rebel MLAs, can contest bypolls:
The Supreme Court has upheld former Karnataka Speaker's decision to disqualify the 17 rebel MLAs of the Congress and JD(S) in Karnataka.

The court has, however, allowed then to contest elections.

The MLAs were disqualified by the Legislative Assembly KR Ramesh Kumar ahead of the floor test of the HD Kumaraswamy government.
3. Israel hit by rockets from Gaza after airstrike kills Islamic Jihad leader
Nearly 200 rockets were fired from the Gaza Strip into Israel on Tuesday hours after an Israeli airstrike targeted and killed a senior Islamic Jihad commander in Gaza in the most serious escalation of violence in months.

The Israeli airstrike in northern Gaza killed Bahaa Abu el-Atta and his wife, as Islamic Jihad vowed further revenge.Israeli Prime Minister Benjamin Netanyahu said in a statement Tuesday that Abu el-Atta was the mastermind of many recent attacks against Israel and was a "ticking bomb."
4. CJI under RTI Act: A rare case where Supreme Court ruled against itself
The Supreme Court, in a historic ruling, directed that the office of Chief Justice will now come under the Right to Information Act.

Earlier the CJI office was kept out of the purview of the RTI act.

The Supreme Court stated that the CJI office was a public authority and that its secrecy will remain intact during RTI filing.
5. Bolivia crisis: Evo Morales arrives in Mexico for political asylum
Evo Morales has landed in Mexico where he has been offered asylum after resigning as president of Bolivia amid election fraud protests.

In a tweet, he said it hurt to be leaving Bolivia but he would return with more "strength and energy".

Meanwhile, Bolivia's military commander ordered troops to back up police who have clashed with Morales supporters.

6. Nita Ambani named to Board of New York's Metropolitan Museum of Art
Nita Ambani was recently named to the board of the New York's Metropolitan Museum of Art after years of supporting exhibitions at the biggest US art museum.

Daniel Brodsky, president of the museum, said that her contribution to preserving and promoting the art and culture of India and "The Mate" is extraordinary.

Nita Ambani, the wife of Reliance Industries Chairman Mukesh Ambani, is the Chairman of Reliance Foundation.
7. Sri Lanka Becomes First South Asian Nation to Criminalise Match Fixing & Sports Betting
The Sri Lankan parliament has passed a bill related to 'prevention of sports-related crimes'.

Now, match-fixing in Sri Lanka will be considered as a criminal offence. This new law, related to match-fixing, will apply to every game.

As per the bill, Sri Lankan cricketers now have to report corrupt approaches to the Sri Lankan Government.
8. Nicholas Pooran suspended for four matches for ball tampering
ICC has banned West Indies cricketer Nicholas Pooran for four international matches. He had tampered the ball in the third ODI against Afghanistan.

West Indies team player Nicholas Pooran has broken Level 3 of the ICC Code of Conduct.

It was found in the video footage that Nicholas Pooran is scratching the ball by thumbnail. He will not be able to play the next three T20I and one test match.
9. NASA renames solar system object previously known as 'ULTIMA THULE' to 'ARROKOTH' after NAZI controversy:
NASA has recently renamed farthest cosmic body, Ultima Thule - Arrokoth or Sky. Earlier, NASA was criticized over the previous name's Nazi connotations.

The new name reflects the wondering about the stars and looking at the sky. The name was given because of its natural position.

Arrokoth also symbolizes 'icy-object' which was undisturbed since the solar system was formed about 4.5 billion years ago.
10. Mauritius PM Pravind Jugnauth takes oath after election win:
Mauritius's incumbent Prime Minister Pravind Jugnauth was sworn in for a five-year term on Tuesday after elections in which his coalition consolidated its grip on Parliament.

Jugnauth, 57, took over from his father in 2017 without going through a vote, and the decisive victory of his centre-right Morisian Alliance in the November 7 elections has strengthened his legitimacy.

Read More :
Current Affairs 11-12 November, 2019
Current Affairs 09-10 November, 2019