Upcoming Banking Exams 2020
Upcoming Banking Exams 2020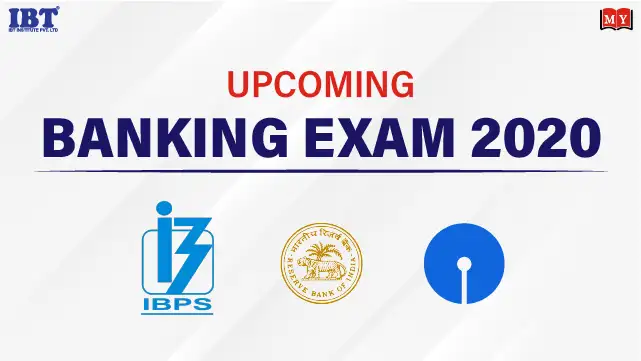 Upcoming Banking Exams 2020 - Check Full List of Banking Jobs 2020
In order to offer a prestigious career option to the aspirants, Banking exams are conducted every year. For those who want job security and financial stability, Banking exams are like dream projects. But every year the increasing competition gives a nightmare to the students. Various examination bodies regularly publish Annual Calendar in order to help the candidates to prepare for the exams well in advance for the exams that they wish to take in the near future.
Let us check out the UPCOMING BANKING EXAMS IN 2020 in order to provide you with a smooth ride so that you breeze through your exams. It is quite essential to have an update on the upcoming Banking Exams of 2020 before it is too late for the preparations!!
Click here to download Bank, SSC and Government Exam Preparation App
Let us examine the various UPCOMING BANK exam dates of Prelims & Mains or Phase 1 & Phase 2 exams conducted by the IBPS, SBI, RBI and other BANKS below. To know more you can follow the link provided in the subsequent column so as to get complete details of the selection process such as Application process, eligibility criteria, selection process, exam pattern, syllabus, cut off marks, and other essential details.
IBPS BANK UPCOMING EXAMS 2020
Exam

Important Dates

Notification

Details

Pre Exam:

3rd, 4th, 10th Oct 2020

Mains Exam:

28 Nov 2020

Notification Date:

Aug 2020
Registration Dates:

Aug 2020

Pre Exam:

12th, 13th and 19th Dec 2020
Mains Exam:

19 Jan 2021

NotificationDate:

Sep 2020
Registration Dates:

Sep 2020

Pre Exam:

26th, 27th Dec. 2020
Mains Exam:

30th January 2021

Notification Date:

5th Dec 2020
Registration Dates:

6th to 26th Nov 2020
SBI UPCOMING EXAMS 2020
Exam

Important Dates

Notification

Details

Pre Exam:

Nov-2020
Mains Exam:

Dec-2020

Notification/

Registration Dates:

Sep-Oct 2020
RBI UPCOMING EXAMS 2020
Exam

Important Dates

Notification

Details

Phase I:

November 2020
Phase II:

December 2020

Notification:

Sept. 2020
Registration Dates:

October 2020

Pre Exam:

Dec- 2020
Mains Exam:

Jan-2021

Notification:

Nov- 2020

Registration Dates:
Nov-2020
OTHER BANK UPCOMING EXAMS 2020
Exam

Important Dates

Notification

PNB SO

Pre Exam:

Notified Later
Mains Exam:

Notified Later

Online Registration

Dates:
Aug- 2020

UNION BANK
SO

Pre Exam:
Notified Later
Mains Exam:
Notified Later

Online Registration

Dates:
July-Aug 2020

DENA BANK PO/Clerk

Preliminary Exam:
Notified Later
Mains Exam:
Notified Later

Online Registration

Dates:
Aug 2020

BANK OF
BARODA

Preliminary Exam:
Notified Later

Mains Exam:
Notified Later

Online Registration

Dates:
Nov-Dec 2020

CANARA PO

Preliminary Exam:
Notified Later
Mains Exam:
Notified Later

Online Registration

Dates:
Dec-2020

Check Complete Details Here About: Government Exams 2020