SSC CGL 2019 Frequently Asked Questions
SSC CGL 2019 Frequently Asked Questions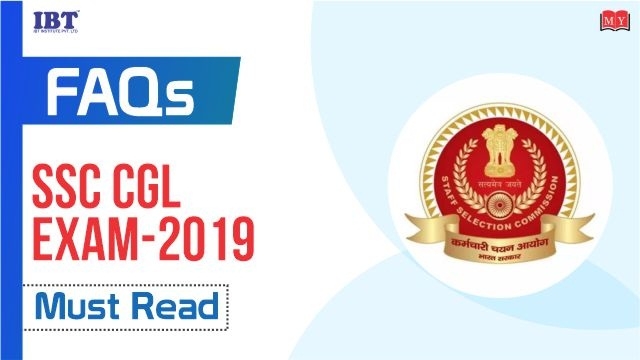 SSC CGL 2019: Frequently Asked Questions
As the Notification for SSC CGL 2019 has recently been released by the Staff Selection Commission, many of you will be having a lot of questions about the exams. Staff Selection Commission conducts its examination in four Tiers .As many of you will be having a lot of queries related SSC, Here are some SSC CGL FAQ which will be helpful to have a better understanding about the examination.
1.What is SSC CGL?
Ans.SSC CGL is a national-level exam conducted by Staff Selection Commission (SSC) to shortlist candidates for Group B and C posts in various ministries/ departments/ organisations of the Government of India. Check SSC CGL vacancies 2019. Every year, about 30 lakh candidates fill the SSC CGL application form and about 15 lakh aspirants appear for the exam. Check SSC CGL exam pattern.
The exam is conducted in four stages called tiers. The first two tiers of the Combined Graduate Level (CGL) exam are conducted in online mode. The next two tiers of the exam are held in offline mode.
2.When will SSC CGL 2019-20 Tier-I exam be conducted?
Ans.SSC CGL 2019-20 Tier-I CBT exam is scheduled from 2nd to 11th March 2020, while the Tier-II & III exam will be conducted on 22nd June to 25th June 2020.
3.How many times is SSC CGL conducted in a year?
Ans.Each stage (tier-I, II, III and IV) of SSC CGL exam is conducted once a year.
4.Is there an age limit to appear for SSC CGL exam?
Ans.SSC CGL age limit differs as per the post applied. However, candidates need to be minimum 18 years in age to apply for any SSC CGL post.
5.What will be the time allotted for Tier 1 examination?
Ans.SSC CGL Tier 1 examination will go on for 60 minutes. Previously, it was allotted a total time of 75 minutes. From 2017, it is 60 minutes.

6.Will there be any sectional timings for Tier 1 examination?
Ans. No, there will not be any sectional timing for Tier I examination. However a cumulative time of 60 minutes will be given to attempt 100 objective type questions.
7.Whether the marks obtained in Tier 1 is considered for merit list?
Ans.Yes, Marks of Tier 1 do considered for the final merit list.
8.Whether there will be sectional cut-off in SSC CGL Tier 1?
Ans.No, only an overall cutoff will be there for SSC CGL Tier 1.
9.What are the posts available under SSC CGL recruitment for freshers?
Ans.Following posts can be applied by freshers who will be appearing for the exam:
Assistant Accounts Officer

Assistant Section Officer

Assistant/ Superintendent

Inspector (Central Excise)

Inspector (Preventive Officer)

Asst. Enforcement Officer

Junior Statistical Officer

Accountant/ Junior Accountant

Senior Secretariat Assistant/ UDC

Upper Division Clerk (UDC)
10.Is negative marking applicable in SSC CGL?
Ans.There will be negative marking of 0.5 for each wrong answer in Tier-I. In Tier-II, there is negative marking system of 0.25 for each wrong answer in paper II - English Language & Comprehensionand 0.50 for each wrong answer in Paper-I, Paper III and Paper IV of Tier II.
11.For which posts interviews are conducted as a part of selection procedure?
Ans.There are no interviews for any of the posts under SSC CGL Recruitment. The para 9.2 of the official notification for SSC CGL Recruitment 2019 clearly states that – "9.2 Interview component has been dispensed with. There will, therefore, be no interview."
12.Are students in final year of graduation also eligible for SSC CGL?
Ans.No,students in final year of graduation are not also for SSC CGL.
13.Will the exam be conducted online or offline?
Ans.Written Exam for SSC CGL will be conducted in online mode. Only Tier-III, descriptive paper will be conducted offline - pen and paper mode.
Read More
For Exam Preparation Join: SSC CGL Online Coaching
Check here: SSC Exams 2020