New Pattern Based Coding Decoding Questions for IBPS Clerk Exam 2019
New Pattern Based Coding Decoding Questions for IBPS Clerk Exam 2019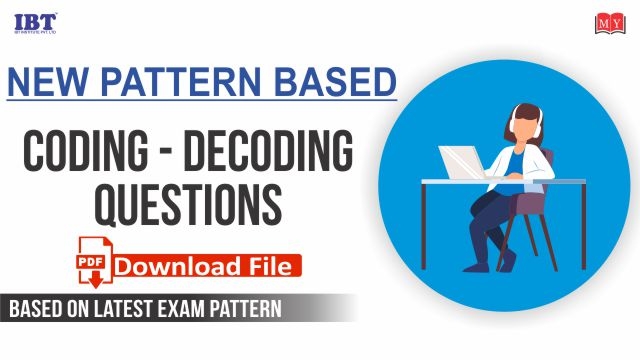 New Pattern Based Coding Decoding Questions for IBPS Clerk Exam 2019
Dear Students,
IBPS Clerk Exam 2019

is going to be conducted, We hope you all have been preparing well for this exam. To brush up your preparation at this stage, here are some most important questions for IBPS Clerk Prelims Exam. We have shared a Free PDF of New Pattern Based Coding decoding Questions with Answer Key for IBPS Clerk Exam 2019 along with their Solution. You Should attempt these Important Questions in order to crack the upcoming

IBPS Clerk Exam 2019.
Approach to solve Coding-Decoding Questions:
Observe alphabets or numbers given in the question.

You can either score brilliantly or waste a lot of time with no satisfactory output. The more prepared you are, the better is your score.

Try to find the pattern or sequence it follows.

Figure out the rule followed by the given arrangement of alphabets/numbers/words.

Basic points you need to remember before solving any question of this topic.
(a) Alphabets' positions (A=1, B=2,……,Y=25, Z=26)
(b) Opposite position of the alphabet (A=26, B=25,……, Z=1)
(c) Opposite of each alphabet (A is opposite to Z, B is opposite to Y and so on)

Read More :