Most Important Questions based on Sentence Rearrangement with Answer Key for IBPS Clerk Exam 2019
Most Important Questions based on Sentence Rearrangement with Answer Key for IBPS Clerk Exam 2019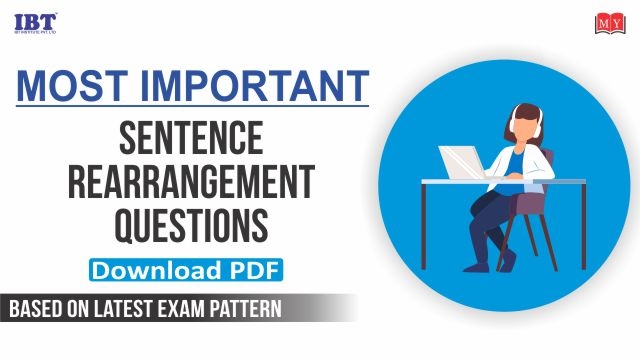 Most Important Questions Based on Sentence Rearrangement with Answer Key for IBPS Clerk Exam 2019: Download Free PDF
Dear Students,
IBPS Clerk Exam 2019

is going to be conducted, We hope you all have been preparing well for this exam. To brush up your preparation at this stage, here are some most important questions for IBPS Clerk Prelims Exam. We have shared a Free PDF of Important Questions based on Sentence Rearrangement with Answer Key for IBPS Clerk Exam 2019 along with their Solution. You Should attempt these Important Questions in order to crack the upcoming

IBPS Clerk Exam 2019.
Sentence Rearrangement is an important topic for the bank exams. The candidates can expect five questions from this topic in the exam. In Sentence Rearrangement questions, you are required to rearrange the given sentences to make a coherent paragraph. You can easily fetch five marks from this topic if you follow a systematic approach to solve the question instead of juggling through the given sentences.
Here is presented an effective approach to solve Sentence Rearrangement questions smartly:
1) Firstly, read the sentences attentively and try to comprehend the central idea or theme of the paragraph.
2) In the second step, identify the opening and the closing sentence of the paragraph. The sentence which introduces the new characters and independent of other sentences is generally the opening (first) sentence. To identify the closing sentence, look out for the sentence which can conclude the paragraph. The last sentence must be logically connected to the entire paragraph and should not be abrupt.
3) The third step is to identify the mandatory pairs. Identify those two sentences, which are linked or connected in any way. Two sentences can be connected through various connectors and other determinants such as:
(i) Examples and other follow-ups
(ii) Connecting words such as 'hence', 'therefore', 'thus' etc.
(iii) Continuation of an idea
4) To arrange the sentences properly, identify the transition words. Transition words help in finding the next sentence as they function like logical connectors between the two sentences. With the help of transition words, you can easily identify the mandatory pair as well. The most commonly used transition words in Sentence Rearrangement questions are – above all, also, again, as well as, accordingly, besides, consequently, furthermore, however, in addition, likewise, moreover, similarly, hence, subsequently, therefore, thus, generally, In the meantime, meanwhile, in other words, on the other hand, etc.
5) In this step, identify the pronouns which are connecting the sentences with each other. For example, one sentence talks about Raman. Another sentence starts with the word 'He'.
In such a case, it implies that 'He' is referring to 'Raman' mentioned in a previous statement. So, always try to find the connections among sentences with the help of pronouns such as he, she, it, him, her, his, they, their, your etc.
Pro-tip: Eliminating the options always helps in the English Section of exams. Sometimes it is not necessary to identify all the sentences. You can rearrange the sentences just by eliminating the irrelevant option one by one.

Read More :