IBPS Clerk Salary 2019 Latest Promotion Allowances
IBPS Clerk Salary 2019 Latest Promotion Allowances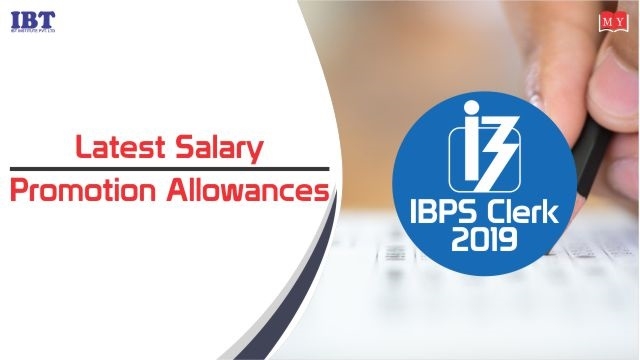 IBPS Clerk Salary 2019 Latest Promotion Allowances
The Institute of Banking Personnel Selection (IBPS) has recently released the IBPS Clerk notification 2019 for the recruitment of clerical cadres in 19 public sector banks in India. This year a total of 12075 vacancies are available in the participating banks. This is a great opportunity for candidates who are aspiring to work in the banking and financial sector.
IBPS Clerks get a decent IBPS Clerk Salary. Candidates appearing for the exam might be wondering what the IBPS Clerk Salary and the job profile are. In this article, we will provide you with all this information.
Bank Exam Calendar 2020-21 released, check exam dates here
IBPS Clerk 2019-Salary, Job Profile, And Career Growth
| | |
| --- | --- |
| Initial Basic Pay | 11765 + yearly increment 655 for next three years |
| Basic pay after three years | 13730 + yearly increment 815 for next three years |
| Basic pay after three years | 16175 + yearly increment 980 for next four years |
| Basic pay after four years | 20095 + yearly increment 1445 for next seven years |
| Basic pay after seven years | 28110 + yearly increment 2120 for next one years |
| Basic pay after one years | 30230 + yearly increment 1310 for next one years |
| Basic Pay next Year | 31540 |

IBPS Clerk Salary 2019

-

Salary Structure Of IBPS Clerk
| | |
| --- | --- |
| Basic salary + allowances | Salary |
| Basic pay | 11765 |
| Dearness Allowances (DA) | 7073 |
| City Compensatory Allowances (CCA) | 0 |
| Transport allowances (TA) | 425 |
| Special Allowances (SA) | 1561 |
| Salary (exclude HRA) | 21492 |
| HRA (House Rent Allowances) | 980 |
| Salary ( Include HRA) | 22404 |
IBPS Clerk Salary 2019

-List of allowances for IBPS Clerk:
1.Medical Allowance:
Medical allowance paid for the IBPS Clerk once a year and also it is should be fixed amount 2000.
2.Travel Allowances:
Official tours and travel expenses will be reimbursed by the banks.i.e, 425 per month.
3.House Rental Allowances:
House and rental allowances changes based on the place & position. It will be 8.5% of the basic salary in metro polity cities and 6.5% basic pay in other cities.
4.Dearness allowances:
Dearness allowances are revised every three months based and it will depend on CPI (consumer price index). Dearness allowances are 4% of the basic salary.
5.Special Allowances:
Special Allowances at starting 7.5% of the basic salary. And after one year it will be increased by 400 to 500.
IBPS Clerk 2019 Roles And Responsibilities
1.Verification o various documents and proofs submitted by the customers
2.Updating the pass books of account holders
3.Responsible for bank cash, various important documents, keys, etc.
4.Issuing of Demand Drafts (DDs), bank accounts for the customers, cash receipts, etc.
5.Sanctioning of withdrawals by the customers
6.Maintaining the various documents of the bank, balance sheets, ledger, etc.
7.Resolving the various issues of the customers
8.Providing information about the latest schemes and government policies
9.Providing guidance to customers relating to various banking activities
10.Attending to treasury works
11.Resolving queries of the customers
12.Miscellaneous tasks
IBPS Clerk Promotions
As mentioned above, IBPS Clerk offers great chances of growth at both personal and professional level. As you work as a bank clerk and learn the way banks function, you will get ample scopes to prove your potential and merit. Based on your performance and contribution to the organization, you will get a chance to grow. Many top bankers started their career as bank clerks and have slowly climbed up the ladder to higher posts.
1.Normal process
2.Merit based process
Under Normal Process, IBPS Clerks are given promotion based on their experience and seniority. However, they will have to clear the written exam conducted internally. Candidates who get promotion through this process don't need JAIIB and CAIIB Diploma. The Clerks after clearing the written exam to become Trainee Officer and then bank Probationary Officers (PO).
Under Merit Based Process, candidates must hold JAIIB and CAIIB Diploma from Indian Institute of Banking and Finance.
The subsequent promotions from Probationary Officer are as under:
Assistant Manager – Scale 1
Manager – Scale 2
Senior Manager – Scale 3
Chief Manager – Scale 4
Assistant General Manager – Scale 5
Deputy General Manager – Scale 6
General Manager – Scale 7
Important Articles about IBPS Clerk 2019 2019 Exam