IBPS Clerk 2019 Subject Wise Syllabus
IBPS Clerk 2019 Subject Wise Syllabus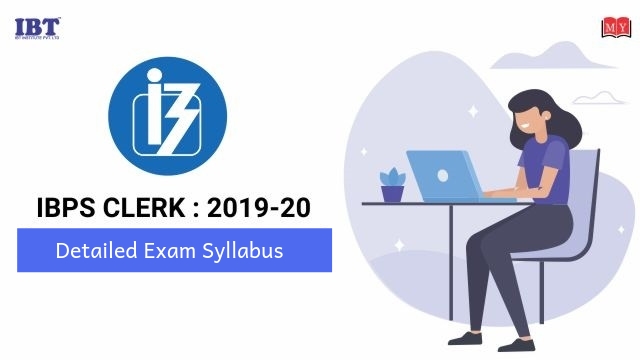 Detailed syllabus for IBPS CLERK 2019 aspirants
IBPS has released the notification for IBPS CLERK 2019 on 12th September 2019 and the online registration will commence from 17th September 2019. It is a welcome call for all the bank aspirants who were eagerly waiting for bank jobs in nationalized banks. Most of the aspirants must have started their exam preparation but those who are new to it need some guidance from experts to kick start it.
Bank Exam Calendar 2020-21 released, check exam dates here
Let us discuss the detailed syllabus as it is an integral part of exam preparation. IBPS has set norms for the question paper so that candidates prepare in the right direction as per their requirements.
IBPS CLERK 2019 Exam will be conducted in two phases namely Prelims and Mains. It is advisable to prepare for both the phases simultaneously as there is hardly anytime between the result of prelims and commencement of mains exam.
Prelims Exam has three sections such as English Language, Numerical Ability and Reasoning Ability. It has sectional time duration with 20 minutes allotted to each section carrying maximum marks as 100.
Mains Exam has four sections such as English Language, Numerical Ability, Reasoning Ability & Computer aptitude and General Awareness having sectional time limit of 45 minutes for Reasoning and Quantitative and 35 minutes for English and General Awareness.
Syllabus of the common sections of both the phases is almost same but there is a difference of difficulty level. Mains exams are having high difficulty level of questions as compared to Prelims therefore it is better to prepare simultaneously for both the phases.
The detailed syllabus for IBPS CLERK EXAM 2019 is given below:
English Language Syllabus for IBPS CLERK 2019 Exam
Vocabulary topics to be covered are Homonyms, Antonyms, Synonyms, Word Formation, and Spelling.
Grammar based questions includes Spotting Errors, Phrases and idioms, Direct and Indirect speech, Active/ Passive voice.
Reading Comprehension section comprises of Theme Detection, Passage completion, Topic rearrangement of passage, Deriving Conclusion.
Reasoning Ability Syllabus for IBPS CLERK 2019 Exam
Syllabus topics are divided into two types, one is verbal reasoning and the second one is non-verbal reasoning. Verbal Reasoning comprises of topics such as: Analogy, Classification, Word formation, Statement and conclusions Syllogism, Statement and assumptions, Statement and arguments, Coding Decoding, Blood Relations, Passage and conclusions, Alphabet test, Series Test, Number, Ranking and time sequence, Direction sense Test, Decision making test, Figure series, Input/output, Assertion and reasoning, Sitting Arrangement
Non –verbal Reasoning comprises of topics such as Series test, Odd figure Out, Analogy, Miscellaneous Test
Computer Aptitude Syllabus for IBPS CLERK 2019 Exam
Computer Aptitude syllabus has topics like Basics of Hardware and software, Windows operating system basics, Internet terms and services, Basic Functionalities of MS-Office( MS-word, MS-Excel, MS-PowerPoint) History of computers, Networking and communication, Database basics, Basics of Hacking, Security Tools and Viruses
Quantitative Aptitude Syllabus for IBPS Clerk 2019 Exam
Quantitative Aptitude includes topics such as Ratio and proportion, Averages, Time and work, Speed, Distance and time, Mixture and allegation Stocks and shares, Percentages, Partnership, Clocks, Volume and surface Area, Bar & Graphs, Line charts, Tables, Height and Distances, Logarithms, Permutation and combinations, Simple and compound interest, Equations, Probability, Trigonometry, Profit, Loss and Discount, Mensuration, Elements of Algebra, Data Interpretation and Pie charts
General Awareness Syllabus for IBPS Clerk 2019 Exam
General Awareness Syllabus includes topics like Current affairs related to national and international issues of last 6 months, Overview of Indian Financial System, History of Indian banking system, Recent credit and monetary policies Introduction to National financial institutions like RBI, SEBI, IRDA, FSDC etc and of International organizations like IMF, World Bank, ADB, UN etc, Abbreviations and Economic terminologies, Banking Terms, Important Government Schemes on capital & money market
All these topics will be included in the IBPS CLERK EXAM 2019, therefore prepare them well with the help of highly experienced subject experts, comprehensive study material, joining online test series, and doing lot of practice by taking speed and topic tests. All these facilities are available with reputed educational institutes which one can easily locate.
Related Articles IBPS CLERK 2019