Current Affairs 31 January, 2020
Current Affairs 31 January, 2020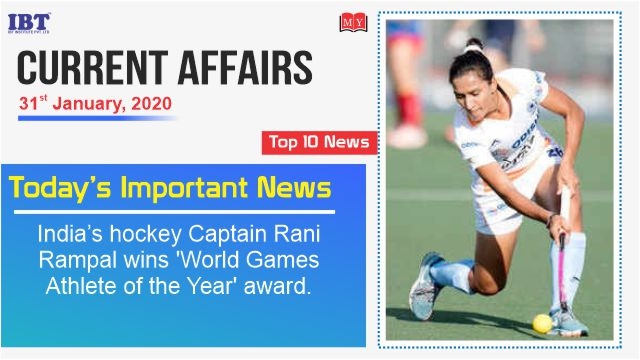 1. ORF of India ranks 27th on "Global Go to Think Tank" Index report.
India's Observer Research Foundation (ORF) has jumped more than 90 places to 27th position among 176 global think tanks.

The 2019 Global Go To Think Tank Index Report, by the Think Tanks and Civil Societies Program (TTCSP) of the Lauder Institute at the University of Pennsylvania, ranked ORF among top 30 think tanks globally. ORF moved up from the 118th position in the 2018 ranking and got featured at the ninth position on the "Think Tank to Watch in 2019" list.

Moreover, ORF curated Raisina Dialogue has been ranked 7th best conference in the report, moving up from 12th position. The list was topped by Carnegie Endowment for International Peace of US, followed by Belgium's Bruegel and French Institute of International Relations (IFRI).
2. WHO declared global emergency due to coronavirus as death number reached to 213.
The World Health Organization declared a global emergency over the new coronavirus, as China reported the death toll had climbed to 213 with nearly 10,000 infections.

The UN health agency based in Geneva had initially downplayed the threat posed by the disease, but revised its risk assessment after crisis talks.

Many countries have already urged their citizens not to visit China, while some have banned entry for travellers from the central Chinese city of Wuhan, where the virus first surfaced.
Foot Notes:
About WHO
Head: Tedros Adhanom
Headquarters: Geneva, Switzerland
Founded: 7 April 1948
3. ICC appointed Anurag Dahiya as chief commercial officer.
The International Cricket Council (ICC) appointed seasoned media professional Anurag Dahiya as its Chief Commercial Officer.

Dahiya brings more than two decades of commercial experience from the media industry, most recently as head of content and media sales at Singtel, Asia's leading telecommunications group.

Prior to that, he spent 14 years with Fox International Channels (previously ESPN STAR Sports) as senior vice president, strategy and business development.

His responsibilities there included cricket rights and content acquisition working on high profile, high value acquisition of sports rights.
Foot Notes:
About ICC
Chairperson: Shashank Manohar
CEO: Manu Sawhney
Headquarters: Dubai, United Arab Emirates
4. India's hockey Captain Rani Rampal wins 'World Games Athlete of the Year' award.
Indian women's team captain Rani Rampal became the first-ever hockey player to win the prestigious 'World Games Athlete of the Year' award.

The World Games announced the winner on after 20 days of polling by sports fans world-wide.

Rani, who has been a member of the national team since she was 15-years-old, currently has more than 240 caps for India.

Under Rani's leadership, the Indian women's team qualified for just the third Olympic Games in its history.

5. Ayonika Paul and Vijayveer Sidhu emerged as winners in National Shooting trials.
Olympian Ayonika Paul has won the women's 10m Air Rifle T1 event while Vijayveer Sidhu won the men's 25m Pistol T2 event in the National Shooting trials at Thiruvananthapuram.

Ayonika overcame a quality eight-woman field which had the likes of Tokyo 2020 quota holders Apurvi Chandela and Anjum Moudgil among competitors.

Ayonika registered a score of 252.0 enroute to victory. Apurvi came third with a score of 229.8 but it was Himachal's Zeena Khitta, who had the best day in women's Air Rifle event, coming in second place with a score of 251.1. Chandigarh's Vijayveer won the junior men's 25m Pistol with an aggregate score of 585.
6. Former Kerala Minister and veteran Congress leader M Kamalam passes away at 92.
Former Kerala state Minister and veteran Congress leader M Kamalam passed away at her residence in Kozhikode. Kamalam was active in politics for seven decades.

She was Co-operation Minister between 1982-1985 during Chief Minister K Karunakaran's tenure.

She represented the Kalpetta Assembly constituency twice, having won in 1980 and in 1982.

During her long political career, she served as Vice President and general secretary of the Kerala Pradesh Congress Committee (KPCC) and member of the All India Congress Committee (AICC).She had also served as Chairperson of the Kerala Women's Commission.
7. Indian Coast Gaurd commissions C-448 third interceptor boat.
The third Indian Coast Guard Interceptor Boat of Coast Guard Headquarters (Karnataka), C 448, was officially commissioned at New Mangalore Port.

The interceptor boat has been built by Larsen and Toubro Shipyard Limited in Surat.The interceptor boat will help the Coast Guard check illicit activities, including infiltration, smuggling and illicit fishing.

Also, the Karnataka government has also decided to provide 160 acres of land at Kenjar village in Mangalore taluk to set up a Coast Guard Training Academy.
8. India to increase carbon emissions by 600 million tones due to increase in steel demand.
The 20th edition of the World Sustainable Development Summit 2020, a TERI flagship event, states that the CO2 emissions from India's steel sector could increase up to 837 million tonnes (MT) by 2050.

India's steel demand will be more than quadruple from around 111 million tonnes to 489 million tonnes.

The carbon dioxide emissions from the sector projected to go from 242 MT to 837 MT. Low Carbon Steel prepared by the Energy Transitions Commission (ETC) India. It is a research platform based in TERI in New Delhi.
9. BoM and SBI banks have PSB rated good in digital transactions in December.
Bank of Maharashtra and State Bank of India are the only two state-run banks that showed 'good' performance in terms of digital transactions in December with a score of 77 and 68 respectively, government data showed.

The calculated rating for an individual bank is given by the Ministry of Electronics and Information Technology (MeitY) on various parameters such as percentage of digital transactions, merchant deployment achieved, system resilience, and average percentage of technical decline for UPI or AePS transactions.

The union government gave a target of 4,000 crore digital transactions for the current fiscal. Banks performance on various parameters, including digital sales, is to be tracked on every month.
Foot Notes:
About SBI
Chairperson: Rajnish Kumar
Headquarters: Mumbai
10. India will continue to lead global sustainable energy agenda.
Petroleum Minister Dharmendra Pradhan has said India will continue to lead the global sustainable energy agenda. The principal note address at the TERI's World Sustainable Development Summit 2020 on 'Energy Future Road Map' in New Delhi. The trajectory to end energy poverty in India, as compared to the rest of the world, is based on the particular national circumstances.

The right mix of enablers is being put in place to ensure that the energy transition is secure, affordable, reliable, and sustainable. India is the third-largest energy consumer after the US and China. The union government has set out a road map for reducing India's crude oil imports by 10 percent by 2022.

The Government is working towards transformation to a gas-based economy, tapping into indigenously produced biofuels, apart from adopting renewable energy and energy efficiency measures, to achieve the much-needed carbon reductions.
Foot Notes:
Petroleum Minister: Dharmendra Pradhan

Read More:
Current Affairs 30 January, 2020
Current Affairs 29 January, 2020
Current Affairs 28 January, 2020