Current Affairs 15 October, 2019
Current Affairs 15 October, 2019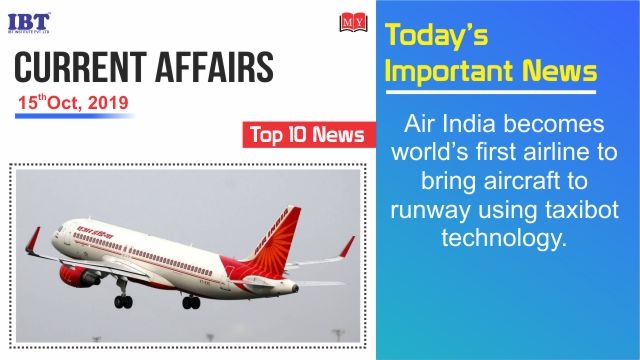 Current Affairs 15 October 2019
1. International Day of Rural Women: 15 October
The International Day of Rural Women is observed on 15th October. The day recognizes the crucial role of women and girls in ensuring the sustainability of rural households and communities, improving rural livelihoods and overall wellbeing.

This year's theme is "Rural Women and Girls Building Climate Resilience".

This year's theme highlights the important role that rural women and girls play in building resilience to face the climate crisis.
2. Air India becomes the world's first airline to bring aircraft to the runway using taxibot technology
Air India has become the first airline in the world to use taxibot on an A320 aircraft with passengers on board at Indira Gandhi International Airport, New Delhi. The taxibot is a pilot-controlled semi-robotic aircraft tractor, bringing the aircraft from the parking bay to the runway and vice versa.

The engine of the aircraft remains shut while using the taxibot, which saves fuel & also reduces carbon emissions. The engine is switched on only when the aircraft reaches the runway. Taxibots will only be used for departing flights. Its use will reduce fuel consumption by 85% compared to bringing the aircraft engine on.

Air India CMD (Chairman and Managing Director) started the use of a taxibot for commercial flight with the departure of AI 665 flight, which was carried to runway using Taxibot at terminal 3 of the Delhi airport – to Mumbai.
Foot Notes:
About Air India
1. Headquarters: New Delhi
2. Slogan: Air India, Truly Indian
3. CMD: Ashwani Lohani
3. Kishan Dan Dewal concurrently accredited as the next Ambassador of India to Georgia
As per the Ministry of External Affairs(MEA), Government of India (GoI), Shri Kishan Dan Dewal (Indian Foreign Service –IFS officer of 2003 batch), has been concurrently accredited as the next Ambassador of India to Georgia, with residence in Yerevan.

He succeeds Shri Yogeshwar Sangwan. Dewal is presently serving as Ambassador of India to the Republic of Armenia.
Foot Notes:
About Georgia
1. Capital: Tbilisi
2. Currency: Georgian lari
3. President: Salome Zurabishvili
4. Prime Minister: Giorgi Gakharia
4. World Student's Day observed on October 15, 2019
World Student's Day is observed annually on October 15 by the United Nations(UN) declaration in 2010. The day is celebrated commemorating the birth anniversary of former President(11th president) of India Shri Dr. APJ Abdul Kalam who wished to be identified as a teacher and then as anything else.

This year, 2019, marks the 88th birth anniversary of Shri Abdul Kalam, who was also known as the "Missile Man of India" for his work Pokhran-II nuclear tests in 1998, development of ballistic missile and launch vehicle technology.
About Abdul Kalam
1. Born: 15 October 1931, Rameshwaram, TamilNadu.
2. Full name: Avul Pakir Jainulabdeen Abdul Kalam.
3. He also served as a scientist in the Defence Research and Development Organisation(DRDO) and Indian Space Research Organisation(ISRO).
4. He passed away at the age of 83 on 27 July 2015, due to cardiac arrest while delivering a lecture at Indian Institute of Management(IIM) Shillong.
About the United Nations
1. Secretary-General: António Guterres
2. Founded: 24 October 1945, San Francisco, California, United States
3. Headquarters: New York, United States
5. Anoop Kumar is appointed as the new Union Law Secretary
Anoop Kumar Mendiratta is appointed as the new Union Law Secretary. This is the first time such an appointment has been made.

Anoop Kumar is currently the serving District and Sessions Judge in the North-East District, Karkardooma Courts, New Delhi. He will serve in the position till 30 March 2023, or until he attains the age of 60.

Normally, the posts of Secretary for the Legal Affairs and Legislative Department are held by Indian Legal Service Officers.

6. Naval bilateral exercise between India and Bangladesh is being held
The maiden naval bilateral exercise between India Navy (IN) and Bangladesh Navy (BN) is being held from 12 October to 16 October 2019 at Visakhapatnam, India.

The IN-BN exercise aims to strengthen mutual ties between India and Bangladesh.

Two naval vessels, Bangladesh Navy Ships (BNS) Ali Haider, a Type 053 frigate, and BNS Shadhinota, a Type 056 stealth guided missile corvette, are participating in the first bilateral exercise.
Foot Notes:
About Indian Navy
1. Vice Chief of the Naval Staff: Vice Admiral G. Ashok Kumar
2. Chief of the Naval Staff (CNS): Admiral Karambir Singh
3. Deputy Chief of the Naval Staff (DCNS): Vice Admiral M. S. Pawar
About Bangladesh
1. Capital: Dhaka
2. Currency: Bangladeshi Taka
3. Prime minister: Sheikh Hasina
7. TCS named India's overall most outstanding company in Asiamoney's 2019 poll
Tata Consultancy Services (TCS) has been selected as the overall most outstanding company in India's IT services sector in Asiamoney's 2019 outstanding companies poll.

Asiamoney's various investor surveys recognized TCS as the most awarded company of the decade in India including awards like the best-managed companies award, the corporate governance poll.
Foot Notes:
About TCS
1. CEO: Rajesh Gopinathan
2. Founded: 1 April 1968
3. Headquarters: Mumbai
8. Atwood and Evaristo won the 2019 Booker Prize
Margaret Atwood and Bernardine Evaristo have been announced as the joint winners of the 2019 Booker Prize.

This is the first time joint winners are announced. Atwood won for The Testaments, her sequel to The Handmaid's Tale, and Evaristo won for her novel Girl, Woman, Other. The winners were awarded at a ceremony at London's Guildhall on 15 October.
9. ICC changes super overrule for all its major events
The International Cricket Council (ICC) has changed the super-over rule for all its major events following the uproar over the outcome of the men's World Cup final this year when England was declared winners against New Zealand on boundary count.

As per new rule, in case of a super over the tie, there will be a repeated super over until one team has more runs than the other.
Foot Notes:
About ICC
1. ICC Chairman: Shashank Manohar
2. Headquarters: Dubai, United Arab Emirates.
3. The 13th edition of the ICC Cricket World Cup will be held in India from February 9 to March 26, 2023.
10. Indian Railways launched Sewa Service trains
Union Railway Minister Piyush Goyal launched the Sewa Service trains on 14 October 2019. He flagged off the Delhi-Shamli daily passenger train from the New Delhi railway station.

The objective of Sewa Service trains is to improve and provide last-mile connectivity for those traveling from villages and small towns to major cities.

Indian Railways announced that it is to launch 10 Sewa Service trains.
Foot Notes:
About Minister of Railways
1. Deputy Minister responsible‎: ‎Suresh Angadi‎
2. Minister responsible‎: ‎Piyush Goyal
Read More :