Current Affairs 11 October, 2019
Current Affairs 11 October, 2019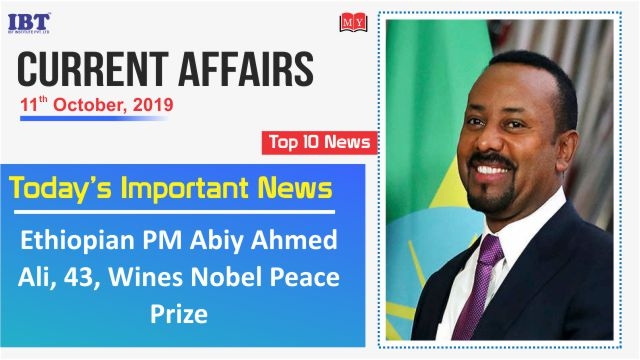 Current Affairs 11 October, 2019
1. International Day of the Girl Child, 11 October 2019
The United Nations observes International Day of the Girl Child on 11th October every year. The day aims to highlight and address the needs and challenges girls face, while promoting girls' empowerment and the fulfillment of their human rights.

International days are occasions to educate the public on issues of concern, to mobilize political will and resources to address global problems, and to celebrate and reinforce achievements of humanity.

The theme for 2019: Girl Force: Unscripted and Unstoppable.
Foot Notes:
About United Nations
1. Headquarters: New York, USA
2. Founded: 24 October 1945.
3. Secretary General of the United Nations: Antonio Guterres.
2. RBI approves merger of district co-operative banks to form Kerala Bank
All 13 district co-operative banks (DCBs) operating in Kerala would be amalgamated with Kerala State Co-operative Bank to form the Kerala Bank.

The Reserve Bank of India has given the final approval for the merger of district co-operative banks in Kerala. The combined entity will be called the 'Kerala Bank'.

After receiving the RBI's nod, Kerala Chief Minister Pinarayi Vijayan expressed hope that the Kerala Bank will help accelerate development of the state.
Foot Notes:
About RBI
1. Bank rate: 5.65%
2. Headquarters: Mumbai
3. Founder: British Raj
4. Governor: Shaktikanta Das
About Kerala
1. Capital: Thiruvananthapuram
2. Chief Minister: Pinarayi Vijayan
3. Centre to amend Arms Act, stricter punishment to curb proliferation of illegal weapons
Union Home Ministry proposed amendments to the Indian Arms Act, 1959. The Ministry also submitted the draft for the act. The draft Arms (Amendment) Act 2019 was aimed at curtailing the proliferation of arms and ammunition.

The ministry proposed a new section, 25 (6) for the prohibition of firearms or ammunition by members of an organised crime syndicate.

The penalty includes a minimum punishment of 10 years in prison and maximum punishment of life imprisonment till death.
Foot Notes:
About Indian Army
1. Motto: "Service Before Self"
2. Founded: 1 April 1895, India
3. Headquarters: New Delhi
4. Commander-in-Chief: President Ram Nath Kovind
5. COAS: General Bipin Rawat
4. Ethiopian PM Abiy Ahmed Ali, 43, Wins Nobel Peace Prize
Hailed as a visionary and reformer, Ethiopian Prime Minister Abiy Ahmed won the Nobel Peace Prize on Friday for his efforts to resolve the long-running conflict with neighbouring foe Eritrea.

Abiy was honoured "for his efforts to achieve peace and international cooperation, and in particular for his decisive initiative to resolve the border conflict with neighbouring Eritrea," the Nobel Committee said.

The award is seen as a welcome boost for Africa's youngest leader as he faces worrying inter-community violence ahead of a parliamentary election in May 2020.
Foot Notes:
About Ethiopian
1. Prime minister: Abiy Ahmed
2. Capital: Addis Ababa
3. Currency: Ethiopian birr
5. Government launches mhariyali app to encourage people for planting trees
Minister of State for Housing & Urban Affairs Hardeep S Puri launched a mobile app, 'mHariyali', which is aimed to encourage public engagement in planting trees and other such green drives.

People can upload information/photos of any plantation done by them, which is linked to the app and will be displayed on the website www.epgc.gov.in.

6. Bill Gates' new book is about climate change
The founder of Microsoft Corporation and American philanthropist Bill Gates' new book will be about climate change, and will look at possible solutions to prevent an environmental crisis, UK-based publishing house Allen Lane has announced.

In "How to Avoid a Climate Disaster: The Solutions We Have and the Breakthroughs We Need", Gates will explain why he cares so deeply about climate change and what makes him optimistic that the world can prevent the worst impacts of the climate crisis.
7. Government launched SUMAN scheme
The government launched the Surakshit Matritva Aashwasan (SUMAN) scheme on 10 October 2019. The scheme was launched by Union health minister Harsh Vardhan.

Under this scheme, pregnant women, mothers up to 6 months after delivery, and all sick newborns will be able to avail free healthcare benefits.

The government said that India's maternal mortality rate has declined from 254 per 1,00,000 live births in 2004-06 to 130 in 2014-16. Also, the infant mortality rate came down from 66 per 1,000 live births to 34 per 1,000 live births during 2001 and 2016.
Foot Notes:
About SUMAN scheme
at least four antenatal check-ups that also includes one checkup during the 1st trimester

at least one checkup under Pradhan Mantri Surakshit Matritva Abhiyan

Iron Folic Acid supplementation

Tetanus Diphtheria injection

Other components of comprehensive ANC package

six home-based newborn care visits
8. Legendary saxophonist Kadri Gopalnath passes away
Legendary saxophonist and the Padma Shri awardee Kadri Gopalnath passed away. The Carnatic music maestro won multiple awards in his illustrious career, including the Kendra Sangeetha Nataka Academy Award and Karnataka Kalashree.

He had the distinction of being the first Carnatic musician to be invited in the BBC Promenade concert in the Royal Albert Hall at London in 1994.
9. Yes Bank appoints ICICI Bank's Anita Pai as COO
The bank announced the appointment of Anita Pai as its chief operating officer and Jasneet Bachal as its chief marketing officer.

Anita Pai was the Senior General Manager and Head of ATM Business, Branch banking Service and Phone Banking at ICICI Bank. She has also been associated with ICICI Prudential Life Insurance Company Limited and HDFC Limited.
Foot Notes:
About Yes Bank
1. CEO: Ravneet Gill
2. Headquarters: Mumbai
3. Founded: November 2004
4. Founders: Rana Kapoor, Ashok Kapur
About ICICI Bank
1. CEO: Sandeep Bakhshi
2. Headquarters: Mumbai
10. Gujarat to host conference of State Power Ministers
Gujarat will host the State Power Ministers' Conference. It will take place at Kevadia, on the banks of Narmada river.

The 2 day conference will see discussions on policies related to emerging technologies in sustainable and renewable energy sector.

It will also look after the implementation of Prime Minister Kusum Yojana, Solar Roof top, renewable energy development in the border areas, projects for Ultra Mega Renewable Energy Parks, ease of doing business in solar and wind energy space and the concerning issues related to regulatory matters, land and infrastructure.
Foot Notes:
About Gujarat
1. Capital: Gandhinagar
2. Governor: Acharya Devvrat
3. Chief Minister: Vijay Rupani