Current Affairs 14 October, 2019
Current Affairs 14 October, 2019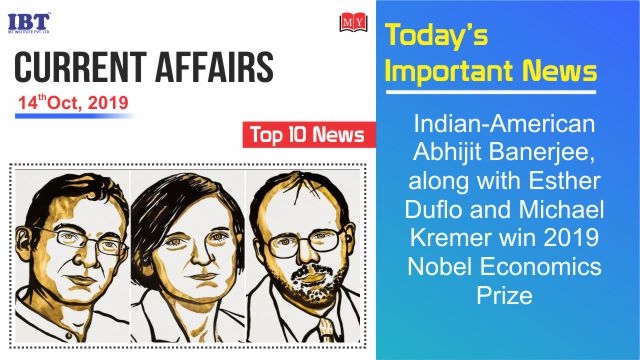 Current Affairs 14 October, 2019
1. Indian-American Abhijit Banerjee, along with Esther Duflo and Michael Kremer win 2019 Nobel Economics Prize
Indian-American Abhijit Banerjee, his wife Esther Duflo and Michael Kremer jointly won the 2019 Nobel Economics Prize "for their experimental approach to alleviating global poverty." The award recognized their experimental approach to alleviating global poverty.

Banerjee was educated at the University of Calcutta, Jawaharlal Nehru University, and Harvard University, where he received his Ph.D. in 1988. He is currently the Ford Foundation International Professor of Economics at the Massachusetts Institute of Technology, according to his profile on the MIT website.

The research conducted by this year's laureates has considerably improved the ability to fight global poverty.
2. World standards Day observed on 14 October 2019
World Standards Day (WSD) was celebrated on 14 October, 2019. It is observed annually by the members of the International Electrotechnical Commission (IEC), International Organization for Standardization (ISO) and the International Telecommunication Union (ITU) as a way of tributing the global experts, developing technical agreements published in national and international standards.

The 2019 theme for WSD is "Video Standards Create a Global Stage". The aim of WSD is to raise awareness on the importance of standardization to the global economy.

Union Minister of Consumer Affairs, Food and Public Distribution Shri Ram Vilas Paswan inaugurated the celebrations of the 60th 'World Standard Day' by the Bureau of Indian Standards (BIS) in New Delhi.
3. India to have first-ever Olympic Hospitality House in Tokyo during the Summer Games
India will have its first-ever Olympic Hospitality House in Tokyo during the Summer Games next year.

The Indian Olympic Association (IOA) and JSW Group on Thursday announced a partnership to build the facility.

Many of the Olympic participating countries have their own hospitality houses during the Games but this will be the first time India will be having one to showcase its culture and heritage.
Foot Notes:
About Indian Olympic Association (IOA)
1. President: Narinder Dhruv Batra
2. Founded: 1927
3. Headquarter: New Delhi
4. Secretary General: Rajeev Mehta
About Tokyo
1. Capital: Shinjuku
4. Mumbai's Flora Fountain and four others Win UNESCO Heritage Awards
Mumbai's iconic 155-year-old Flora Fountain and two different heritage landmarks within the nation's monetary capital are among the many 4 websites which were chosen from India for the UNESCO Asia-Pacific Awards for Cultural Heritage Conservation.

The 4 winners from India, embody one from Ahmedabad — Award of Distinction for Vikram Sarabhai Library, Indian Institute of Administration (IIM); and three from Mumbai — Award of Benefit for Keneseth Eliyahoo Synagogue and Our Girl of Glory Church; whereas Honourable Point out for Flora Fountain.
About UNESCO
1. Headquarters: Paris, France
2. Head: Audrey Azoulay
3. Founded: 16 November 1945, London, United Kingdom
4. Formation: 4 November 1945
5. New version of return filing portal to be launched by GST Network
The Goods and Services Tax Network (GSTN) is to launch an improved version of the GST return filing portal on 22 October. It aims to make the process easier. The announcement was made by the GST Network CEO, Prakash Kumar.

GST has reduced complexity by lowering the number of forms to be filed by businesses. Previously it was 495 under as many as 17 central and state laws.

Data that is shared by indirect tax administration with the income tax department has helped in detecting mismatches. Currently, there are 12.3 million registered GST taxpayers.

6. Lakshya Sen won the Dutch Open men's singles title at Almere
Indian shuttler Lakshya Sen won the Dutch Open men's singles title 2019 at Almere, Netherlands. This is his maiden Badminton World Federation (BWF) World Tour title. He won the title by defeating Yusuke Onodera of Japan in the summit. He secured 15-21 21-14 21-15 to defeat Onodera.

Lakshya Sen currently ranked 72nd. He had won the Belgian Open in September and reached the finals of Polish Open 2019.
Foot Notes:
About Result
1. Men's Singles: Lakshya Sen (India)
2. Women's Singles: Wang Zhiyi (China)
3. Men's Doubles: Vladimir Ivanov, Ivan Sozonov (Russia)
4. Women's Doubles: Gabriela Stoeva, Bulgaria Stefani Stoeva (Bulgaria)
5. Mixed Doubles: Robin Tabeling, Selena Piek (Netherlands)
About Dutch Open (badminton) 2019:
1. Dates: 8 October 2019 –13 October 2019
2. Location: Almere, Netherlands
3. Total prize money: US$75,000
4. Organized by: Badminton Nederland
5. Dutch open 2019 has been held since 1932. It is the 9th Super 100 tournament of the 2019 BWF World Tour.
7. Alexei Leonov, the first human to walk in space passes away
Alexei Leonov, the legendary Soviet cosmonaut who became the first human to walk in space 54 years ago and who nearly didn't make it back into his space capsule, has died in Moscow at 85.

During this mission, on 18 March 1965, Leonov exited the spacecraft and walked for 12 minutes and 9 seconds.

Showing just how much of a space pioneer Mr. Leonov was, NASA broke into its live televised coverage of a spacewalk by two Americans outside the International Space Station to report Mr. Leonov's death.
Foot Notes:
About NASA
1. Headquarters: Washington, D.C., United States
2. Founder: Dwight D. Eisenhower
3. Founded: 29 July 1958, United States
About Alexei Leonov
1. Born: 30 May 1934, Kemerovo Oblast, Russia
2. Died: 11 October 2019, Moscow, Russia
3. Space missions: Voskhod 2, Apollo–Soyuz Test Project, Soyuz 19
4. Nationality: Russian, Soviet
8. Sara Danius , first female head of Nobel's Literature Award Body passes away
First female head of Nobel's Literature Award Body, Sara Danius passed away.

She was a literature critic, professor and writer, served as the first female permanent secretary of the Swedish Academy between 2015 and 2018.
9. Centre plans 'Vigyan Jyoti' to help girl students to opt for STEM education
Centre is to launch Vigyan Jyoti, a program to help girl students inculcate interest in areas like Science, Technology, Engineering, and Mathematics (STEM).

The move comes after the assessment that a meager percentage of women are in the STEM area.

Department of Science and Technology (DST) data said that females comprised 24% of the total pas-out students in STEM subjects in engineering, 22% at the postgraduate level, 28% at M.Phil, and 35% at the Ph.D. level.

Vigyan Jyoti initiative aims to stir up interest among the Indian girl students to get into the STEM educational areas. The initiative will be launched in October 2019.
10. ICICI Bank launches new FD scheme called "FD health"
Industrial Credit and Investment Corporation of India (ICICI Bank) launched a new Fixed deposit (FD) scheme called "FD health" which provides investors a complimentary critical illness cover on 33 critical illnesses for the customers who are in the age bracket of 18-50 years.

For the first year, free of cost insurance cover will be provided which can be renewed later. Critical illness cover of Rs 1 lakh from ICICI Lombard General Insurance Company will be provided on opening an FD of Rs. 2 lakh to Rs. 3 lakh for tenure of at least 2 years.

Earlier, ICICI Bank had launched FD Life (FD offering a free term life insurance) and FD Invest where interest from FDs is invested in monthly Systematic Investment Plans (SIPs) of a mutual fund.
Foot Notes:
About ICICI Bank:
1. Tagline: Hum Hai Na, Khyal Apka
2. Headquarters: Mumbai
3. MD & CEO: Sandeep Bakhshi