SSC GD Constable Vacancy 2018 Increased, Check Revised Vacancies
SSC GD Constable Vacancy 2018 Increased, Check Revised Vacancies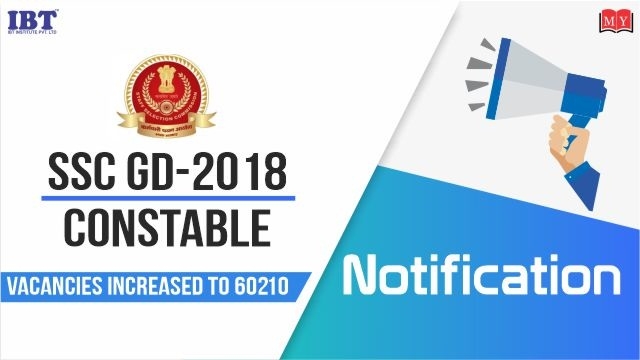 SSC GD Constable Vacancy 2018 Increased, Check Revised Vacancies
SSC conducts the GD Constable exam for the selection of eligible candidates to multiple posts as Constables (GD) in Central Armed Police Forces (CAPFs), NIA & SSF and Rifleman (GD) in Assam Rifles (AR). SSC released the notification for this recruitment in 2018 and the SSC GD Constable exam was conducted from 11th Feb to 11th March 2019.
Initially, SSC released a total of 54953 vacancies for the SSC GD Recruitment 2018. But now, in a new notice released by the SSC it has increased the number of vacancies to 60210. The notice depicts Force wise consolidated vacancies for SSC GD.
SSC GD Constable Vacancy 2018
Below is the table for detailed comparison between the previous and current vacancies for SSC GD Constable.
Updated Vacancy
(10th April 2019)

Updated Vacancy
(16th Dec 2019)

54953

58373

60210

SSC GD Constable Vacancy for Male: 16th December 2019
| Positions | SC | ST | OBC | GEN | Updated Vacancy [16th Dec 2019] |
| --- | --- | --- | --- | --- | --- |
| BSF | 2310 | 1371 | 3243 | 7512 | 14436 |
| CISF | 1064 | 754 | 1637 | 3811 | 7266 |
| CRPF | 2889 | 1011 | 2834 | 7035 | 13769 |
| SSB | 1406 | 805 | 1998 | 4722 | 8931 |
| ITBP | 411 | 310 | 597 | 1523 | 2841 |
| AR | 381 | 489 | 598 | 1608 | 3076 |
| NIA | 0 | 1 | 2 | 5 | 8 |
| SSF | 38 | 47 | 75 | 212 | 372 |
| Total | 8499 | 4788 | 10984 | 26428 | 50699 |
SSC GD Constable Vacancy for Female: 16th December 2019
| Positions | SC | ST | OBC | GEN | Updated Vacancy [16th Dec 2019] |
| --- | --- | --- | --- | --- | --- |
| BSF | 419 | 239 | 574 | 1316 | 2548 |
| CISF | 117 | 82 | 177 | 431 | 807 |
| CRPF | 413 | 18 | 522 | 1102 | 2055 |
| SSB | 332 | 158 | 481 | 1054 | 2025 |
| ITBP | 72 | 50 | 104 | 275 | 501 |
| AR | 185 | 238 | 289 | 788 | 1500 |
| NIA | 0 | 0 | 0 | 0 | 0 |
| SSF | 10 | 7 | 18 | 40 | 75 |
| Total | 1548 | 792 | 2165 | 5006 | 9511 |
Read more:
Click here to Know more about SSC GD 2020 exam
Click here to check Upcoming SSC Exams details
Click here to check Upcoming Bank Exams details
Click here to check Upcoming Government Exams details