IBPS Clerk 2019 Mains Exam Download Free Practice Papers PDF
IBPS Clerk 2019 Mains Exam Download Free Practice Papers PDF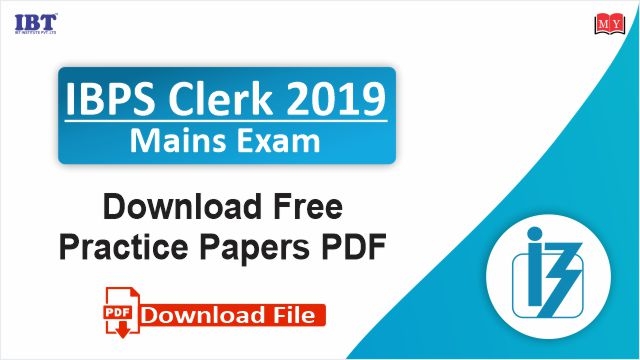 Dear Students,
As we are aware that IBPS CLERK (PRE) EXAM - 2019 result is out and we would have students who have qualified the same. Now it is the time to put some extra efforts so that they shall be able to qualify the Main Exam. As of the previous examination this time again MakeMyExam has a full proof plan and strategy to guide the students for Main Examination. Here in this post, we are sharing IBPS CLERK MAIN EXAM 12 Days study plan. We will upload content here on a daily basis.
Daily Topic Test of the Most Important topics from Main Exam Point of view having 50 Questions of 1-hour duration.

Daily Mini Mock Test Paper of 90 questions containing Mixed questions from important topics.
TARGET BATCH FOR IBPS CLERK 2019 MAIN EXAM

TOPIC TESTS IBPS CLERK 2019 MAIN EXAM

DATE

TOPIC NAME

DOWNLOAD HERE

6-Jan-20

READING COMPREHENSION & ERROR DETECTION

Download

7-Jan-20

PUZZLE TEST/ INPUT-OUTPUT

Download

8-Jan-20

NUMBER SERIES & DATA INTERPRETATION

Download

9-Jan-20

G.K. AND BANKING

Download

10-Jan-20

CLOZE TEST & RE-ARRANGEMENT/SENTENCE COMPLETION

Download

11-Jan-20

SITTING ARRANGEMENT & SYLLOGISM

Download

SUNDAY

13-Jan-20

QUADRATIC EQUATION /QUANTITY BASED QUESTIONS

Download

14-Jan-20

G.K. AND BANKING

Download

15-Jan-20

SENTENCE IMPROVEMENT & FILL IN THE BLANKS

Download

16-Jan-20

LOGICAL REASONING/CODING DECODING/ BLOOD RELATION & DIRECTION

Download

17-Jan-20

QUANTS MISCELLANEOUS

Download

EXPECTED PAPER FOR IBPS CLERK MAINS-2020

MINI MOCK TESTS IBPS CLERK 2019 MAIN EXAM

ALL THE BEST FOR EXAM
Read More:-
Check Complete Details Here About: IBPS Clerk 2020
For Exam Preparation Join: IBPS Clerk Online Course
Check here: Upcoming Bank Exams