Current Affairs 16 October, 2019
Current Affairs 16 October, 2019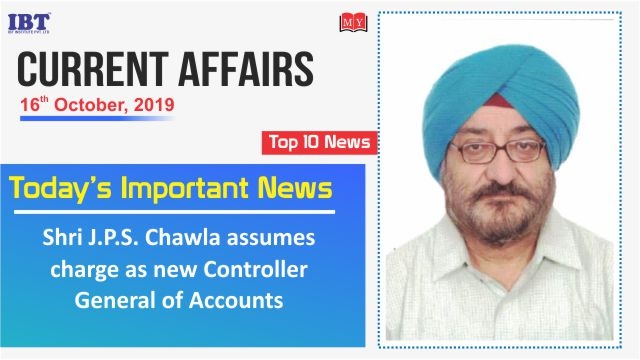 Current Affairs 16 October, 2019
1. Shri J.P.S. Chawla assumes charge as new Controller General of Accounts
Government of India has appointed J. P. S. Chawla as the new Controller General of Accounts (CGA), Ministry of Finance, Department of Expenditure. He will replace Girraj Prasad Gupta.

Prior to assuming the charge of CGA, Chawla served as Principal Chief Controller of Accounts, Central Board of Indirect Taxes & Customs (CBIC) where he was instrumental in the finalisation of the accounting procedure and operationalisation of GST Network (GSTN) before the national rollout of GST.

He also played a key role in the integration of the IGST refund payment network of CBIC with the Public Financial Management System (PFMS) as part of the Government of India's decision to digitise all Government receipts and payments through the PFMS portal of the Office of Controller General of Accounts.
Foot Notes:
Controller General of Accounts headquarter: New Delhi
2. World Food Day: 16 October
World Food Day is celebrated every year

around the world on 16 October in honor of the date of the founding of the Food and Agriculture Organization (FAO) of the United Nations in 1945.

The theme for WFD 2019 is "Our Actions Are Our Future".

This day generates awareness globally for those who suffer from hunger and to ensure the need for food security and nutritious diets for all. The main focus of this day is that food is a basic and fundamental human right.
Foot Notes:
1. Food and Agriculture Organization headquarters: Rome, Italy.
2. Food and Agriculture Organization Established: 16 October 1945.
3. Vardhan launches 'food safety mitra' scheme for scaling up 'Eat Right India' movement
On the lines of 'arogya mitras', the government launched a scheme for engaging 'food safety mitras' to sensitise street food vendors on hygiene aspects and assist businessmen to comply with standards and facilitate licensing and registration.

Apart from strengthening food safety, this scheme would also create new employment opportunities for the youth, particularly with food and nutrition background, Union Health Minister Harsh Vardhan said.
4. Defence Minister Rajnath Singh inaugurates 41st DRDO Directors Conference in New Delhi
Defence Minister Rajnath Singh inaugurated the 41st DRDO Directors Conference in New Delhi. Chiefs of the three forces & DRDO Chairman G Satheesh Reddy were also present on the occasion.

The discussion included efforts taken by DRDO to ensure technological advancement of the Indian forces to safeguard the country.

It was suggested that DRDO can play a significant role in becoming a catalyst in the absorption of technology.
Foot Notes:
About DRDO
1. DRDO was formed in 1958
2. It is headquartered in New Delhi.
5. Indian Railways to become net zero carbon emitter by 2030
Indian Railways (IR) has announced that it will become a net-zero carbon emitter by 2030. The move will be a part of India's strategy to combat climate change.

The announcement was made by railways and commerce minister Piyush Goyal at the India Energy Forum by CERAWEEK in New Delhi. India is the biggest emitter of greenhouse gases after the US and China, and is among countries most vulnerable to climate change.

Indian railway is the world's largest railway network. It has a rail network of around 1,25,000 km under single management. IR is to go green by setting up solar power generation capacities in its large tracts of land along its network.
Foot Notes:
1. John Mathai was the first Railways Minister of Independent India.

6. Indian Air Force to begin joint military exercise 'Shinyuu Maitri' with Japanese counterpart in West Bengal
The Indian Air Force will be carrying out a joint military exercise 'Shinyuu Maitri' with Japanese Air Self Defence Force (JASDF) from 17 to 23 October.

The exercise will be held at Air Force Station, Arjan Singh in Panagarh town in West Bengal. "C-130 J aircraft of the Special Operations Squadron of IAF and C-130 H of Tactical Airlift Squadron of JASDF will participate in the exercise.

The focus of the exercise will be to undertake Joint Mobility and Tactical interoperability among the two forces.
Foot Notes:
About Indian Force
1. Minister of Defence: Rajnath Singh
2. Commander in Chief: Ram Nath Kovind
3. Chairman of the Chiefs of Staff Committee: General Bipin Rawat
7. India ranked 102 in Global Hunger Index 2019.
The 2019 Global Hunger Index (GHI) indicates that the level of hunger and under nutrition worldwide falls into the serious category. As per the index, India ranks 102nd out of 117 qualifying countries, with a score of 30.3.

India has slipped from 95th rank in 2010 to 102nd in 2019 on the Global Hunger Index (GHI), with the increase in the prevalence of wasting (low weight for height) among children with score under 5 contributing the most to the country's poor performance.

Seventeen countries, including Belarus, Ukraine, Turkey, Cuba and Kuwait, shared the top rank with GHI scores less than 5. There were only four countries in the alarming hunger category are Madagascar, Chad, Yemen and the Central African Republic in the extremely alarming hunger category. The aim of the GHI is to trigger action to reduce hunger around the world.
8. RBI guidelines for 'on tap' payment systems
RBI has issued some instructions and guidelines authorisation of payment systems. It includes minimum net worth criteria for different players.

The government has decided to offer on-tap authorisation for Bharat Bill Payment Operating Unit (BBPOU), White Label ATMs (WLAs) and Trade Receivables Discounting System (TReDS).

As per the guidelines, interested entities should have a minimum of 100 crore rupees net worth and should be maintained at all times.
About RBI
1. Governor: Shaktikanta Das
2. Headquarters: Mumbai
3. Founder: British Raj
9. Zimbabwe, Nepal readmitted as ICC members
Zimbabwe and Nepal were re-admitted as ICC members in a meeting held in Dubai. Zimbabwe will now be able to take up their place in the ICC Men's U19 Cricket World Cup in January and the ICC Super League later in 2020.

Zimbabwe Cricket had been suspended from membership of the International Cricket Council (ICC) with immediate effect in July this year. Nepal had been banned in 2016 for "governmental interference" as well.
Foot Notes
About ICC
1. ICC Chairman: Shashank Manohar
2. Headquarters: Dubai, United Arab Emirates.
3. The 13th edition of ICC Cricket World Cup will be held in India from February 9 to March 26, 2023.
10. Army Wife Achieves Individual Guinness World Records for "The most full contact knee strikes in three minutes, knee strikes alternate legs in one minute,"
Kiran Uniyal, w/o a serving Colonel of Indian Army has created Individual Guinness World Records for "The most full contact knee strikes in three minutes (one leg) (female), 263 strikes" & "The most full contact knee strikes alternate legs in one minute(female),120 strikes". The earlier records were of 177 strikes and 102 in female category respectively.

The objective of both her records was to promote martial arts for girls and women safety and self-defence. While creating the record for the most full contact knee strikes for three minutes, she surpassed the existing male category record of 226 knee strikes.

Kiran Uniyal created her 1st Individual Guinness World Record for "The most full contact elbow strikes (one hand) in 3 minutes,466 strikes", which also featured among the Best of Guinness World Record official video of Jan 2019. She has so far achieved 15 World Records, including 10 Guinness World Records in Martial Arts, Fitness and Social Work.

Read More :
Current Affairs 14 October, 2019