Current Affairs 12 - 13 October, 2019
Current Affairs 12 - 13 October, 2019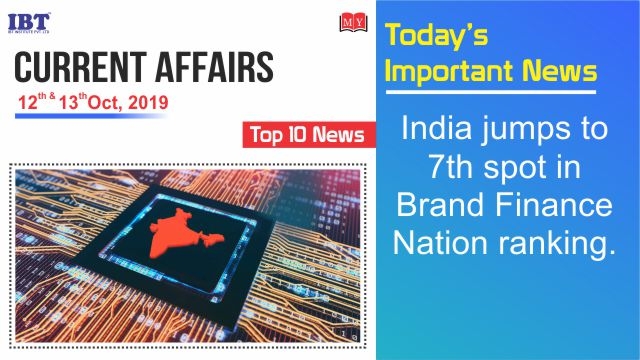 Current Affairs 12 - 13 October, 2019
1. Mumbai 12th richest city globally; total wealth at USD 950 billion
India's financial capital Mumbai, with a total wealth of USD 950 billion, has been named among the top 15 wealthiest cities globally, while New York topped the list.

It is the only Indian city to feature in the top 20 list of wealthiest cities in the world. Delhi is on 22nd position and second Indian city after Mumbai on the wealth intelligence firm. Bangalore is on 26th spot while Hyderabad came last at 28.Delhi, Bengaluru and Hyderabad were expected to grow strongly over the next 10 years. The three cities have been named under the 'cities to watch' category in the report.

New York City (NYC) topped the list with a total wealth of $3.0 trillion. The city is home to the highest number of millionaires and billionaires than any other city in the world.
Foot Notes:
About Maharastra
1. Chief Minister: Devendra Fadnavis
2. Governor: Bhagat Singh Koshyari
3. Capital: Mumbai
2. 2nd edition of India-Bangladesh CORPAT begins
The 2nd edition of Coordinated Patrol (CORPAT) of the navies of India and Bangladesh has begun in Northern Bay of Bengal.

Guided-missile destroyer INS Ranvijay and ingeniously built missile Corvette INS Kuthar are participating in the exercise along with BNS Ali Haider and BNS Shadinota from Bangladesh.

The exercise aims at development of mutual communication and sharing of best practices between the two navies.

The India Bangladesh CORPAT commenced in 2018.
About Bangladesh
1. Capital: Dhaka
2. Currency: Taka
3. PM: Sheikh Hasina
3. World Migratory Bird Day: 12 October
World Migratory Bird Day is observed on 12 October every year. It is an annual awareness-raising campaign highlighting the need for the conservation of migratory birds and their habitats.

It has a global outreach and is an effective tool to help raise global awareness of the threats faced by migratory birds.

Theme for 2019: Protect Birds: Be the Solution to Plastic Pollution
Foot Notes:
About United Nations
1. Headquarters: New York, USA
2. Founded: 24 October 1945
3. Secretary General: Antonio Guterres
4. India's first 'Garbage Cafe' opens in Chhattisgarh's Ambikapur
Chhattisgarh Health Minister T S Singhdeo here inaugurated a 'Garbage Cafe', which will provide free food in exchange for plastic waste.

The cafe, situated in Ambikapur, which bagged the title of the second cleanest city in India, through the initiative, will provide impetus to Prime Minister Narendra Modi's 'plastic-free' India resolve.

The concept of this cafe is that people can get their plastic waste weighed and enjoy a warm meal in return.
Foot Notes:
About Chhattisgarh
1. Governor: Anusuiya Uikey
2. Chief Minister: Bhupesh Baghel
3. Capitals: Bilaspur(Judiciary), Raipur
5. India jumps to 7th spot in Brand Finance Nation ranking
An annual report on the most valuable and strongest nation brands named Brand Finance Nation Brands 2019 was released by Brand Finance in which India was ranked 7th from 9th rank of 2018 with 18.7% growth in brand value to $2,562 bn.

The list was topped by the United States of America (USA) with 7.2% growth in brand value to $27,751 bn.

Singapore emerged as the world's strongest nation brand with the Brand Strength Index (BSI) score 90.5 out of 100.Only India jumped to the 7th spot whereas no new countries made it to Top 10
Foot Notes:
About Brand Finance
1. Founded: 1996
2. Headquarters: London
3. CEO: David Haigh

6. Book titled, "The Great Game in the Buddhist Himalayas: India and China's Quest for Strategic Dominance"penned by Phunchok Stobdan released
A distinguished academician, diplomat, author and foreign policy expert, Phunchok Stobdan's new book "The Great Game in the Buddhist Himalayas: India and China's Quest for Strategic

Dominance",published by Penguin Random House India,describes the several unknown insights into the India-China, India-Tibet and China-Tibet relationships.

The author describes the dalai Lama factor which caused the Buddhist Himalayas to be in a state of flux, especially in the current India-China relationship.
7. International day for disaster reduction observed on October 13, 2019
On October 13, 2019, International Day of Disaster Risk Reduction (IDDRR) has been observed to promote global culture towards risk awareness and disaster reduction. The theme for the year 2019 is "Reduce disaster damage to critical infrastructure and disruption of basic services".

In 1989, the International Day for Disaster Reduction was started by the United Nations General Assembly (UNGA).

According to the UN ,the primary objective is to focus on the target of the Sendai Framework, which highlights "Substantially to reduce disaster damage to critical infrastructure and disruption of basic services, among them health and education facilities, including through developing their resilience by 2030.
Foot Notes:
About United Nations General Assembly (UNGA)
1. President: Tijjani Muhammad-Bande
2. Headquarters: New York, United States
3. Founder: United Nations
4. Founded: 1945, New York, United States
8. M C Mary Kom wins bronze in World Women's Boxing Championships
M C Mary Kom has won the bronze medal in the 51kg event of World Women's Boxing Championships held in Ulan-Ude, Russia.

She lost in an intense semifinal bout to Turkey's Busenaz Cakiroglu. This bronze is her first world medal in the 51kg category.
Foot Notes:
About M C Mary Kom
1. Born: 1 March 1983 (age 36 years), Kangathei
2. Full name: Mangte Chungneijang Mary Kom
3. Awards: Padma Shri, Padma Bhushan, Rajiv Gandhi Khel Ratna
4. Olympic medals: Boxing at the 2012 Summer Olympics – Women's flyweight
5. Books: Unbreakable, Unbreakable: An Autobiography
9. Eliud Kipchoge First In World To Run A Marathon In Under 2 Hours
Kenya's Eliud Kipchoge made history busting the mythical two-hour barrier marathon on a specially prepared course in a huge Vienna park. The unofficial time completed by him was 1hr 59 min 40.2 sec.

The Olympic champion became the first ever to run a marathon in under two hours in the Prater park with the course readied to make it as even as possible.

The 34-year-old already holds the men's world record for the distance with a time of 2 hr 01min 39 sec, which he set in the flat Berlin marathon on September 16, 2018. Kipchoge bested that mark, making good on a failed attempt two years ago in Monza, Italy.
10. Short film 'Spirit of Kerala' wins the People's Choice Award 2019
'Spirit of Kerala', a short film based on a boat race from Kerala directed by Arun Joseph, won the People's Choice Award 2019 at My Rode Reel Film Competition 2019 which is the world's largest short film competition. The winners shared in a prize money worth over $1,000,000.