Current Affairs 10 October, 2019
Current Affairs 10 October, 2019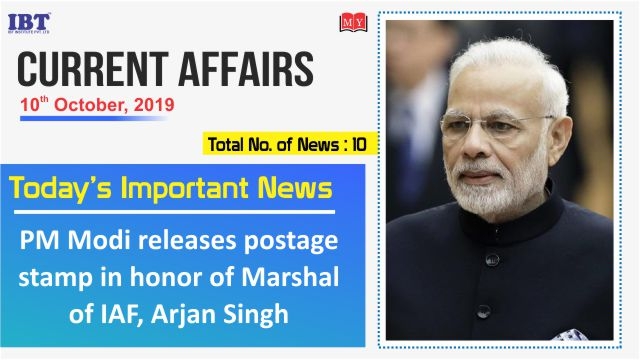 Current Affairs 10 October, 2019
1. Human Resource Minister launches Pradhan Mantri Innovative Learning Programme – DHRUV in Bengaluru, Karnataka
On October 10, 2019, Union Human Resource Development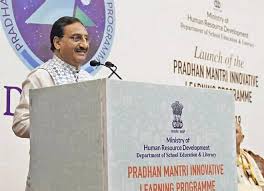 (HRD) Minister Shri Ramesh Pokhriyal 'Nishank' has launched 14-day long ambitious Pradhan Mantri Innovative Learning Program- 'DHRUV' from Indian Space Research Organization (ISRO) headquarters at Bengaluru, Karnataka in presence of Dr K Sivan, Chairman, ISRO, Wing Cdr. Rakesh Sharma, AC (Retd.) among others.
About ISRO:
1. Formation: 15 August 1969
2. Headquarters: Bengaluru, Karnataka
About MHRD:
1. Founded : 26 September 1985.
2. Headquarters : New Delhi.
3. Constituency of Ramesh Pokhriyal: Haridwar, Uttarakhand.
2. PM Modi releases postage stamp in honor of Marshal of IAF, Arjan Singh
Prime Minister (PM) Narendra Modi has released a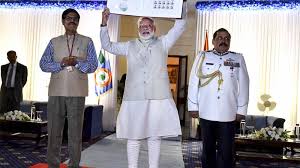 commemorative stamp of Marshal of the Indian Air Force (IAF) late Arjan Singh in honor of his exemplary service to our nation. The stamp was issued at an event of 'at home' programme of the IAF to mark its 87th raising day in New Delhi.
About IAF:
1. Founded: 8 October 1932
2. Headquarters: New Delhi
3. Motto: Touch the sky with glory
3. India ranks 82nd in Henley & Partners Global Passport Index 2019, Japan and Singapore top the list
The latest Henley & Partners Global Passport Index 2019 was released. In the report, India iscurrently ranked at 82nd place in 2019, which is one place down from its previous rank of 81 in 2018. Japan and Singapore both hold the most powerful passport by ranking 1st in the list.
About Henley Passport Index:
It was started in 2005 as Henley & Partners Visa Restrictions Index (HVRI).

It was then modified and renamed in January 2018.
About IATA:
1. Formation- 19 April 1945.
2. Headquarters- Canada.
4. Reserve Bank gives final approval for the formation of the proposed Kerala Bank
The country's central bank, Reserve Bank of India (RBI) has given its final approval of Kerala government's long-pending proposal of setting up its own 'Kerala Bank', by

amalgamating 13 district co-operative banks (DCBs) with Kerala State Co-operative Bank.
About Kerala:
1. Capital :Thiruvananthapuram
2. Governor: Arif Mohammad Khan
3. Chief Minister :Pinarayi Vijayan
4. National Parks: Anamudi Shola National Park ,Eravikulam National Park ,Mathikettan Shola National Park,Periyar National Park ,Silent Valley National Park.
5. Moody's cuts India's growth forecast to 5.8% from 6.2% for FY20
The International rating agency Moody's has reduced India's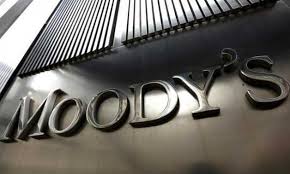 gross Domestic Product(GDP) growth forecast to 5.8% for FY20(Fiscal Year20) from its previous estimate of 6.2%. This downgrade in GDP was due to deceleration to an investment-led slowdown which has broadened into consumption, driven by financial stress among rural households and weak job creation.
About Moody's:
1. Founded- 1909.
2. Headquarters- New York City, United States(US).
3. Founder- John Moody.
4. Chief Executive Officer(CEO)- Raymond W. McDaniel Jr.

6. Olga Tokarczuk and Peter Handke win the Nobel Prize for Literature for 2018 and 2019 respectively
The Swedish Academy's Nobel Committee has decided to award 2018 Nobel Prize for Literature Polish author Olga Tokarczuk "for a narrative imagination that with encyclopedic passion represents the crossing of boundaries as a form of life" and 2019 Nobel Prize in Literature to Austrian author Peter Handke "for an influential work that with linguistic ingenuity has explored the periphery and the specificity of human experience."
About Nobel Prize:

It is a set of annual international awards bestowed for outstanding work in the fields of physics, chemistry, physiology or medicine, literature, economics, and the promotion of peace.
7. Mastercard India appoints Vikas Varma as COO
Mastercard India, payment technology major, elevated Mr Vikas Varma as the Chief Operating Officer (COO) of the firm. He will take up the responsibility related to new partnerships and development of digital payment solutions and has been serving the firm since 2005.
About Mastercard:
1. Founded: 1966
2. Headquarters: New York, US
8. First-of-its-kind satellite servicing spacecraft MEV-1 Launched on Russian Rocket
First satellite-servicing spacecraft named "MEV-1" (Mission Extension Vehicle-1) was launched on Russian Proton rocket that took off from Russia's Baikonur Cosmodrome(launching site for spacecraft) in Kazakhstan.

I

t was developed by American global aerospace and defense technology company Northrop Grumman.
9. World Mental Health Day observed on October 10, 2019
The World Mental Health Day(WMHD) is observed annually on the 10thof Octoberinorder to raise awareness on mental health issues and the efforts needed to support mental health.

It is organised by the World Federation for Mental Health with World Health Organisation's support, the International Association for Suicide Prevention(IASP) and United for Global Mental Health(United-GMH).

The theme for 2019 is "suicide prevention".
10. Spanish tennis player Andres Gimeno passes away at the age of 82
Andres Gimeno Tolaguera , the Spanish tennis player who became the oldest man to win the French Open in the professional era, has passed away at the age of 82 after a long illness.