Current Affairs 09 October, 2019
Current Affairs 09 October, 2019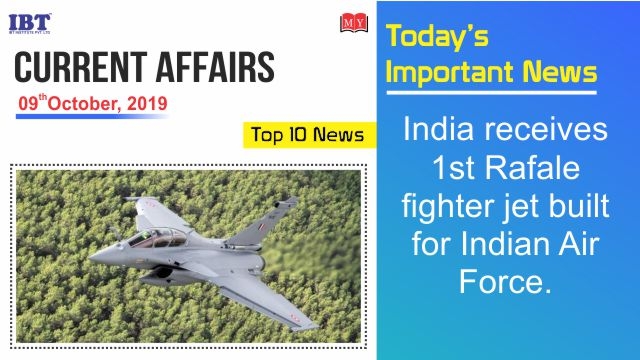 Current Affairs 09 October, 2019
1. World Post Day is observed on 9th October
World Post Day is observed on 9th October every year. On this day the posts in many countries introduce/ promote new postal products and services. On this day, the postal employees are awarded for good service.

The day aims to create awareness of the role of the postal sector in people's and businesses' everyday lives. The day also marks the contribution given by the postal services to the social and economic development of countries.

The day also aims to generate awareness of their Post's role and activities among the public and media on a national scale.
2. India maintains second position in latest ICC women's ODI rankings, Australia tops the list
International Cricket Council (ICC) women's One Day International (ODI) rankings, India has maintained its second position and has also increased it points lead over England which is ranked at the 3rd position. The list was topped by Australia.

In the women's T20(twenty-twenty) rankings, India currently ranks at the 5th spot and the list is topped by Australia. England and New Zealand ranks 2nd and 3rd respectively.
Foot Notes:
About ICC
1. Formation: 15 June 1909.
2. Headquarters: Dubai, United Arab Emirates(UAE).
3. Chairman: Shashank Manohar.
4. CEO: Manu Sawhney.
3. India slips 10 places to 68th on global competitiveness index
India has moved down 10 places to rank 68th on the annual global competitiveness index, largely due to improvements witnessed by several other economies.

Singapore, meanwhile, has replaced the US as the world's most competitive economy.

India, which was ranked 58th in the annual Global Competitiveness Index, compiled by the Geneva-based World Economic Forum (WEF), is among the worst-performing BRICS nations along with Brazil (ranked even lower than India at 71 this year).
Foot Notes:
About Singapore
1. Currency: Singapore dollar
2. Prime minister: Lee Hsien Loong
About US
1. Capital: Washington, D.C.
2. President: Donald Trump
3. Currency: United States Dollar
4. Bilateral Maritime Exercise Between Japan and India (JIMEX 18) to Commence at Visakhapatnam
Bilateral maritime exercise JIMEX-18 between India and Japan commenced in Visakhapatnam, which was marked by Japanese Maritime Self Defence Force (JMSDF) ships Kaga, an Izumo-class helicopter destroyer, and Inazuma, a guided missile destroyer.

The third edition of JIMEX will witness the participation of the Japanese ships, under the command of Rear Admiral Tatsuya Fukada, commander of Escort Flotilla-4 (CCF-4).

The participating ships include INS Satpura, a multi-purpose stealth frigate, INS Kadmatt, an anti-submarine warfare corvette, missile corvette and INS Shakti, the fleet tanker.
Foot Notes:
About Indian Navy
1. Vice Chief of the Naval Staff (VCNS): Vice Admiral G. Ashok Kumar
2. Chief of the Naval Staff (CNS): Admiral Karambir Singh
3. Deputy Chief of the Naval Staff (DCNS): Vice Admiral M. S. Pawar
About Japan
1. Prime minister: Shinzō Abe
2. Capital: Tokyo
3. Currency: Japanese yen
5. Delhi government launched Farishte Dilli Ke scheme
The Delhi government launched the Farishte Dilli Ke scheme on 8th October after the successful trial run of the good Samaritan scheme. The scheme was launched by the Chief Minister of Delhi Arvind Kejriwal. The trial of the scheme saved 3,000 lives. The Delhi Police supported the scheme.

The scheme aims to help accident victims, burn victims and acid attack victims and take them to hospitals.

As per the scheme, the samaritans who help accident victims will also not be liable to any questions from the police.
Foot Notes:
About Delhi
1. Chief minister: Arvind Kejriwal

6. Breast cancer awareness month observed from October 1-31, 2019
The Breast Cancer Awareness month is observed annually from October 1 till October 31 inorder to raise awareness about the disease and also to raise funds for its research, diagnosis, prevention, etc. Breast cancer awareness monthPV Sindhu launched AR app

Indian shuttler PV Sindhu launched world's first 'Life-size Augmented Reality'(AR) technology in the "ABC of breast health" app. It is an initiative of Ushalakshmi Breast Cancer Foundation, to create awareness and also help in early detection of breast cancer. The AR feature will be operational in a month in the app.

The World Health Organisation(WHO) promotes breast cancer control programmes. The International Agency for Research on Cancer of the WHO in 2018, estimated 2.1 million new cases of breast cancer and 627 000 deaths from breast cancer globally.Pink ribbon is an international symbol of breast cancer awareness.
Foot Notes:
About WHO
1. Founded: 7 April 1948
2. Headquarters: Geneva, Switzerland.
3. Director General(DG): TedrosAdhanom.
7. Reliance MF renamed as "Nippon India Mutual Fund"
Reliance Mutual Fund has been renamed as "Nippon India Mutual Fund". The organization was renamed following the purchase of 75% stake in Reliance Nippon Life Asset Management by Nippon Life Insurance.

Nippon India Mutual Fund has become the largest foreign-owned Asset Management Company in India. Sundeep Sikka will continue to lead company as the CEO.
8. Justice Vinod Kumar Sharma is new Punjab lokpal
Halfway through its term in office, the Congress government appointed Justice Vinod Kumar Sharma as Punjab Lokpal. However, it failed to amend the Punjab Lokpal Act, 1996 thereby leaving the chief minister and cabinet ministers out of its ambit.

The post of lokpal was lying vacant since April 23, 2018 after then Lokpal- justice Satish Kumar Mittal (retd.) had resigned from the post. Lokpal holds the office for a term of 6 years.

Justice Sharma had served as judge of the Punjab and Haryana court from March 22, 2006, to October 26, 2010.
Foot Notes:
About Punjab
1. Capital: Chandigarh
2. Governor: V.P. Singh Badnore
3. Chief minister: Amarinder Singh
9. "Spirit Of Kerala" wins People's Choice Award
Short film from Kerala "Spirit Of Kerala" has won the People's Choice Award at the recently concluded My Rode Reel film competition.

The film won the honour beating 1,680 entries. The short film is based on a boat race and directed by Arun Joseph.

My Rode Reel film competition is touted as the 'world's largest short film competition'.
Foot Notes:
About Kerala
1. Capital: Thiruvananthapuram
2. Chief minister: Pinarayi Vijayan
10. India receives 1st Rafale fighter jet built for Indian Air Force
India has got the 1st Rafale fighter jet "RB-001" built for the Indian Air Force (IAF) in France. Defence Minister Rajnath Singh received the 1st Rafale combat jet aircraft at Production Unit of Dassault Aviation in France.

However, the first batch of jets will arrive in India only in May 2020. Defence Minister also held the Annual Defence dialogue with his French counterpart Florence Parly.

The RB in the aircraft designation stands for IAF Chief Air Chief Marshal R.K.S. Bhadauria who as then Deputy Chief of IAF led the Indian negotiation team and had a major role in the contract negotiations.
Foot Notes:
About Air Force
1. Headquarters: New Delhi
2. Commander-in-Chief: President Ram Nath Kovind
3. Air Chief Marshal: Rakesh Kumar Singh