Current Affairs 04 October, 2019
Current Affairs 04 October, 2019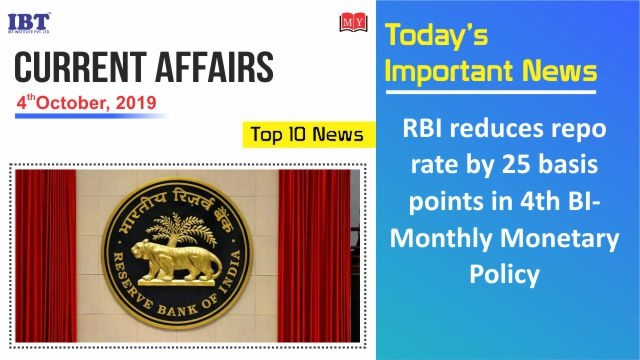 Current Affairs 04 October, 2019
1. Mongolian joint military training exercise Nomadic Elephant-XIV to be held at Bakloh Himachal Pradesh.
Mongolian joint military training, Exercise Nomadic Elephant-XIV, being conducted over a period of 14 days, will commence from 05 Oct 2019. The exercise will be conducted from 05 Oct 19 to 18 Oct 19 at Bakloh.

The Mongolian Army is being represented by officers and troops of the elite 084 Air Borne Special Task Battalion while Indian Army is being represented by a contingent of a battalion of RAJPUTANA RIFLES.

Nomadic Elephant-XIV aims to train troops in counter-insurgency and counter-terrorism operations under the United Nations mandate. It aims to enhance defence co-operation and military relations between the two countries. The exercise will provide a platform to share the experiences and best practices of the two countries and gain mutually during the joint training.
Foot Notes:
About Himachal Pradesh
1. Governor: Bandaru Dattatreya
2. Capital: Shimla
3. Chief Minister: Jai Ram Thakur
2. Ben Stokes Wins PCA Players' Player of Year Award
Ben Stokes voted Players Player of the Year at the Professional Cricketers Association awards. Stokes played a starring role in England's first 50-over World Cup triumph culminating in his dynamic man-of-the-match display in their dramatic final win against New Zealand in July.

He was honored for those achievements by scooping the Reg Hayter Cup ahead of fellow nominees Simon Harmer, Ryan Higgins, and Dom Sibley.

Other award winners included ODI player of the summer Chris Woakes, Test player of the summer Stuart Broad, and County Championship player of the year Harmer.
3. Uttarakhand CM launches awareness campaign 'Urjagiri' to stop power theft
Chief Minister of Uttarakhand Trivendra Singh Rawat launched an awareness campaign "Urjagiri" which aims at stopping power theft and saving.

The Chief Minister emphasised on the need to speed up the process for wider awareness to avoid power loss in Uttarakhand.
Foot Notes:
About Uttarakhand
1. Capital : Dehradun
2. Governor: Baby Rani Maurya.
4. Amrit Lugun appointed India's next envoy to Greece
The Ministry of External Affairs (MEA) has appointed Amrit Lugun as the next Ambassador of India to Greece. Lugun will be taking up the assignment shortly.

Amrit Lugun is a 1989-batch Indian Foreign Service (IFS) officer. Previously Lugun served as the country's ambassador to Sudan and Yemen respectively.
Foot Notes:
About Greece
1. President: Prokopis Pavlopoulos
2. Prime Minister: Kyriakos Mitsotakis
3. Capital: Athens
4. Currency: Euro
5. Official and national language: Greek
5. RBI reduces repo rate by 25 basis points in 4th Bi-monthly Monetary Policy
In its 4th Bi-monthly Monetary Policy Committee meeting, the Reserve Bank of India has reduced the policy repo rate by 25 basis points (bps).The MPC has also decided to maintain the accommodative stance of monetary policy. The main decisions taken in the 4th Bi-monthly Monetary Policy Committee meeting are:

The repo rate under the liquidity adjustment facility (LAF) was reduced from 5.40% to 5.15%.The reverse repo rate under the LAF stands revised to 4.90%.

The marginal standing facility (MSF) rate and the Bank Rate is revised to 5.40%. RBI has also reduced the real GDP growth for 2019-20 from 6.9% to 6.1%.
Foot Notes:
About RBI
1. Governor of RBI: Shaktikant Das
2. Headquarters: Mumbai
3. Founded: 1 April 1935, Kolkata.

6. World Space Week being celebrated from October 4-10, 2019
The World Space Week (WSW), proclaimed in 6 December 1999 by the United Nations (UN) General Assembly is observed annually from October 4-10 under the resolution (A/RES/54/68).

The week commemorates the launch of the first artificial satellite, Sputnik I on October 4, 1957, and its entry into force, on 10 October 1967, based on the Treaty on Principles governing the activities of use of outer space including the moon and other celestial bodies in states' exploration.

The theme for the year 2019 is "The Moon: Gateway to the Stars", celebrating the 50th anniversary of humankind's first step on the Moon on 20 July 1969.
Foot Notes:
About UN
1. Headquarters- New York City, United State(US).
2. Secretary General- AntónioGuterres.
3. General Assembly President- Tijjani Muhammad-Bande.
7. India's first private train Lucknow-Delhi Tejas Express flagged off
Country's first private train Delhi-Lucknow Tejas Express started its maiden journey today as Uttar Pradesh Chief Minister Yogi Adityanath flagged off the train from Lucknow.

It will be the first train of Indian Railways that will be entirely run by Indian Railway Catering and Tourism Corporation (IRCTC).

The new Tejas Express will cover the distance between Delhi and Lucknow in six hours fifteen minutes. All passengers travelling by Delhi-Lucknow Tejas Express will be provided free insurance of up to 25 lakh by IRCTC.
Foot Notes:
About Uttar Pradesh
1. Governor: Anandiben Patel
2. Capital: Lucknow
3. Chief Minister: Yogi Adityanath
8. Tourism Ministry launches App "Audio Odigos" for 12 sites of India
Tourism Ministry has launched the Audio Guide facility "Audio Odigos" for 12 sites of India (including Iconic Sites) on the occasion of "Paryatan Parv 2019".

An MoU for Gol Gumbad, Delhi with Government of Delhi and Resbird Technologies was also exchanged for the development of Tourism Amenities.

Audio guide odigo offers Government of India verified content, with visuals & voice over support. With Audio Odigos, tourists will now enjoy a more enriching experience and take back historical insights of the Indian culture and heritage.
Foot Notes:
Minister of State (I/C) of Tourism Ministry: Prahlad Singh Patel.

9. Odisha CM Naveen Patnaik launches 'Mo Sarkar' initiative
Chief Minister of Odisha Naveen Patnaik rolled out 'Mo Sarkar' programme which finds its roots in the Gandhian philosophy of giving people their voice in daily governance.

The objective of 'Mo Sarkar' is to improve governance by collecting feedback on behaviour and professionalism displayed by the Government officers.

"Mo Sarkar' programme has been launched in 21 district headquarters hospitals and medical colleges at Cuttack, Sambalpur and Berhampur.
Foot Notes:
About Odisha
1. CM: Naveen Patnaik
2. Governor: Ganeshi Lal.
10. Chandrayaan-2 Orbiter detects charged particles and its intensity variations on Moon
Chandrayaan 2's Orbiter payload, in its first few days of observation, detected charged particles, and its intensity variations, the Indian Space Research Organisation. The CLASS instrument on Chandrayaan-2 is designed to detect direct signatures of elements present in the lunar soil.

The Sun provides a rich source of x-rays to illuminate the lunar surface; secondary x-ray emission resulting from this can be detected by CLASS to directly detect the presence of key elements like Na, Ca, Al, Si, Ti and Fe,

The flash photography requires one to await an opportune time for Sun to be active, CLASS in its first few days of observation could detect charged particles and its intensity variations during its first passage through the geotail during September