Current Affairs 03 October, 2019
Current Affairs 03 October, 2019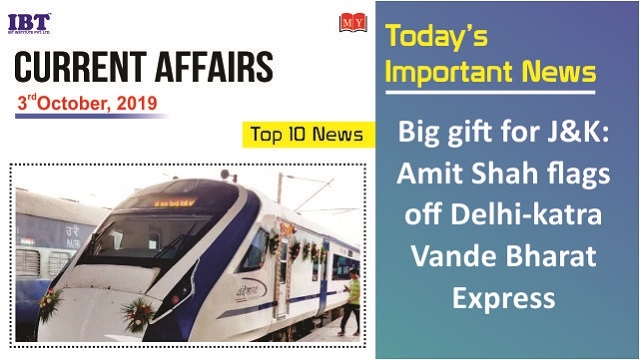 Current Affairs 03 October, 2019
1. Haryana tops list of states with most dry districts
As per the recently released report , "2019 Southwest Monsoon Season Rainfall and IMD's Long Range Forecasts" by IMD (India Meteorological Department), Haryana had the highest number of dry districts, 19 out of 21, including three where rainfall was scanty.

Haryana was the 2nd most rain deficit state in India after Manipur(the most rain deficit with a recording of 56%). Haryana recorded rainfall of 255.2 mm against a normal of 438.6 mm, results to a deficit of 42 percent.

Over third of the dry districts (52), are in the high-yield agriculture belt of Punjab, Haryana and west Uttar Pradesh, including Delhi.
Foot Notes:
About IMD
1. Founded: 1875
2. Headquarters: New Delhi
3.Director General: Mrutyunjay Mohapatra
About Haryana
1. Capital: Chandigarh
2. Governor: Satyadev Narayan Arya
3. Chief Minister: Manohar Lal Khattar
2. National Basketball Association brings first-ever floating basketball court in India
India got its first-ever Floating Basketball Court in the Arabian Sea near Bandra Worli Sea link. It was installed by the National Basketball Association on 2 October.

NBA India had announced that the first-ever NBA game would be organized in the country in October in Mumbai.

The NBA India Games 2019 has been prepared to feature the Sacramento Kings and Indiana Pacers, who will play two pre-season games on October 4 and 5 at the Dome, NSCI, SVP Stadium.
Foot Notes:
1. National Basketball Association:
2. Founded on: June 6, 1946
3. Countries: United States (29 teams), Canada (1 team)
4. Headquarters: New York City
3. Avinash Sable is the first Indian man to qualify for World Championships
India's Avinash Sable qualified for the finals of the men's 3000-meter steeple chase under dramatic circumstances after bettering his own national record at the World Championships in Doha. Avinash became the first Indian man to qualify for a track event final. He clocked 8 minutes 25.23 seconds bettering his earlier national record of 8:28.94, to finish seventh in the first round.

The Athletics Federation of India filed an appeal and it is blocked twice during the race, and he got a favourable decision.
Foot Notes:
About Avinash Sable
1. He is an Indian athlete who specializes in 3000 metres steeplechase and holds the national record of 8:25.23 set in 2019.
4. Big gift for J&K: Amit Shah flags off Delhi-Katra Vande Bharat Express
Speaking at the launch of the Vande Bharat Express, Home Minister Amit Shah said, "Delhi-Katra Vande Bharat Express is a big gift for Jammu and Kashmir's development and for promoting religious tourism. He added that Article 370 was the biggest roadblock in Jammu and Kashmir's development."

"Within 10 years, it will be one of the most developed regions," Amit Shah said.

At the launch of the Delhi-Katra Vande Bharat Express, Union minister Piyush Goyal said the Railways will connect the country from Kashmir to Kanyakumari before 15th August, 2022.
Foot Notes:
1. Railway Board chairman: Vinod Kumar Yadav
5. Bank of Baroda signs MoU with Indian Army for customised services
Bank of Baroda (BoB) has signed a Memorandum of Understanding (MoU) with the Indian Army under which the bank would offer customised services along with a host of facilities to account holders.

The MoU includes handsome free personal accident insurance cover, free air accident insurance cover of Rs 15 lakh to Rs 50 lakh and an overdraft facility up to three times of monthly net salary.

The features are also applicable for pensioners of Indian Army up to the age of 70 years.
Foot Notes:
About Bank of Baroda
1. Managing Director & CEO : P S Jayakumar
2. Headquarters: Baroda, Gujarat.

6. Axis Bank launches 'Express FD' a digital Fixed Deposit product
Axis Bank, India's third-largest private sector bank announced the launch of 'Express FD', a digital Fixed Deposit product. Now, a customer can open Express FD account in three minutes through the digital mode without opening a savings account with Axis Bank.

This launch is in line with the Bank's proposition for new to banking customers, to offer them a quick and convenient way to save money for short-term goals.

'Express FD' offers attractive interest rates, zero issuance fees and no penalty on pre-mature withdrawal of up to 25% of the amount, the bank said. A customer can open an Express FD account by investing a minimum Rs 5,000 up to Rs 90,000, for a tenure of 6 to 12 months.
Foot Notes:
About Axis Bank
1. Chairman: Rakesh Makhija
2. CEO: Amitabh Chaudhry
3. Headquarters: Mumbai
7. Sachin Tendulkar gets most effective Swachhata Ambassador Award
President Ram Nath Kovind presented the most effective Swachchta Ambassador award to Former Indian cricketer Sachin Tendulkar on the occasion of 150th birth anniversary of Mahatma Gandhi.
8. Book by India's Ambassador to the Netherlands, titled "India and the Netherlands – Past, Present and Future" released
A book penned by Indian Ambassador to the Netherlands Venu Rajamony titled 'India and the Netherlands – Past, Present and Future,' was released in Amsterdam.

The book gives an insight into the cross-cultural legacy between the two countries and was released at a function attended by the king and queen of the Netherlands.

The first copy of the book was received by Dutch King Willem-Alexander in presence of all high officials. The book has been published by Bombay Ink.
Foot Notes:
About Netherlands
1. Capital: Amsterdam
2. Currency: Euro
9. Noted Nephrologist and Padma Shri Awardee H L Trivedi passed away at the age of 87
Noted Nephrologist (specialist in the study of kidney functions) and Padma Shri Awardee Dr Hargovind Laxmishanker Trivedi passed away at the age of 87 due to age-related illness. He was awarded Padma Shri, the fourth highest civilian award, in 2015 for his contribution as a nephrologist to the society.

He was the founder-director of the Institute of Kidney Diseases and Research Center in Ahmedabad, Gujarat.
10. Australia's Alyssa Healy creates world record becoming highest scorer in women's T20I
Australian cricketer Alyssa Healy created world record for the highest individual score in women's T20I(Twenty Twenty International) by scoring 148 runs off 61 balls against Sri Lanka in the third and final match at the North Sydney Oval in Australia. She surpassed teammate Meg Lanning's previous world record score of 133 runs.

Healy, recently completed 100 T20I appearances in the last ODI (One Day International) against Sri Lanka, and made century off 46 balls, the second fastest in history and fastest by an Australian. She also created record for the fastest T20 century by and Australian.
Foot Notes:
About Australia
1. Capital: Canberra
2. Currency: Australian dollar