Tips to Crack IBPS RRB 2020 Exam in the First Attempt
Tips to Crack IBPS RRB 2020 Exam in the First Attempt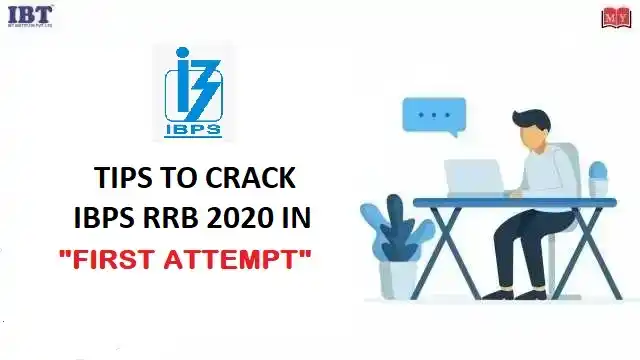 HOW TO CRACK IBPS RRB 2020 EXAM IN THE FIRST ATTEMPT?
Millions of aspirants contest IBPS RRB Exam every year. It bears very high competition level which makes it a HARD NUT TO CRACK and only a handful of them qualify it. Aspirants need thorough knowledge and adequate skills to qualify it in the first attempt. To grab the opportunity which has knocked the door on 30TH June 2020 of IBPS RRB 2020 exam notification, every aspirant must plan a workable and smart study plan. Candidates should plan in a way to cover the entire syllabus to attempt IBPS RRB EXAM 2020 confidently and fearlessly.
IBPS RRB exam necessitates a lot of hard work, regular practice, dedication, and widespread preparations. The competition is becoming tougher as the number of candidates is increasing year after year. There are some significant strategies to be followed if you really want to crack IBPS RRB 2020 EXAM in the first attempt. Let us discuss them to give you a comfortable ride while preparing for IBPS RRB 2020 EXAM.
IBPS RRB 2020 Exam Pattern & Syllabus
Before aspirants should start the IBPS RRB 2020 exam preparation they should study and analyze the latest exam pattern and syllabus. The latest exam pattern and syllabus are given below for your quick reference:
The prelims, mains, and single-level exam of IBPS RRB is conducted online.

Questions in the exam are asked in the Objective mode with multiple-choice questions

The question paper will be

in more than 16 to 17 regional languages besides English medium.

Prelims exam are allotted with total marks as 80.

The prelims exam comprises two sections Reasoning Ability and Numerical Ability.

The mains exam holds 200 marks as total marks.

The mains exam comprises of Reasoning Ability, Numerical Ability, General Awareness, English/Hindi Language, and Computer Knowledge.

Negative marking is followed by IBPS with a penalty for every wrong answer where ¼ marks are deducted for every incorrect answer.
How to prepare for IBPS RRB 2020?
Now let us discuss some useful tips to prepare for the IBPS RRB exam which will help them to qualify it in the forthcoming attempt with a high score.
Make a systematic study Plan
Planning plays a significant role in exam preparation. Plan your timing in such a way so that you cover the entire syllabus and give proper time to every topic constructively.
Regular and Rigorous practice question papers
Analyze previous years' question papers and shortlist the topics from which more questions are characteristically asked in the exam. Plan to target the topics on daily basis and keep a close check on your progress.
Attempt Mock tests
Mock tests are the best approach to ensure your preparation level. in addition, it helps candidates to recognize strong and weak points. After attempting a mock test, examine your answers, and recognize the weak areas. Assign a fixed time in your study plan to improve the weak areas every week and try to make them your strengths.
Effective and Workable Preparation strategy
Candidates should plan the study strategy to suit their availability and time rather than taking random timing for studies. Identify your capabilities and plan accordingly. Always stay positive and keep your mind ready to work for the dream job in IBPS RRB 2020 exam.
Section-wise IBPS RRB 2020 Preparation Tips
Section-wise tips for the exam are a must because it enhances the score considerably. Candidates should focus on all the subjects which are asked in the IBPS RRB 2020 EXAM rather than being selective.
The key areas to be focused by the candidates are explained in detail for you to plan effectively for IBPS RRB EXAM 2020.
Reasoning
Reasoning questions are very tricky and challenging therefore if candidates do not prepare the section properly it can be confusing and time-consuming.
Nevertheless, the section can be achieving and motivating if prepared with a lot of practice. Candidates should focus on logical and analytical reasoning, blood relations, syllogisms, circular seating arrangement, linear seating arrangement, coded inequalities/mathematical inequalities, etc. Candidates ought to practice puzzles and crosswords to score high in this section.
General Knowledge
General Knowledge section can be prepared by reading newspapers and magazines. They should be well aware of the current affairs especially the events before six months of the exam date. Make short notes of every news you read during the preparation time and revise them daily. Candidates should focus on Indian History, Agriculture, Awards, Politics, Finance and Insurance, Indian Economy, Taxes, Budgets, Sports, Geography, etc.
Quantitative Aptitude
This section is framed to examine the calculation skills of the aspirants. Candidates must be prepared with formulas, concepts, and practice extensively. The significant topics to be focused by the candidates are percentage, average, simple interest, and profit and loss. Candidates should prepare from NCERT class 8,9 and 10 books.
English Language
Generally, candidates devote less time to the English Language which makes their score low and they do not qualify. Equal time should be given to all the subjects rather than just focusing on complex topics like Reasoning and Quantitative Aptitude.
The main focus while preparing for the English Language should be comprehension and grammar. Questions are framed for the exam from phrases and idioms, spelling, grammar, and passages. It is a good practice to give time to read and understand grammar rules to give more accuracy in the exam.
Computer Knowledge
In order to prepare for this section, aspirants must have the basic knowledge of computers and understand hardware, software, Internet, networking, operating system, Microsoft applications, and keyboard shortcuts.
IBPS RRB Notification 2020 Out
IBPS RRB Officer and Assistant 2020 Eligibility Criteria
IBPS RRB 2020 Exam Pattern & Syllabus
Check Complete Details Here About: IBPS RRB Assistant 2020
Check Complete Details Here About: IBPS RRB Officer 2020