RBI Assistant 2019-20 FAQs
RBI Assistant 2019-20 FAQs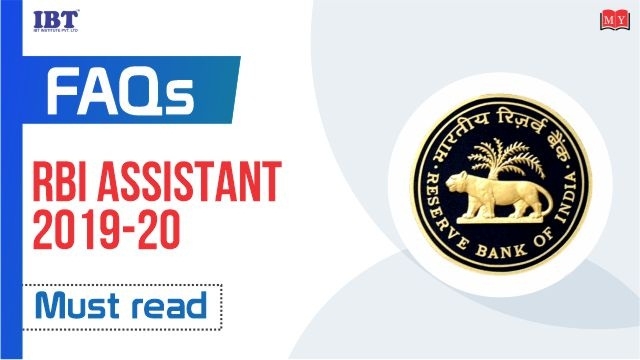 RBI Assistant 2019-20: FAQs
RBI Assistant exam is conducted by Reserve Bank of India (RBI) to recruit candidates for the Assistant to its various branches all over the country. As it is a national level recruitment process, applications from all sections of India are invited. Candidates can apply online for this post once the RBI Assistant 2020 Notification has been released by RBI. The exam is going to be conducted in three phases: Preliminary and Main examination followed by a Language Proficiency Test (LPT). The score of Mains Exam will be used to make the merit list of candidates being selected for the post of RBI Assistant.
As we know that Notification for RBI Assistant has been released for this year i.e 2019 on 23 December 2019.So,here to answer all your queries we have compiled some of the important Frequently Asked Questions(FAQs) regarding the whole recruitment process.Hope this article will help you in the journey of RBI Assistant preparation.
1. Name the posts available under this recruitment?
The post available in this recruitment project is Assistant.
2. When will RBI Assistant 2020 Notification come?
RBI Assistant 2020 Notification 2020 along with online application form has been released on December 23, 2019. The RBI Assistant prelims exam will be conducted on February 16, 2020 and the mains exam will be held on March 2020.
3. How many vacancies are expected in the year 2019?
In the year 2019 RBI has released 926 Assistant posts.
4.Is there any change in the RBI Assistant 2020 Exam Pattern when compared to previous years' pattern?
Yes, Sectional Timings have been introduced this year in Prelims and Mains exams which were not there previously.
5.What are the eligibility criteria for age in order to apply in this common written exam?
Minimum age is 20 years and Maximum is 28 years as on the date of application.
6. What is the educational qualification required for the posts in this recruitment process?
Minimum educational qualification for this post is Graduation with a minimum of 50% marks (pass class for SC/ST/PWD candidates) in any discipline from a recognized University or any equivalent qualification recognized as such by the Central Government. (As on 01.12.2019) .

7.Is there a criterion for negative marking?
Yes RBI has negative marking of ¼ marks for every wrong answer.
8.Does the selection procedure of RBI Assistant 2020 involve any interview?
No, the selection procedure only involves Prelims followed by Mains followed by LPT (Language Proficiency Test). There is no interview process in the selection procedure.
9.What is the application Fee?
| | |
| --- | --- |
| Categories | Fee |
| General and OBC | Rs. 450 |
| SC/ST/PWD | Rs. 50 |
10. What is the Structure of the RBI ASSISTANT exam?
There are some changes introduced by RBI in the Mains exam.
Preliminary Exam Pattern:
S.No.

Name of Tests(Objective

No. of Questions

Maximum Marks

Duration

Total

100

100
Mains Exam Pattern:
| S.No. | Name of Tests(Objective | No. of Questions | Maximum Marks | Duration |
| --- | --- | --- | --- | --- |
| | | | | |
| | | | | |
| | | | | |
| | | | | |
| | | | | |
| | Total | 200 | 200 | 135 minutes |
11.Is there a sectional cut-off in the exam?
Yes, RBI will observe sectional cut-off in the exam where he or she has to qualify each section to ace the exam. You have to clear every section in order to secure a seat for the Interview.
12.What is LPT?
LPT stands for Language Proficiency Test. Candidates qualifying the RBI Assistant 2020 Mains exam will have to undergo the Language Proficiency Test which will be conducted in the Official / Local Language of the State concerned. Those who are unable to clear LPT will be disqualified.
13.Is LPT qualifying in nature?
Yes! Language Proficiency Test of RBI Assistant 2020 is qualifying in nature.
14.Are there sectional cut-offs in Prelims and Mains exams of RBI Assistant 2020?
Yes! There are Sectional Cut-offs in Prelims as well as Mains exams.
15.Is there negative marking in Prelims and Mains?
Yes! 1/4th mark will be deducted for each incorrectly answered question in the Prelims & Mains of RBI Assistant.
16.I'm a final year student. Can I apply for the vacancies of RBI Assistant?
No, You can't apply. It's clearly mentioned in the notification that a Bachelor's Degree in any discipline as on (1.12.2019) with a minimum of 50% marks is required.
17.Is there a restriction on the number of times I can apply for RBI Assistant?
No, there is no such restriction.
18.I have 49% marks in graduation. Can I apply?
A Bachelor's Degree in any discipline with a minimum of 50% marks is required to apply for RBI Assistant's vacancies. So, you need to have 50% marks in graduation.
19.How to calculate the graduation percentage?
The percentage marks shall be arrived at by dividing the total marks obtained by the candidate in all the subjects in all the semester(s)/ year(s) by aggregating maximum marks in all the subjects irrespective of honours / optional/ additional optional subject if any. This will be applicable for those Universities also where Class/Grade is decided on the basis of Honors marks only. The fraction of percentage so arrived will be ignored i.e. 49.99% will be treated as less than 50%.
20.Will RBI Assistant Prelims and Mains be bilingual?
Yes! Except the English language, all the sections will be bilingual.
21.How to apply for the RBI Assistant vacancies?
Candidates can apply online on the RBI website only from 23.12.2019 to 16.01.2020 and no other mode of application will be accepted.
22.Will only online mode of payment be accepted?
Yes! You need to make the payment only in the online mode.
23.What will be the criteria of Final Result? Will the performance of Prelims be considered as well?
The final selection will only be based on performance in the Mains exam. Other parameters like Prelims, LPT will not be considered.
24.What will be the monthly gross emoluments salary of an RBI Assistant?
It's around Rs 36,091 per month.
25.Will candidates be posted in the same recruitment zone which they have applied for?
Selected candidates will be initially posted in RBI's office within the Recruitment Zone for which they had applied. However, they are liable to be transferred in administrative exigencies to centres grouped and classified into West, South, North and East Zone offices
26.Is the cut-off fixed for RBI Assistant Prelims & Mains?
No, the cut-offs are not fixed. It will be decided by RBI and will be dependent on various factors such as difficulty level of the exam, number of aspirants applying etc.
Click here to download the official Notification
For Exam Preparation Join: RBI Assistant Online Coaching