IBPS PO 2019 Roles and Responsibilities Salary and Allowances
IBPS PO 2019 Roles and Responsibilities Salary and Allowances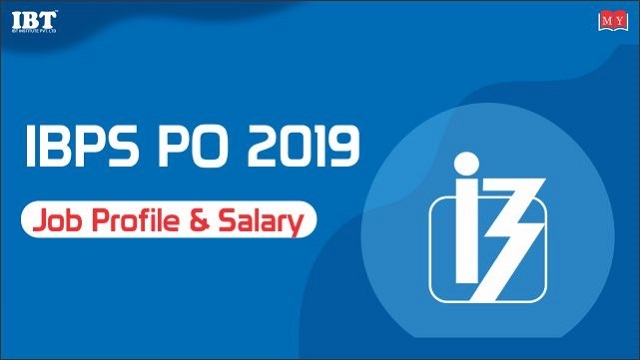 Institute of Banking Personnel and Selection is the major governing body which recruits the qualified candidates every year in the public banks. IBPS PO is one of the most demanding posts among the aspirants as it is the first step to enter the bank and serve as an officer.
IBPS PO: IBPS PO Roles And Responsibilities
The Probationary Officers in various banks have the following roles and responsibilities:
1. PO's have to be multi-task and work in all the departments of the bank, which involves working in the various banking activities.
2. They have to acquire practical knowledge of how to work in and manage different departments of the bank, like Finance, Accounts, Marketing, Loans, etc.
3. They also act as supervisors to bank clerks in various departments.
4. One of the biggest responsibilities of IBPS Probationary Officers is to verify documents, do the necessary formalities and process loans.
5. Customer support and services is another important responsibility of POs. They handle the customer queries related to issuing cheque books, opening bank accounts, , Demand Drafts (DD), ATM, etc.
IBPS Bank PO Salary and Allowances
The basic salary of a IBPS PO is 23, 700 rupees and the gross salary is around 36, 570 rupees.
IBPS PO Salary details 2019

Basic Pay

23700.00

Special Allowance

1836.75

DA

10163.63

CCA

870

Transport Allowance

–

Total (without HRA)

36570.38

HRA

2133.00

Gross with HRA

38703.38

Medical Aid

8000

Entertainment

500

Newspaper

300

Petrol

3000

Telephone

400

Canteen Subsidy

400

Pension Contribution

2500

Gross Annual CTC (with HRA but without leased accommodation)

5,57,640.52
In addition to Basic Pay, bank officers (i.e. Probationary Officers / PO / Management Trainees) are eligible for the following allowances –
IBPS PO Allowances

Dearness Allowance (DA)

Revised quarterly based on the CPI, the DA forms around 40 percent of the Basic Pay. It is to be noted that since DA depends upon CPI, it can increase or decrease based on the inflation rates.

House Rent Allowance (HRA)

This depends upon the location of posting of the Probationary Officers. Based on whether they are posted in metropolitan cities, big cities or other locations, the HRA can be 9 percent, 8 percent or 7 percent of the Basic Pay.

Special Allowance

The Special Allowance is 7.75 percent of the Basic Pay.

City Compensatory Allowance (CCA)

The CCA too, like the HRA, depends upon the location of posting. It can be 4 percent, 3 percent or 0 percent based on the job location.
IBPS PO Promotions And Career Growth
The IBPS PO is a very promising entry-level job in the banking sector. There are ample opportunities of growth, both personally and professionally, in this job. Your growth and promotions from the post of Probationary Officer depends upon your performance and potential; in fact, you can even be promoted to the post of General Manager within a span of 14 years. And promotions from IBPS PO can take you not just to the different parts of India but also to foreign countries as many of these public sector banks have branches in other countries.
The subsequent posts after promotion from IBPS PO are:
IBPS PO Salary: IBPS PO Promotions
1. Middle Manager – Middle Management Grade Scale 2
2. Senior Manager – Middle Management Grade Scale 3
3. Chief Manager – Senior Management Grade Scale 4
4. Assistant General Manager – Senior Management Grade Scale 5
5. Deputy General Manager – Top Management Grade Scale 6
6. General Manager – Top Management Grade Scale 7
7. Executive Director
8. Chairman and Managing Director
Check Complete Details Here About: IBPS PO 2020
For Exam Preparation Join: IBPS PO Online Coaching
Check here: Bank Exams 2020