Current Affairs 23 July, 2019
Current Affairs 23 July, 2019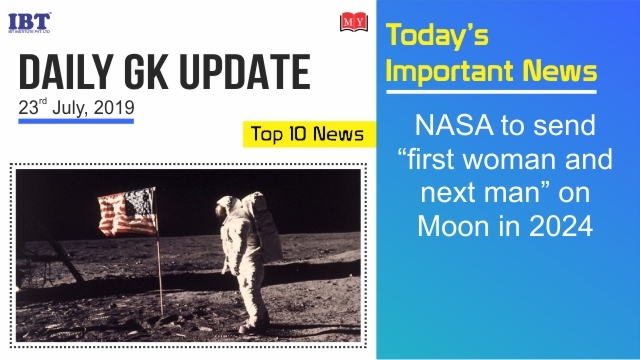 1. Government bans Colistin- antibiotic used in poultry industry
The Union Health Ministry has banned colistin, which isan antibiotic used in poultry industry for producing animals, aqua farming etc.

It was banned as it is has high risk of life threat to human beings. The ban has been imposed under section 26 of the of drugs and cosmetics act 1940.
Foot Notes:
About Colistin
Colistin is also known as polymyxin E.

It is used to treat ventilator associated pneumonia

It also has its side effects like slurred speech, dizziness, spinning sensation, itching mild rashes etc.

Colistin is a crucial last-resort option as it is not frequently used in typical care because of its side effects

The World Health Organization(WHO) considers colistin as a 'highest priority critically important antimicrobials' for humans.

Defence Minister Rajnath Singh inaugurates Ujh and Basantarbrid
2. CRPF unveils country's first body protector jointly developed by DRDO for women personnel in combat
India's largest Central Armed Police Force, CRPF( Central Reserve Police Force) unveiled the country's first prototype of a body protector for women personnel.CRPF unveils country's first body protectorIt has been jointly developed after over two years of research by CRPF and Defence Institute of Physiology and Allied Sciences (DIPAS), which functions under the DRDO(Defence Research and Development Organisation).

The multi-design black coloured "gender-specific protective gear" weighs 6 kg cost around Rs 9000 would protect an individual from the neck to the toe with chest, hand, legs, shin and thigh guards.

8,000 women personnel in CRPF will be benefited by the protective gear & help them during riot-control duties and regulation of public protests.CRPF also gets sanction to install sanitary pad dispensers for women in combatThe Union Home Ministry has sanctioned funds to the CRPF to install over 500 sanitary pad dispensers and incinerators for the combined women in the Force to help them in ensuring personal hygiene with ease.
Foot Notes:
About CRPF
Headquarters: New Delhi

CRPF Director General: Rajiv Rai Bhatnagar

Minister responsible: Amit Shah, Union Minister of Home Affairs

Founded: 27 July 1939
3. All toll lanes on National Highways to be 'FASTag lanes' from December 1, 2019
To encourage digital payments at toll plazas and decongest national highways, the Ministry of Road Transport and Highways (MoRTH) has decided to declare all lanes at toll fee plaza on National Highways as 'FASTag lanes' from 1st December 2019.

Under the National Highways Fee (Determination of Rates and Collection) Rules, 2008, currently there is a provision of making a vehicle owner pay twice the toll fare. This rule will be strictly implemented if non-FASTag users are passing through FASTag lanes and make double the fee cash payments after December 1, 2019.

NHAI's function: National Highways Authority of India (NHAI) will identify & resolve Logistics and other implementation problems at fee plazas.

FASTag: It is an electronic toll connection device attached to the windscreen of the vehicle to enable drivers to pass through toll plazas without having to stop for a cash transaction.

It uses radio frequency identification (RFID) technology to enable direct toll payments while the vehicle is moving. The toll fee is deducted from the bank account linked to FASTag.
Foot Notes:
About MoRTH
Founded: July 1942

Headquarters: New Delhi

Minister responsible :Nitin Gadkari (Union Minister)
4. Maharashtra tops in ATM frauds: RBI
According to the data of the Reserve Bank of India (RBI), accessed by the Times of India (TOI), Maharashtra registered the highest number of Automated Teller Machine (ATM) frauds in India for the FY 2018-19. It was followed by Delhi, Tamil Nady and Karnataka. Amounts of less than Rs 1 lakh were not considered for the data.
The following are the details:
| | | |
| --- | --- | --- |
| State/UT | Cases | Amount |
| Maharashtra | 233 | Rs 4.8 crore |
| Delhi | 179 | Rs 2.9 crore |
| Tamil Nadu | 147 | Rs 3.63 crore |
| Karnataka | 65 | Rs 1.3 crore |
| Haryana | 58 | Rs 1.1 crore |
There was an increase in ATM fraud cases up from 911 cases in 2017-18 to 980 in 2018-19.The amount involved was decreased from Rs 65.3 crore in 2017-18 to Rs 21.4 crore in 2018-19.

With regard to ATM/Debit card, Credit card and Internet banking transactions of over Rs 1 lakh, there were 1,367 frauds reported in FY 2016-17; 2,127 frauds in FY 2017-18; and 1,477 frauds in FY 2018-19

Assam, Arunachal Pradesh and Tripura were the only three states which did not report a single incident.
Foot Notes:
About Reserve Bank Of India:
Headquarters: Mumbai
Founded: 1 April 1935, Kolkata
Governor: Shaktikanta Das
About Reserve Bank Of India:
Headquarters: Mumbai
Founded: 1 April 1935, Kolkata
Governor: Shaktikanta Das
5. Boris Johnson won the contest to be next British Prime Minister
British politician & a Leader of the Conservative Party Boris de Pfeffel Johnson(55), who has promised to lead Britain out of the European Union(28-nation bloc) with or without a deal by the end of October 2019 won the contest to be the British prime minister(PM) succeeds Theresa May,who got stepped down over her failure to get parliament to ratify her Brexit deal.

After a six-week leadership race, He won the votes of 92,153 members of the Conservative party, almost twice the 46,656 won by his rival, Foreign Secretary Jeremy Hunt.The pound has fallen sharply in recent weeks on fears of a no-deal Brexit, and stands near $1.24 and was up against all major peers after the announcement.

Johnson, the face of the 2016 Brexit referendum has just 100 days to negotiate a new divorce deal with the European Union before the UK(United Kingdom).
Foot Notes:
About Boris Johnson
He was born in New York selected as the Member of Parliament for Uxbridge and South Ruislip since 2015 & the member of MP for Henley from 2001 to 2008. He also served as UK foreign minister and London's Mayor.

About Brexit

Brexit is the word referred by merging the words Britain and exit. It means that Britain is leaving the EU(European Union).
6. Indian Navy commissions fifth Dornier Aircraft Squadron
The Indian Navy commissioned its new Dornier Aircraft Squadron in Chennai.

This is Indian Navy's 5th Dornier Aircraft squadron.

The Dornier squadron under Eastern Naval Command would strengthen Indian Navy's efforts in maintaining constant surveillance and safe guarding maritime interests in the eastern seaboard of India.
Foot Notes:
Chief of the Naval Staff: Admiral Karambir Singh.
7. New governors appointed to 6 Indian States
President Ram Nath Kovind has transferred 2 Governors and made 4 new appointments across 6 States. New appointments are as follows:
Madhya Pradesh: Lalji Tandon will replace Anandiben Patel.
Uttar Pradesh: Anandiben Patel will replace Ram Naik.
West Bengal: Jagdeep Dhankhar will replace Keshari Nath Tripathi.
Bihar: Phagu Chuhan will replace Lalji Tandon.
Nagaland: R.N. Ravi will replace P.B. Acharya.
Tripura: Ramesh Bais will replace Kaptan Singh Solanki.
8. NASA to send "first woman and next man" on Moon in 2024
U.S. space agency NASA prepares to send "first woman and next man" on Moon as part of its ambitious Artemis programme in 2024.

NASA has marked the 50th anniversary of the historic first Moon landing.
Foot Notes:
Headquarters of NASA: Washington DC USA
Founded: 29 July 1958.
Administrator of NASA: Jim Bridenstine.
9. National Broadcasting day: 23 July
India celebrates 23 July every year as the "National Broadcasting day". On this day in 1927, the first ever radio broadcast in the country went on the air from the Bombay Station under the Indian Broadcasting Company.

On 8th of June, 1936, the Indian State Broadcasting Service became All India Radio.

Currently, AIR is one of the largest public broadcasting organisations in the world.
10. IAEA chief Yukiya Amano who oversaw Iran deal dies
IAEA chief Yukiya Amano who oversaw Iran deal dies.

He led the International Atomic Energy Agency for a decade and was extensively involved in negotiations over Iran's nuclear program.

IAEA is a key U.N. agency, that regulates nuclear use worldwide since 2009.
Read More :
Lt Gen MM Naravane to be next Vice-Chief of Army Staff
After Chandrayaan-2, ISRO plans Aditya-L1
IIT students develop ' Smart Agricopter' to eliminate manual spraying of pesticides in agricultural fields