Current Affairs 10 February, 2020
Current Affairs 10 February, 2020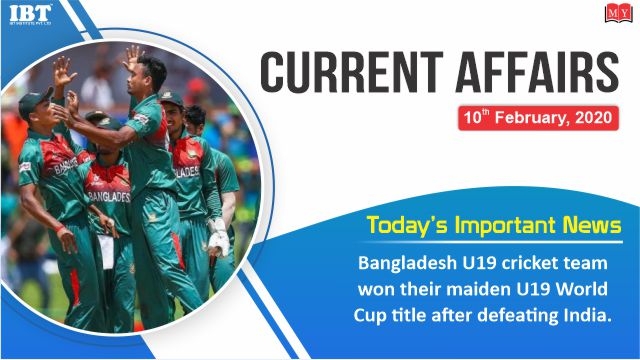 1. National De-Worming Day celebrated on 10 February.
National De-Worming Day is conducted on February 10 each year.

It is an initiative of the Ministry of Health and Family Welfare, Government of India to make every child in the country worm free.

According to the World Health Organization 241 million children between the ages of 1 and 19 years are at risk of parasitic intestinal worms in India, also known as Soil-Transmitted Helminths (STH).

Helminths (worms) which are transmitted through soil contaminated with faecal matter are called soil-transmitted helminths (Intestinal parasitic worms).
2. Mega Industrial Exhibition 'Engiexpo 2020' to be held in Vadodara, Gujarat.
In a bid to promote 'Made in India' products, the Federation of Small Scale Industries (FSSI) will organise a mega industrial exhibition 'Engiexpo 2020' in Vadodara, Gujarat from February 15.

Over 10,000 industrial products will be showcased in more than 300 stalls at the sixth edition of the exhibition.

The exhibition will showcase various products, including weighing, welding and cutting tools, products related to construction work, electronic and solar items, and packaging material. Several companies from Uzbekistan have also shown their interest in participating in the exhibition.
3. MP Governor Lalji Tandon inaugurates Hunar Haat in Indore.
Madhya Pradesh Governor Lalji Tandon inaugurated Hunar Haat in Indore. Hunar Haat is being organised till 16th February.

Hunar Haat is an exhibition of handicrafts and traditional products made by artisans from the Minority communities. It is organized by the Ministry of Minority Affairs.

Hunar Haat is organized under USTTAD-Upgrading the Skills and Training in Traditional Arts/Crafts for Development scheme.
Foot Notes:
About Madhya Pradesh
Capital: Bhopal
Governor: Lalji Tandon
Chief minister: Kamal Nath
4. After Nagaland, Tripura holds Hornbill Festival to boost eco-tourism.
Tripura Chief Minister Biplab Deb inaugurated the two-day Hornbill Festival at Baramura Eco-Park, 40 kilometres west of Agartala.

Organised for the first time in the state, the festival has been organised with twin goals in sight- conservation of Hornbill and to boost the livelihood of the people through tourism.

Nagaland celebrates Hornbill Festival in December every year to mark their conservation efforts for the species.

While Nagaland's Kisama village is known for conserving hornbill birds, the local community of Tripura's Baramura Hills also has a traditional culture of conserving these birds.
Foot Notes:
About Nagaland
Capital: Kohima
Governor: RN Ravi
About Tripura
Capital: Agartala
Governor: Ramesh Bais
Chief minister: Biplab Kumar Deb

5. Armand Duplantis breaks the Pole Vault World Record.
Armand Duplantis broke the world record in the pole vault with a jump of 20 feet 2¾ inches, or 6.17 meters.

At an indoor meet in Torun, Poland, Duplantis edged by a centimeter the previous record set in 2014 by Renaud Lavillenie of France, the 2012 Olympic champion.

Duplantis, known widely as Mondo, has already been selected to compete at the Tokyo Games.

He will represent Sweden, his mother's home country, instead of the United States at the Olympics.
6. Haryana thrashed SAI 6-0 to win 10th Hockey Senior Women National Championship.
Haryana thrashed Sports Authority of India (SAI) 6-0 to win the 10th Hockey India Senior Women National Championship 2020 (A Division) title at Kollam.

Manisha was the first to get on the score sheet for Haryana in the 19th minute.

Meanwhile, Madhya Pradesh Hockey Academy beat Hockey Maharashtra 2-1 in the third-fourth place play-off match.
Foot Notes:
About Haryana
Capital: Chandigarh
Governor: Satyadev Narayan Arya
7. C N R Nair has been appointed by Supreme Court to make inventory of ornaments at Sabarimala temple.
Retired Kerala High Court judge C N Ramachandaran Nair has been appointed by the Supreme Court of India for the formulation of the inventory and valuation report of ornaments at Sabarimala temple.
Foot Notes:
About Kerala
Chief Minister: Pinarayi Vijayan
Governor: Arif Mohammed Khan.
8. Pinelopi Koujianou has resigned from the World Bank as the chief economist.
Pinelopi Koujianou Goldberg has announced her resignation as the Chief Economist of the World Bank.

Aart Kraay will be the interim WB chief economist until the appointment of a new permanent chief economist.
Foot Notes:
About World Bank
President: David Robert Malpass.
Managing Director(MD) and Chief Financial Officer(CFO): Anshula Kant.
9. Indian Army Major develops world's first bulletproof helmet.
World's first bulletproof helmet has been developed by the Indian Army Major.

The bulletproof helmet can stop an AK-47 bullet round fired from a distance of 10 meters.

The Ballistic helmet is developed by An Indian Army Major Anoop Mishra.
Foot Notes:
28th Chief of Army Staff: General Manoj Mukund Naravane.
10. Bangladesh U19 cricket team won their maiden U19 World Cup title after defeating India.
Bangladesh beat India by three wickets to win maiden ICC U-19 World Cup title in Potchefstroom, South Africa by the Duckworth-Lewis method.

Batting first, India were all out for 177 in 47.2 overs. India was unbeaten in the tournament so far, winning all five matches.

In the semifinal, India defeated arch-rivals Pakistan by 10 wickets. First-time finalists Bangladesh, beat South Africa and New Zealand in their journey to the finals.

Read More:
Current Affairs 08-09 February, 2020
Current Affairs 07 February, 2020
Current Affairs 06 February, 2020