Chandrayaan-2: Took billion dreams to Moon
Chandrayaan-2: Took billion dreams to Moon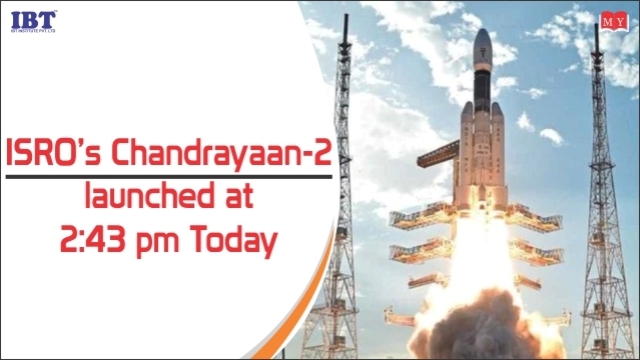 India's rocket carrying an orbiter, lander and a rover in a stepped up moon mission to uncover lunar secrets launched into space successfully from the launched on 22 July 2019 at 2:43pm.
The launch was originally scheduled for the early morning of July 15, but scientists noticed a sudden drop in pressure in a chamber filled with helium gas with about two hours to go. Unable to immediately ascertain the reason, and unwilling to take chances with the prestigious mission, they decided to abort the launch.
An expert committee was constituted to assess the problem and recommend corrective measures. On Thursday, ISRO said the committee had rectified the problem and that all systems were functioning normally. It had then announced that the spacecraft would be launched on July 22.
More to Know about Chandrayaan-2
'Baahubali', a 640-tonne rocket, is 44 metres long or as tall as a 15-storey building.
The Chandrayaan-2(GSLV Mk 3) rocket, a Rs 978-crore project, is on course to place the country in a niche league of nations populated by the US, Russia and China that have successfully conducted a moon-landing.

Beyond that, the lander will touch in the region of the south pole of the moon, an unexplored territory, according to ISRO.

The target is find more evidence of water, clues about the moon's evolution and work the natural satellite as a test bed for more space missions concerning the solar system.

It will take 16 days to raise the orbit and then five days to reach the moon's orbit.

The first landing pictures may be available within 15 minutes of the lander touching down. However, it will take four hours from the time of landing to the time the rover comes out from the lander.

The mission carries 13 Indian scientific instruments for experiments. Imaging of rock will be done to find elements like magnesium, calcium and iron and also for signs of water. Mission will also study the exosphere of the moon.
Chandrayaan-2 : Updates
Time

Events

03:21 PM

It is the beginning of a historic journey of India towards moon & to land at a place near South Pole to carry out scientific experiments: K Sivan, ISRO Chairman

03:20 PM

Vice President of India Shri M. Venkaiah Naidu congratulates ISRO

03:17 PM

Former External Affairs minister Sushma Swaraj congratulates ISRO on the successful launch Chandrayaan-2.

03:12 PM

From lift off to lunar landing: Chandrayaan 2 journey explained

From launch till moon-landing, there will be several spots of complex manoeuvre. From the earth's orbit, it will be tranferred to a lunar trajectory that will sling-shot the spacecraft towards the moon through a series of complex operational changes. Later, thrusters on-board will enable descent of the spacecraft into a lunar orbit; the lander will detach from the orbiter and choose a right spot for landing even as its applies brakes to soften the landing.

03:07 PM

Indian Space Research Organisation Chief K Sivan and other scientists celebrate after GSLVMkIII-M1 successfully injected Chandrayaan-2 spacecraft into earth orbit.

03:07 PM

Spacecraft injected into earth orbit

03:05 PM

After the serous technical snag, we have bounced back with flying colours: K Sivan

03:05 PM

03:00 PM

ISRO launches Chandrayaan-2 from Sriharikota.

02:53 PM:

K Sivan watching Chandrayaan II trajectory from inside Sriharikota launchpad

02:51 PM

The cryogenic stage has been ignited. This is the crucial upper stage of the rocket that will take the mooncraft to the earth transfer orbit.

02:49 PM

Performance of key parameters normal so far. Only after 16.22 minutes we will know if it has been placed on Geosynchronous Transfer Orbit: ET Bureau

02:48 PM

AAP congratulates Isro

02:46 PM

Chandrayaan 2 lifts off from Sriharikota centre

02:44 PM

ISRO launches Chandrayaan 2 by GSLV MkIII-M1 Vehicle at 1443 hours.

02:41 PM

Three minutes to go for Chandrayaan 2 launch

02:41 PM

Countdown begins