Success Story of Gurleen : IBPS Clerk(Punjab and Sindh Bank)
Success Story of Gurleen : IBPS Clerk(Punjab and Sindh Bank)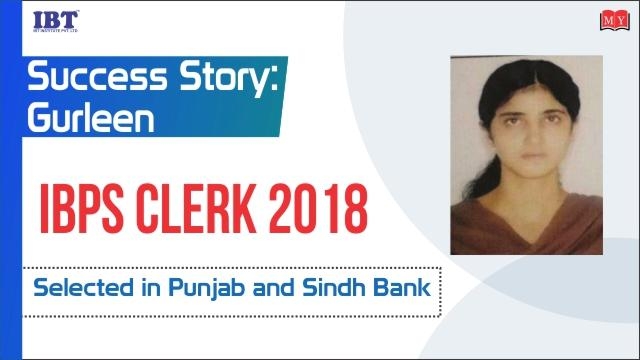 IBT: "You have the caliber to do whatever you can dream. I hope you feel proud of yourself and self-assured to rise to your next challenge." You've earned every bit of the success you're enjoying. I wish you many Congratulations.
Gurleen: Thank you, sir.
IBT: How did you feel when you got to know that you have been selected for the post?
Gurleen: I am really very glad, sir. My efforts and hard work have proved to be fruitful. I was alike every other student, little scared if I would be able to crack any exam. But, I tried to overcome my fear and succeed. And finally my dedication and sincerity helped me to crack the same. I really feel overwhelmed.
IBT: What was your future plan before joining the Institute?
Gurleen: Sir, I always wanted to join a government job. My family also wanted the same. After completing my studies, I thought of joining the best institute to prepare for my ultimate dream. I have taken some government
exams during my graduation but I analys ed that I was lacking in one or the other subject. This is the reason I joined IBT Institute which I think is the best decision of my life as it is the most prestigious institute.
IBT: How did you prepare to achieve your goal?
Gurleen: Sir, I focused on attending all the classes regularly so that I can clear the basics of each and every topic. I also used to revise the same at home. In beginning, I used to have many doubts which i would clear in the separate doubt sessions provided by the Institute. After practicing all the topics, I majorly focused on my weak areas and revised the strong chapters. In this way I prepared well for the exams. Thus, lectures and separate doubt sessions helped me to achieve my goal.
IBT: Would you like to advise other students how to prepare for the exam?
Gurleen: Diligence is the key to crack any exam. This would not work if one studies irregularly. Secondly, students must not only pay attention to attend the classes regularly but also should practice the same topics at home. They must analyze their own performance by taking online mock tests provided by the Institute. This way they will came to know about their strong and weak areas. This will help the students a lot to do well in the exams.
IBT: What according to you is the best strategy while taking any competitive exam?
Gurleen: Sir, for any examination, selection of proper questions is very important. Time management is also very crucial while attempting any exam. That's why one ought to allocate appropriate time to each question. One must not only pay attention on speed but also on accuracy. Students must make their own strategy as per their own strengths and weaknesses. This would only be possible if they are taking mock tests on the regular basis along with the time bound practice of the questions.
IBT: How much time did you use to devote for the preparation of the exam?
Gurleen: Sir, I never fixed my study hours. I always used to decide the number of topics that I was going to practise in a single day. For me, achieving that target was much important rather than fixing study hours.
IBT: What contribution did IBT Institute make to your success?
Gurleen: Faculty members at IBT Institute helped me a lot to clear all my doubts regarding the subjects. It is only due to the flexible batch timings, regular guidance, doubt sessions and weekly mock tests because of which I was able to crack the exam. I had a really good experience with the IBT Institute.
IBT: Who would you attribute your success to?
Gurleen: I would like to attribute my success to my parents who always supported me, my teachers who were always there to guide me and IBT Institute as a whole which supported me during this journey. The faculty members guided me in the proper direction. I learnt a lot from the institute.
IBT: Would you like to suggest something to the students who are preparing for the competitive exams?
Gurleen: Firstly, they have to be very clear what they actually want to do and if they are actually interested in joining the government job then they must not leave any room for preparation. Dedication and diligence are the keys to reach the summit of success.
IBT: Celebrating the record you just made and looking forward to watching you cross your next finish line!
Gurleen: Thank you very much, sir!