SSC CHSL 2019 Exam pattern and selection process
SSC CHSL 2019 Exam pattern and selection process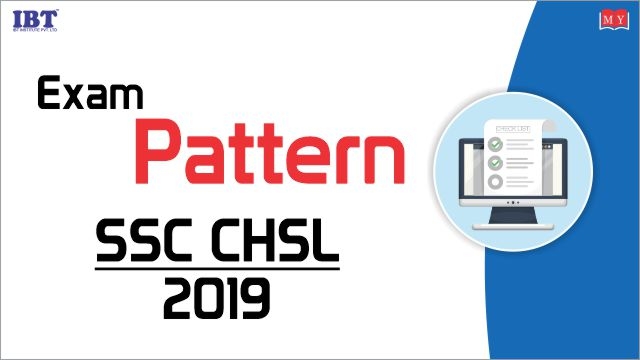 Exam pattern and selection process for SSC CHSL 2019-20
SSC (Staff Selection Commission) has announced the SSC CHSL 2019 notification. SSC CHSL conducts exam for the posts of Lower Divisional Clerk/ Junior Secretariat Assistant, Postal Assistant/ Sorting Assistant and Data Entry Operators for various Ministries/ Departments/ Offices of the Government of India.SSC CHSL Exam Pattern 2019-20 will help you in strategizing your preparations, scoring high marks necessary for the selection. Before giving a start to your preparations, check the SSC CHSL selection process, the scheme of marks, and exam pattern of Tier 1 & Tier 2.
SSC CHSL Exam Pattern for Tier-1
The SSC CHSL Tier-I Online Examination is the first stage and consists of objective Type multiple-choice questions only. There are 4 sections namely General Intelligence, General Awareness, Quantitative Aptitude and English Language in the Tier 1 exam of SSC CHSL 2019. The subject-wise details are given below:
Section
Subject
No of Questions
Max Marks
Exam Duration

1

General Intelligence

25

50

60 Min

2

General Awareness

25

50

3

Quantitative Aptitude

25

50

4

English Language

25

50

Total

100

200
For Exam Preparation Join: SSC CHSL Online Coaching

SSC CHSL Exam Pattern for Tier-2
In SSC CHSL Tier 2 Exam 2019-20, candidates will be facing a descriptive exam designed to test the written skills of the candidates in English/Hindi. Candidates will be experimenting with their writing skills to score marks and find a place in the final merit. The Tier 2 would comprise writing of an Essay of 200-250 words and Letter/Application writing of approximately 150-200 words. The performance in Tier-2 would be included in preparing the final merit.
SSC CHSL 2019 Skill Test
Skill Test is mandatory. No candidate is exempted from appearing in the Skill Test.

For DEO in CAG , Data Entry Speed of 15,000 Key Depressions per hour on Computer.

For DEO in other deptt, Data Entry Speed of 8,000 Key Depressions per hour on Computer.

For LDC/PA/SA, Data Entry Speed of 10,500 Key Depressions per hour on Computer.

The duration of the Test will be 15 (Fifteen) minutes

Printed matter in English containing about 2000-2200 key-depressions would be given to each candidate who would enter the same in the Computer.

Typing Test will be conducted in English or Hindi and candidates while applying for the Examination, will have to indicate his/her choice/option for Skill Test Medium in the Application Form.

Typing Test will be of qualifying in nature.

It will be administered on the Computer, to be provided by the Commission or any agency authorized by the Commission.

The speed will be adjudged on the accuracy of typing on the Computer of a given text passage in 10 minutes.

Visually Handicapped candidates (with 40% disability and above) will be allowed 30 minutes.