Shaheed Bhagat Singh Jayanti celebrated every year on 28 September
Shaheed Bhagat Singh Jayanti celebrated every year on 28 September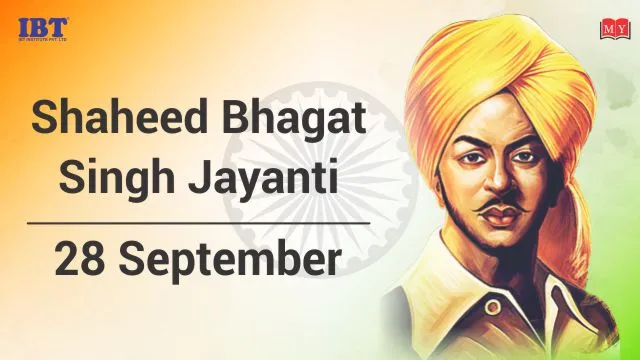 Shaheed Bhagat Singh Jayanti celebrated every year on 28 September
Birth
Bhagat Singh was born on 28 September 1907 in Punjab province, which is now in Pakistan.It is 115th Shaheed Bhagat Singh Jayanti. He was a brave and courageous freedom fighter who gave up his life for India. Bhagat Singh was hanged by the British colonial rulers when he was 23 years old. He is referred to as Shaheed Bhagat Singh by the people in India. The brave freedom fighter has inspired Indians across generations. Shaheed Bhagat Singh Jayanti 2022 will be observed on 28 September.
Family
Bhagat Singh was born to a politically active Sikh family in Lyallpur district of the undivided Punjab province. His father and uncles were active supporters of the Ghadar Party and had been imprisoned due to their political activities. They were released from prison on the day that he was born. His grandfather Arjun Singh was a member of the Arya Samaj movement and the young Bhagat Singh was enrolled in the Dayanand Anglo Vedic High School. There he was exposed to the philosophy of the Arya Samaj movement that advocated the purity and universal truths of the Vedas and opposed the corruption and obscurantism of many later Hindu religious practices.
Non coorperation movement
In 1920, when Mahatma Gandhi launched the non-cooperation movement, Bhagat Singh was just 13, but he participated in it whole-heartedly – even burning his school text books which were written by British authors, as well any items of British-made clothing that he possessed. However when Mahatma Gandhi suspended the non-cooperation movement in the aftermath of the Chauri Chaura incident, since the movement had turned violent, Bhagat Singh lost faith in non-violence and instead reposed his faith in the Young Revolutionary Movement, which supported the use of force in ousting the British from India.
Polytical Participation
When he was 16 he joined the National College, Lahore, in 1923, and was a popular student who stood out in both academic and extra-curricular pursuits. He was also politically active, setting up the Naujawan Bharat Sabha, a youth organisation dedicated to nationalist pursuits, in 1926. He was a contemporary of young political leaders such as Chandrashekhar Azad, Ram Prasad Bismil, and Ashfaqulla Khan of the Hindustan Republican Association (HRA). Allying himself with their cause, he also persuaded them to change the name of their organisation to the Hindustan Socialist Republican Association (HSRA).
In 1927 Bhagat Singh left his family home, apparently to avoid a marriage that was being arranged for him, and leaving behind a note saying he was dedicating his life to the cause of freeing the nation from British rule. He moved to Kanpur, where he may have tried to free the conspirators of the Kakori train robbery (all HRA members) who were lodged in Kanpur jail. Bhagat Singh's militant political philosophy was well-developed by now and he often published his thoughts in the journals of the Kisan Mazdoor Party, Kirti, as well as in the newspaper Veer Arjun, and local Punjabi and Urdu newspapers.
Election as Secretary of the Kisan Mazdoor Party
In October 1926, there had been a bomb blast in Lahore on Dussehra day. Bhagat Singh was arrested by the British authorities in May 1927 for his suspected involvement and subsequently released after paying a bond of 60,000 Rupees. In September 1928 he was elected the secretary of the Kisan Mazdoor Party, and subsequently became the party leader.
The Simon Commission
Meanwhile the political climate in India was heating up. The Simon Commission, set up by the British to report on the Indian political situation was strongly opposed by Indians. In a peaceful protest rally in Lahore on 30th October 1928, Lala Lajpat Rai was injured by James A. Scott, the Superintendent of Police, who led a lathi charge against the non-violent protestors. Lala Lajpat Rai passed away on 17 November 1928, as a result of the injuries sustained in the attack. Bhagat Singh, though not present at the scene of the attack, took a pledge to avenge Lala Lajpat Rai's death and in association with fellow revolutionary activists Chandrashekhar Azad, Sukhdev Thapar and Shivaram Rajguru planned to assassinate Scot.
In order to keep the momentum going, and inspired by a French revolutionary's bombing of the Chamber of Deputies, Bhagat Singh and his HSRA associate Batukeshwar Dutt threw bombs and leaflets in the Central Legislative Assembly on 8 April 1929. They were arrested by the British police and were charged with an attempt to murder, though no-one had been killed in the attack. Singh's gun was recovered from his possession however, and later matched with bullets found at the scene of Saunder's killing. Though he had been sentenced to 14 years imprisonment for the Assembly attack, Singh's sentence was delayed, he was rearrested, and tried for the murder of Saunders. While in prison, Singh went on hunger strike to protest against the poor prison conditions. The hunger strike and trial received a lot of press coverage and was the subject of intense politcal debate. Nonetheless, on 7 October 1930, Bhagat Singh, Sukhdev and Rajguru were sentenced to death by hanging, by the British tribunal.
Death
At 7.30 pm on 23rd March 1931, Bhagat Singh, Sukhdev and Rajguru were executed by hanging in Lahore jail. The were cremated and their ashes immersed in the Sutlej river by the jail authorities.
Memorial
The National Martyrs Memorial, Hussainwala, Punjab
Even today Bhagat Singh is celebrated in film and song as a patriotic son of India who sacrificed his life for the cause of her freedom.