General Awareness Questions asked in RRB NTPC 2020 28th December
General Awareness Questions asked in RRB NTPC 2020 28th December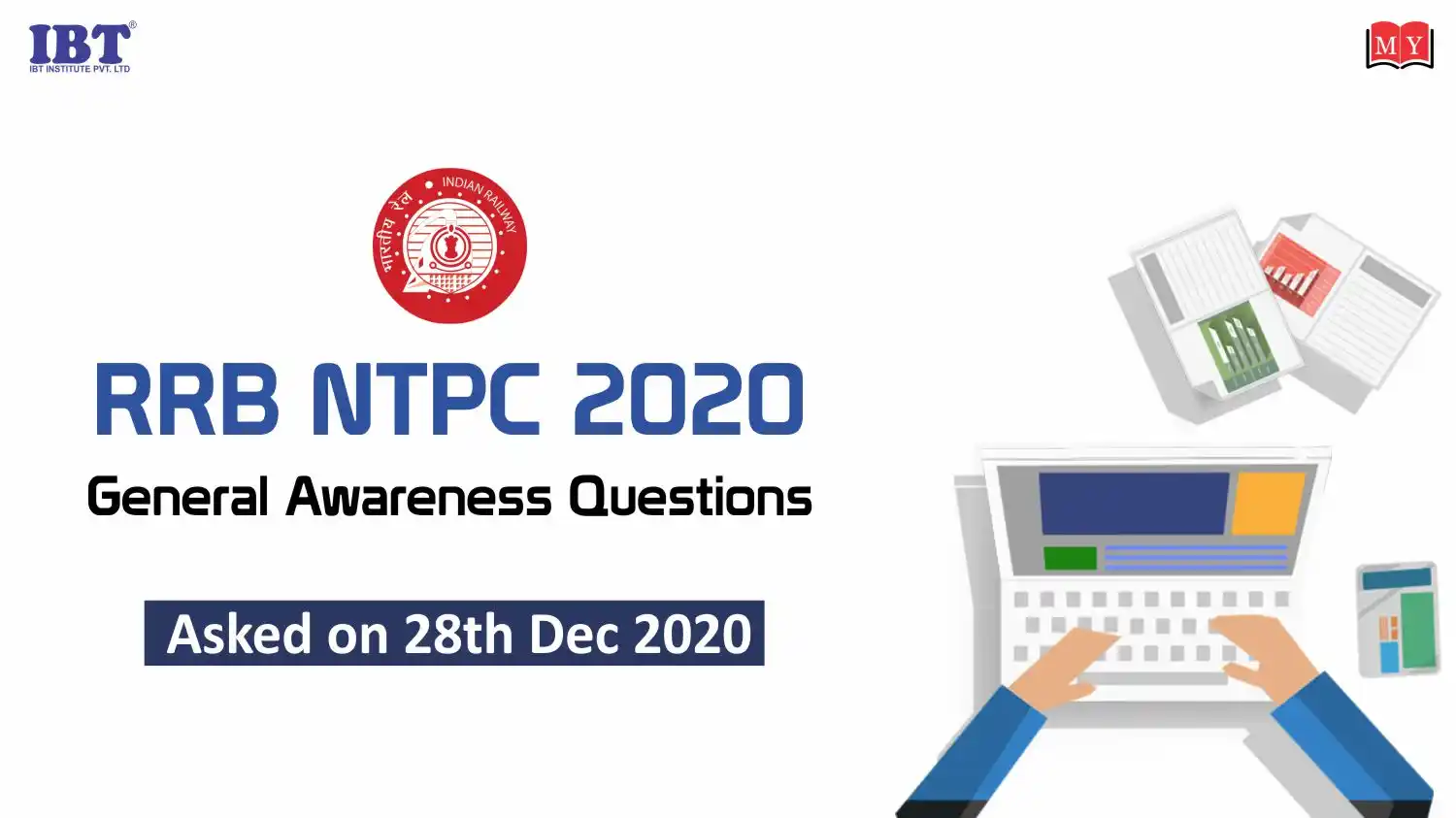 General Awareness Questions asked in RRB NTPC 2020 28th December
Dear Students,
Now We are here to provide you actual general awareness questions asked in the RRB NTPC exams 2020. We hope these questions could helpful for all the students who are going to be appear in upcoming shifts in RRB NTPC Exam 2020. The General Awareness (GK/GS) questions are important for RRB NTPC, RRC Group D" and other Railway exams such as RRB ALP & Technicians Exams. The GK/GS in RRB NTPC exam can be divided into various sections including-
History
Geography
Polity
Biology
Physics
Chemistry
Static GK
Computer
General Awareness Questions asked in RRB NTPC 2020 28th December
Q. Who is the youngest President of India?
Ans. Neelam Sanjeeva Reddy
Q. Who is the Bihar Governor?
Ans. Phagu Chauhan
Q. Who give Double Helix Model of DNA?
Ans. Francis Creek & James Watson
Q. Which part of the computer is called "Brain of Computer"?
Ans. CPU (Central Processing Unit)
Q. In which state Chicken Kari Embroidery is famous?
Ans. Lucknow
Q. Which is the longest National Highway in India?
Ans. NH 44 is the longest National Highway in India.
Q. When did Bengal Division took place?
Ans. On 16th October 1905
Q. When did 2nd Battle of Panipat happen?
Ans. 5 November 1556
Q. Who is the writer of "Raj Tarangani"
Ans. Kashmiri Brahman Kalhana
Q. What is the full form of URL?
Ans. Uniform Resource Locator
Q. Where did Khelo India Youth Game 2020 held in India?
Ans. Guwahati
Q. Which state has the Longest Coast Line?
Ans. Gujarat
Q. Who was awarded with 55th Jnanpith Award?
Ans. Akhitham Namudari
Q. Which banks are merged in Bank of Baroda?
Ans. Dena Bank and Vijaya Bank
Q. When did Environment Act passed in India?
Ans. 19th November 1986
Q. In which two states Vande Bharat Express run?
Ans. From Delhi to Varanasi
Q. In which state Sabrimala Temple is located?
Ans. Perinad Village, Pathanamthitta district, Kerala
Q. When did Battle of Plassey occur?
Ans. 23rd June 1757