CURRENT AFFAIRS FEBRUARY 17 AND 18, 2019
CURRENT AFFAIRS FEBRUARY 17 AND 18, 2019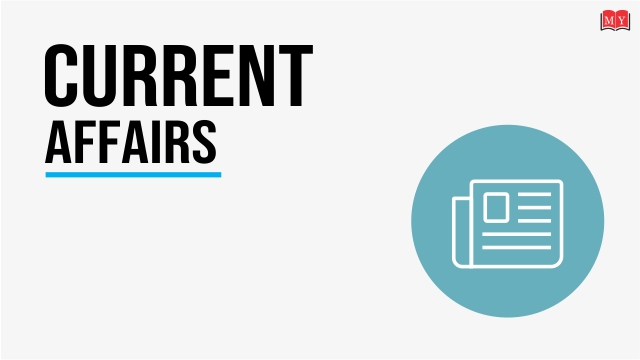 1. Governor of West Bengal, H.E. Shri Keshari Nath Tripathi Launches Book Dedicated to Swami Pragyananandji at the Kumbh Mela
Famous Industrialist and Philanthropist Mr. Dinesh Shahra's book, 'Simplicity & Wisdom' was launched at Parmarth Ashram in Kumbh Mela.

The book is dedicated to Late eminent Vedanti Swami Pragananandji. The book was formally launched by 'His Excellency' Keshari Nath Tripathi Governor of West Bengal, and Swami Chidanand Saraswati, Head of Parmarth Ashram.

This book is primarily aimed at offering saintly wisdom and guidance to lead a content and happy life.
2. Air Force Jets, Helicopters Destroy Targets In Mega Exercise In Rajasthan
The Air Forcecarried out a mega exercise involving 140 fighter jets and attack helicopters, in a firepower demonstration close to the border with Pakistan that came two days after the Pulwama attack.

Top Air Force sources said though the Vayu Shakti was planned in advance, the drill was a demonstration of the force's capability to hit targets with "pinpoint accuracy" and carry out missions at short notice.

In the Vayu Shakti exercise, the IAF showcased firepower capability of indigenously-developed platforms like Light Combat Aircraft (LCA) Tejas, Advanced Light Helicopter (ALH) and efficacy of Akash surface-to-air missile and Astra air-to-air missile.
3. Badminton Nationals: Saina Nehwal defeats PV Sindhu to clinch women's singles title
Saina Nehwal maintained her stranglehold on PV Sindhu as she clinched her second successive and overall fourth senior national badminton title.

The defending champion defeated the world No 6 by 21-18, 21-15 to carve her name on the championship for the fourth time.

Nehwal, who had beaten Sindhu in the last edition's final in Nagpur and then twice more, including the Commonwealth Games summit clash, was in control throughout the 44-minute encounter that failed to keep the spectators at the edge of their seats.
4. Karnataka Inaugurated India's First Agromet Forecast Centre
Union Minister for Science & Technology, EarthDr Harsh Vardhan, inaugurated the North Karnataka Agromet Forecasting and Research Centre (NKAFC), India's first agreement forecast centre, at University of Agricultural Sciences (UAS) in Dharwad, Karnataka.

The main objective of the centre is to give accurate reports on the weather which would enable the farmers to protect the crops and get a good yield.

The centre has been established by the union ministry of earth sciences and the India Metrological Department, in association with the University of Agricultural Sciences (UAS).
5. PepsiCo's Kurkure signs Taapsee Pannu as brand ambassador
Kurkure has also launched a television campaign to celebrate the progressive thinking of young homemakers

Taapsee Pannu, who endorses 10 brands, signed five big contracts in 2018

The announcement is strategically timed as Kurkure embarks on a new journey with its new positioning – 'Khayal toh Chatpata hai'.
6. Hina Jaiswal becomes India's first woman flight engineer inducted by IAF
Flight Lieutenant Hina Jaiswalbecame the first Indian Woman Flight Engineer of the Indian Air Force.

Hina completed the six-month flight engineer course from the 112 Helicopter Unit attached to the Air Force Station in Yelahanka in Bengaluru.

Earlier restricted to men, the flight engineer branch was opened to women officers in 2018.
7. RBI imposes Rs 3.5 cr Penalty on 3 Public Sector Bank
The Reserve Bank has imposed Rs 3.5 crore penalties on three public sector banks, including PNB and OBC, for violation of various banking norms.

The monetary penalty on the banks has been imposed for non-compliance with various directions issued by the RBI on monitoring of end use of funds, exchange of information with other banks, and on restructuring of accounts.

A penalty of Rs 1.5 crore has been imposed on Oriental Bank of Commerce (OBC) and Rs 1 crore each on Punjab National Bank (PNB) and Bank of India.
8. Infosys launches learning app 'InfyTQ' for engineering students
Indian IT major Infosys has announced the launch of InfyTQ, a next-generation digital platform to offer the best learning and engagement experiences for engineering students in India.

InfyTQ is a free platform open to all engineering students in their third and fourth year across India.

The learning courses on the app will be centered around conceptual and practical aspects of technology to help students receive a thorough understanding of the fundamental building blocks.
9. Banned Punjabi poem on Jallianwala massacre to be published in English after 99 years
A poem on the Jallianwala Bagh massacre by acclaimed Punjabi writer Nanak Singh, which was banned by the British after its publication in 1920, has now been translated into English.

It will be published by Harper Collins India next month to mark the centenary of the Jallianwala Bagh massacre.

The poem narrates the political events in the run-up to the massacre and its immediate aftermath.
10. Dolphin Numbers Have Shrunk In Odisha, Reveals Census
Odisha's recent annual census of dolphins in its waters have thrown up some shocking numbers, with the aquatic mammals' population declining from 469 in 2018 to 259 this year.

The census was carried out by the state's forest and environment department on January 19 this year.

A total of 16 Bottle Nose dolphins were seen in Odisha. Out of these, 2 were sighted in Balasore and 14 in Gahirmatha.