Current Affairs 9 June 2020
Current Affairs 9 June 2020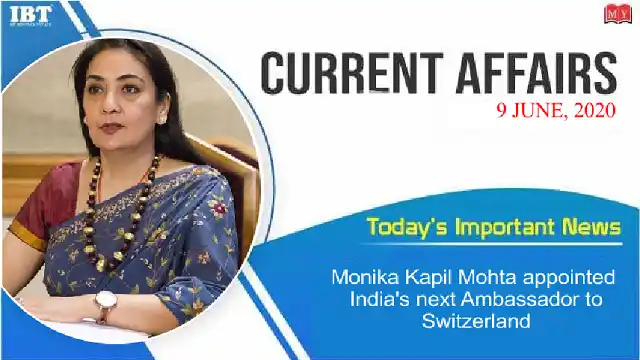 1.ISRO & ARIES signs MoU for cooperation in SSA & Astrophysics
Indian Space Research Organization (ISRO) has signed an agreement with Aryabhatta Research Institute of Observational Sciences (ARIES) for cooperation in the field of Space Situational Awareness (SSA) and Astrophysics.

The main objective of the MoU is to shield the Indian Space assets from the space debris's conjunction threats and R&D of Astrophysics, solar sciences and space environment are the base for future space exploration projects and the key to progress in the Indian Space sector.
Foot Notes:
About ISRO
Director: K. Sivan,
Headquarters: Bengaluru
Established: 1969.
About ARIES:
The ARIES was established on 20th April 1954.
Located: Nainital, Uttarakhand.

2.NABARD extended Rs 270 crore to Assam Gramin Vikash Bank
National Bank for Agriculture and Rural Development has extended a Special Liquidity Facility (SLF) of Rs 270 crore to Assam Gramin Vikash Bank to support the agricultural activities of the farmers amid COVID-19 pandemic.

This line of credit would enable the farmers in enhancing their crop production and hence this amount would prove to be a boon to the agriculture credit of the state at this difficult hour.
Foot Notes:
About NABARD
Chairman: G R Chintala
Founded: 12 July 1982
Headquarters: Mumbai
3.Gujarat, Goa, and Chandigarh topped FSSAI State food safety index for 2019-20
The 2nd State Food Safety Index (SFSI) for 2019-20 of Food Safety and Standards Authority of India (FSSAI) has been topped by Gujarat among larger states and by Goa among smaller states. It was announced during a webinar conducted on the occasion of "World Food Safety Day" on the theme "Food Safety is everyone's business".

This webinar has recognized all those who ensured uninterrupted availability of safe food for everyone during COVID-19 pandemic.

The State Food Safety Index ranks states on five parameters. The parameters are Human Resources and Institutional Data, Compliance, Food Testing Facility, Training and Capacity Building besides Consumer Empowerment
Foot Notes:
About FSSAI:
Chairperson: Rita Teaotia
Headquarter: New Delhi
Founded: August 2011
4.India and Denmark sign MoU for developing cooperation in power sector
India and Denmark have signed an MoU for developing cooperation in the power sector.

The MoU signed is to develop a strong, deep and long-term co-operation between two countries in the power sector on the basis of equality, reciprocity and mutual benefit.

It provides for collaboration in areas like offshore wind, long term energy planning, forecasting, flexibility in the grid, consolidation of grid codes to integrate and operate efficiently variable generation options, flexibility in the power purchase agreements and variability in renewable energy production.

Indian electricity market will benefit from this cooperation with Denmark. Under the MoU, a Joint Working Group will also be established.
Foot Notes:
About Denmark
Capital: Copenhagen
Prime Minister: Mette Frederiksen
Currency: Danish krone
5.Govt mandates distinct colour strip on top of sticker carrying details of registration for BS-VI vehicles
The Ministry of Road Transport and Highways has mandated a strip of green colour of one centimetre width on top of the existing sticker carrying details of registration for BS-VI vehicles of any fuel type.

For petrol and CNG vehicles, there is a light blue colour sticker and for diesel vehicles, it is of orange colour. The Ministry in a statement said that such stickers will now have a green strip of one centimetre width on top for BS VI four wheel vehicles.

Green strips of such thickness for BS 6 vehicles for stickers of registration details are being stuck on windshields of 4 wheelers.
Foot Notes:
About Ministry of Road and Transport:
Founded: July 1942
Minister: Nitin Gadkari
6.Indian Air Force Inducts indigenously developed ARPIT Pod to evacuate Critical patients from remote areas
The Indian Air Force has designed, developed and manufactured an Airborne Rescue Pod for Isolated Transportation (ARPIT).This pod will be utilised for evacuation of critical patients with infectious diseases including COVID-19 from high altitude areas, isolated and remote places.

Requirement of an air evacuation system with facility to prevent spread of infectious aerosol from a COVID-19 patient during air travel was felt by IAF when COVID-19 was declared as a pandemic.

This indigenously designed system has been developed at a cost of Rs. 60,000 only, which is very less as compared to the imported systems costing up to Sixty Lakh.
Air Chief Marshal: Rakesh Kumar Singh Bhadauria
7.Engineer from Maharashtra develops "Coro-bot" to reduce physical contact of care-givers with COVID-19 patients
A robot named 'Coro-bot' has been developed by an engineer from Thane district of Maharashtra, in order to reduce the physical contact of care-givers with COVID-19 patients.

Instrumentation Engineer, Pratik Tirodkar developed the 'Coro-bot' to cut away the requirement of physical contact of nurses and ward boys with the patient as they confront a great risk while working in the COVID-19 hospitals.

The robot 'Coro-bot' will be operated by a special app from any location in the world based on the idea of Internet of Things (IoT).

This robot can provide various services such as delivering food, water and medicines to the patients suffering from COVID-19, without any necessity of physical presence of nurses as well as other care-givers.

Impressed by its performance, Thane Guardian Minister Eknath Shinde has indicated to deploy Coro-bot in over a dozen government and private hospitals of the district.
Foot Notes:
About Maharashtra
Capital: Mumbai
Chief Minister: Uddhav Thackeray
Governor: Bhagat Singh Koshyari
8.Andhra Pradesh launches online waste exchange website "APEMC"
Online waste exchange website of Andhra Pradesh Environment Management Corporation (APEMC) has been launched by the Andhra Pradesh Chief Minister YS Jagan Mohan Reddy. Andhra Pradesh has become India's first state to launch a waste exchange website. Through this platform, the state government seeks to protect the environment by covering 100% safe disposal of toxic waste, proper tracking, scrutiny as well as audit of waste.

With this platform, the Andhra Pradesh government will promote the six 'R's namely Reduce, Refurbish, Reuse, Recycle, Redesign and Remanufacture. The platform has been set up by the government as there was a need for an appropriate system for the scientific disposal of the waste generated by the various companies in the state.

Hence, APEMC will monitor the generation of waste across the State and will also take effective measures for its scientific disposal.
Foot Notes:
About Andhra Pradesh:
Capitals: Amaravati, Hyderabad
Governor: Biswabhusan Harichandan
Chief Minister: Y. S. Jaganmohan Reddy
9.India's economy to contract by 3.2 percent in fiscal year 2020-21: World Bank
The World Bank expects India's economy to contract 3.2% in the current fiscal year, a sharp downgrade from its April projection of 1.5%-2.8% growth.

The Global Economic Prospects (GEP) report released said the lockdown would severely curtail activity despite fiscal and monetary stimulus.

The latest report expects the economy to make a modest recovery to 3.1% growth in the next fiscal year. A number of firms including Goldman Sachs and Nomura have projected a contraction of as much as 5% for India in FY21.
Foot Notes:
About World Bank
Founded: 1944
Headquarters: Washington, D.C., United States
CEO: Kristalina Georgieva

10.Monika Kapil Mohta appointed India's next Ambassador to Switzerland
Diplomat Monika Kapil Mohta has been appointed as the next Ambassador of India to Switzerland, the Ministry of External Affairs (MEA) announced.

Presently, Mohta, an Indian Foreign Service officer of 1985 batch, is India's Ambassador to Sweden.

Mohta has served as the Ambassador of India to Poland and Lithuania from July 2011 to January 2015.

She served as the Director of The Nehru Centre and Minister (Culture) at the High Commission of India to the United Kingdom from 2006 to 2011.

She has also served at Indian Embassies in France, Nepal, and Thailand, and in the Permanent Delegation of India to UNESCO.
Foot Notes:
About Switzerland
Capital: Bern
Chancellor: Walter Thurnherr
Currency: Swiss franc