Current Affairs 8 June 2020
Current Affairs 8 June 2020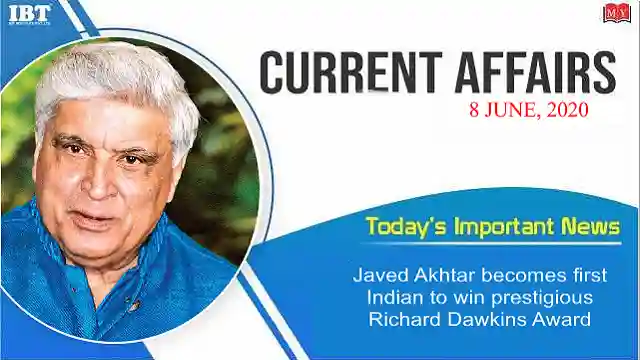 1. Joe Biden clinches Democratic presidential nomination in US elections
Former US Vice President Joe Biden, has formally become the Democratic presidential nominee to run for the White House against President Donald Trump in the elections in November this year.

Biden took his tally of pledged delegates over the halfway mark of 1,991 from a total of 3,979, becoming eligible to earn the Democratic Party's presidential nomination.

The veteran Democrat served as the 47th vice president of the United States from 2009 to 2017 during the presidency of Barack Obama. Biden has been consistently supportive of the India-US relations. As a Senator, he had voted to approve the landmark civilian nuclear deal between the two countries in 2008.
Foot Notes: About US:
Capital: Washington, D.C.
President: Donald Trump
Currency: US dollar

2. Rajasthan CM Ashok Gehlot launches Online Labour Employment Exchange
Rajasthan Chief Minister Ashok Gehlot recently launched the Raj Kaushal Portal and Online Shramik Employment Exchange through video conferencing.

It is a major initiative taken by the state government after the lockdown, to make it easier for the workers to get employment who are suffering from livelihood losses and to make the labour available to the industries facing labour shortage.

Taking a note of the migration of workers from the state and the arrival of migrant workers due to the corona pandemic, CM Gehlot had directed to create an online labour exchange.
Foot Notes: About Rajasthan
Capital: Jaipur
Governor: Kalraj Mishra
Chief Minister: Ashok Gehlot
3. Akshay Kumar only Indian on the Forbes highest-paid celebrities list, Kylie Jenner topped
Kylie Jenner and Kanye West topped the annual Forbes list of the highest paid celebrities, but sports stars, including Roger Federer and Lionel Messi, dominated the top 10.Forbes estimated that Jenner earned $590 million in the last 12 months, mostly from the sale of a 51% stake in her Kylie Cosmetics line to Coty in 2019.

Bollywood actor Akshay Kumar, 52-year-old, is the only Indian to feature on Forbes 2020 list of World's Highest-Paid Celebrities, at the number corresponding to his age, 52.

In this list, Akshay has beaten celebs such as Hollywood actors Will Smith and Jennifer Lopez, and singer Rihanna, with earnings of 48.5 million dollars.
4. Rahul Shrivastava appointed as the India's next Ambassador to Romania
Rahul Shrivastava, a senior diplomat has been appointed as the next Ambassador of India to Romania.

Mr Shrivastava, a 1999 batch IFS officer is presently a joint secretary in the ministry. He is expected to take up the assignment shortly.
Foot Notes: About Romania:
Capital: Bucharest
Currency: Romanian leu
President: Klaus Iohannis

5. Pakistan witnesses highest inflation in the world during fiscal year 2020
Pakistan witnessed the highest inflation in the world during the fiscal year 2020, as per a statement by State Bank of Pakistan (SBP) on June 7, 2020. The bank reported that due to the high inflation rate, policymakers have been forced to increase the interest rate.

According to the Inflation Monitor issued by the SBP for April 2020, Pakistan witnessed the highest inflation in the world in comparison to both developed and emerging economies. The State Bank of Pakistan was forced to push up interest rates to calm the inflationary pressure during the fiscal year.

However, higher interest rates had an adverse impact as they pushed the inflation further up. The private sector also stopped borrowing money, impacting industrial growth and services.
Foot Notes: About Pakistan
Capital: Islamabad
President: Arif Alvi
Prime Minister: Imran Khan
6. Javed Akhtar becomes first Indian to win prestigious Richard Dawkins Award
Javed Akhtar, veteran Bollywood writer, and lyricist has become the first Indian to receive the Richard Dawkins Award 2020. He won the award for advancing human progress, critical thinking, and humanist value.

The award named after English evolutionary biologist Richard Dawkins has been presented since 2003. The prestigious award is given to a distinguished individual from the world of scholarship, science, entertainment, and education.

The previous recipients of this prestigious award include English- American intellectual, social critic, writer, and philosopher Christopher Hitchens and American TV Host, political commentator and comedian Bill Maher.
Foot Notes: About the Richard Dawkins Award
Richard Dawkins is an annual award that has been presented by the Atheist Alliance of America. In 2019, it moved to the Centre for Enquiry. The award has been presented since 2003 and has been named after Richard Dawkins. He is an English evolutionary biologist who was named as the world's top thinker in 2013 reader's poll of the prospect magazine.
7. Ms. Jaya Jaitly to head the Task Force formulated to examine matters pertaining to age of motherhood, and related issues
Central Government of India has formulated a task force to examine matters pertaining to age of motherhood, imperatives of lowering MMR, improvement of nutritional levels and related issues. It will be headed by Ms. Jaya Jaitly.

The Task Force will be provided secretarial assistance by the NITI (National Institution for Transforming India) Aayog and will submit its report by 31st July, 2020.
Foot Notes: About NITI Aayog:
Formulation: 2015
Chairperson: Narendra Modi
Chief Executive Officer (CEO): Amitabh Kant
Headquarter: New Delhi
8. UNADAP appoints 13 year old Madurai girl Nethra as 'Goodwill Ambassador to the Poor'
The United Nations Association for Development And Peace(UNADAP) appointed 13 year old Madurai girl Nethra as its 'Goodwill Ambassador to the Poor' as she persuaded her father C. Mohan, a salon owner who spent his savings Rs 5 lakhs for his daughter's education. Also, helping with essentials to nearly 1,500 families despite his salon being closed for 2 months as part of COVID-19 lockdown with no other income during the period.

Nethra will speak at the United Nations(UN) conferences in New York and in Geneva addressing Civil Society forums and conferences. She was awarded a Dixon Scholarship amounting to Rs 1 Lakh.

Prime Minister Narendra Modi during his Mann ki Baat programme appreciated Nethra and her family.
Foot Notes: About UNADAP
It is an organisation run by former Diplomats, International civil servants, political ministers, and anti-corruption activists, championing world leaders to Integrity, Justice Peace for community capacity building
Executive Director: Dominic Dixon
Chair of Board of Governors: Xavier Fernandes
9. Former Indian footballer Hamza Koya died of COVID-19 in Kerala
Former Indian footballer Hamza Koya has died of COVID-19 in Kerala. He was a former football player who had represented Maharashtra at the Santosh Trophy and also an India team member in Nehru trophy.

The deceased is a native of Parapanagadi, who had returned from Mumbai recently and passed away in Manjeri Medical College in Malappuram.
10. India gears up to set up first Coal trading Exchange
India will soon be setting up a coal trading platform as it gears up to bring in commercial mining in the coal sector. Under the proposal, the entire coal produced in the country will be traded on a platform called 'Coal Exchange'.

Coal Exchange will be an online coal trading platform where the pricing will be determined in a transparent manner on the basis of demand and supply.

The setting up of India's first coal trading platform is significant as it paves the way for the entry of multiple buyers and sellers in the coal sector. The coal ministry is likely to start auctions for commercial coal mining on June 11.
Foot Notes:
Minister of Coal: Piyush Goyal