Current Affairs 6 & 7 June 2020
Current Affairs 6 & 7 June 2020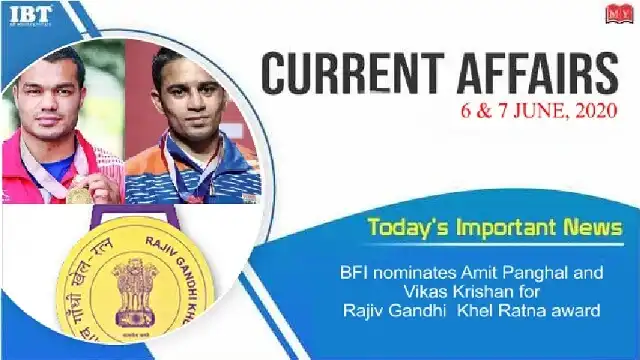 1. Finance Ministry said, No new schemes for a year due to rising COVID-19 cases
The finance ministry announced that the remainder of this year will see no new schemes till March 31.This move aimed at tightening the spending even as the country is witnessing an uptick in coronavirus cases.

The ministry said only the ones sanctioned and announced under the Atmanirbhar Bharat Abhiyan and other special packages will be attended to. The schemes already approved under the Budget will also stay suspended till March 31.

On May 22, Reserve Bank of India (RBI) governor Shaktikanta Das said the Covid-19 pandemic will likely lead to a contraction in India GDP in the financial year 2020-21.
Foot Notes: About Finance Ministry
Union Minister: Nirmala Sitharaman
2. Centre accepts Punjab's proposal to convert stretch of Delhi-Amritsar-Katra Expressway to Greenfield Project
Union Minister for Road Transport and Highways Nitin Gadkari accepted the Punjab state government's demand for including Amritsar in an expressway project that will connect Delhi and Katra, Jammu & Kashmir.

In this regard, a Greenfield connectivity will be developed in Punjab stretch of Delhi-Amritsar-Katra expressway to Amritsar City from Nakodar in Jalandhar (Punjab) via five historic towns of Sultanpur Lodhi, Goindwal Sahib, Khadoor Sahib and Tarn Taran.
Foot Notes: About Punjab
Capital– Chandigarh
Chief Minister– Captain Amarinder Singh
Governor: V.P. Singh Badnore
3. India loses 750 tigers during last eight years ; Madhya Pradesh reports maximum causalities
In accordance with the official data provided by National Tiger Conservation Authority (NTCA) as a reply to RTI (right to information) query, 750 tigers have died in the country in the last eight years i.e. between 2012 and 2019 due to poaching and other causes.

The state of Madhya Pradesh has topped these figures with highest casualities at 173. 38 were due to poaching, 94 natural deaths, 19 under scrutiny, six due to the unnatural causes and 16 seizures.

Notably, Madhya Pradesh has the highest number of 526 tigers in the country.

Maharashtra has reported second highest deaths, as it lost 125 big cats during this period followed by 111 in Karnataka, 88 in Uttarakhand, 54 each in Tamil Nadu and Assam, 35 each in Kerala and Uttar Pradesh, 17 in Rajasthan, 11 in Bihar and West Bengal and 10 in Chhattisgarh. 7 each such deaths were reported in Odisha and Andhra Pradesh, 5 in Telangana, 2 each in Delhi and Nagaland, and one each in Andhra Pradesh, Haryana and Gujarat.
Foot Notes: About Madhya Pradesh
Capital– Bhopal
Chief Minister– Shivraj Singh Chouhan
Governor: Lalji Tondon
About NTCA (National Tiger Conservation Authority):
Chairperson– Prakash Javadekar
Headquarter– New Delhi
4. India launches Nagar Van project to create urban forest in 200 cities
On World Environment Day, India has launched 'Nagar Van' an ambitious project to create urban forest cover which will act as green lungs in 200 cities across the country.

The "Nagar Van (Urban Forests)" programme has been launched with 200 corporations and cities across India. During the launch of the programme, the Union Environment Minister Prakash Javadekar urged people to actively participate and increase the tree cover in their areas.

The "Nagar Van" programme aims to develop 200 Urban Forests across India in next five years with the help of people's participation and collaboration between the Forest Department, Municipal bodies, NGOs, Corporates and local citizens.
5. HDFC Bank launches summer treats to meet post lockdown needs
HDFC Bank has recently launched "Summer Treats" campaign. The special campaign has been launched by the bank with the easing of the lockdown restrictions in order to provide offers to both merchants and, salaried and self-employed customers.

Under the "Summer Treats" campaign, bank will offer no cost EMI and no down payment for large appliances.

It will also offer discounts and cashbacks on select brands along with 50% extra reward points on online spend using credit cards.
Foot Notes: About HDFC
CEO: Aditya Puri
Headquarters: Mumbai
Founded: August 1994, India
6. BFI nominates Amit Panghal and Vikas Krishan for Rajiv Gandhi Khel Ratna award
World silver-medallist and Indian boxer Amit Panghal and Vikas Krishan were nominated for the Rajiv Gandhi Khel Ratna award by the Boxing Federation of India (BFI).

BFI has nominated world bronze-winning trio of Lovlina Borgohain under 69kg, Simranjit Kaur under 64kg, and Manish Kaushik under 63kg for the Arjuna awards. BFI has finalized and nominated the names of national women's coach Mohammed Ali Qamar and assistant coach Chhote Lal Yadav, for the Dronacharya awards.

The athletes and coaches nominations are based on performance during the last four years.
Foot Notes:About BFI (Indian Boxing Federation):
Headquarters : New Delhi
President : Ajay Singh
Founded : February 25, 1949
7. Scientists from CeNS develops low-cost catalyst for hydrogen generation from water
Scientists from The Centre for Nano and Soft Matter Sciences (CeNS), have found out a low cost and efficient way to generate hydrogen from water using Molybdenum dioxide as a catalyst.

The scientists have shown that Molybdenum dioxide (MoO2) nanomaterials annealed in the hydrogen atmosphere can act as efficient catalysts to reduce the energy input to bring about water splitting with great efficiency.

Electrolytic splitting of water is a promising method to generate hydrogen but requires energy input that can be brought down in the presence of a catalyst.
Foot Notes:About CeNS (Centre for Nano and Soft Matter Sciences):
Headquarters: Bengaluru
Director: Giridhar U. Kulkarni
8. Russia declares state of emergency after massive fuel spill in Arctic Circle
Russian President Vladimir Putin declared a state of emergency after a massive fuel spill in the Arctic Circle. At least 20,000 tonnes of diesel leaked from a power plant in Norilsk last week and spilled into the Ambarnaya River in Siberia, making it turn red.

Russia has imposed a state of emergency in the region, as emergency workers and maritime clean-up specialists are putting in intensive efforts to clean up the fuel spill.

The major diesel spill reportedly took place after a fuel tank at a power plant ruptured in the Siberian city of Norilsk. The city is located above the Arctic Circle in north-central Russia.
Foot Notes: About Russia
President: Vladimir Putin
Capital: Moscow
Currency: Russian Rouble
Prime Minister: Mikhail Mishustin
9. SBI creates separate vertical FI&MM to drive MSME and Agriculture Finance
State Bank of India (SBI), the country's largest lender has created a separate Financial Inclusion and Micro Market (FI&MM) vertical within the bank with an exclusive focus to provide financial services to people in the interior of the country. The new wing will be headed by deputy managing director (DMD) Sanjeev Nautiyal at the national level.

Under this new category, the bank will mainly finance agriculture and allied activities and Micro, Small and Medium Enterprises (MSMEs). Over 8000 branches in rural and semi-urban areas have been identified for this purpose. Emphasis has been placed on improving the rural, semi urban, urban and metro areas with over 63,000 customer service points.

This initiative by SBI will pave the way to cater the credit flow in to the micro-finance sector as it is hardly hit by the coronavirus (COVID-19) pandemic & it will lead to better utilisation of banking correspondent (BC) model.
Foot Notes: About State Bank of India (SBI)
Formation– 1 July 1955
Headquarters– Mumbai, Maharashtra
Chairman– Rajnish Kumar
Tagline– The banker to every Indian
10. Former Delhi Police commissioner Ved Marwah passed away
Former Delhi Police commissioner Ved Marwah passed away. He was 87 years old. The former Governor of Mizoram, Manipur, and Jharkhand also served as the director-general of the National Security Guard (NSG), and as an adviser to governors in J&K and Bihar.