Current Affairs 31 January 2023
Current Affairs 31 January 2023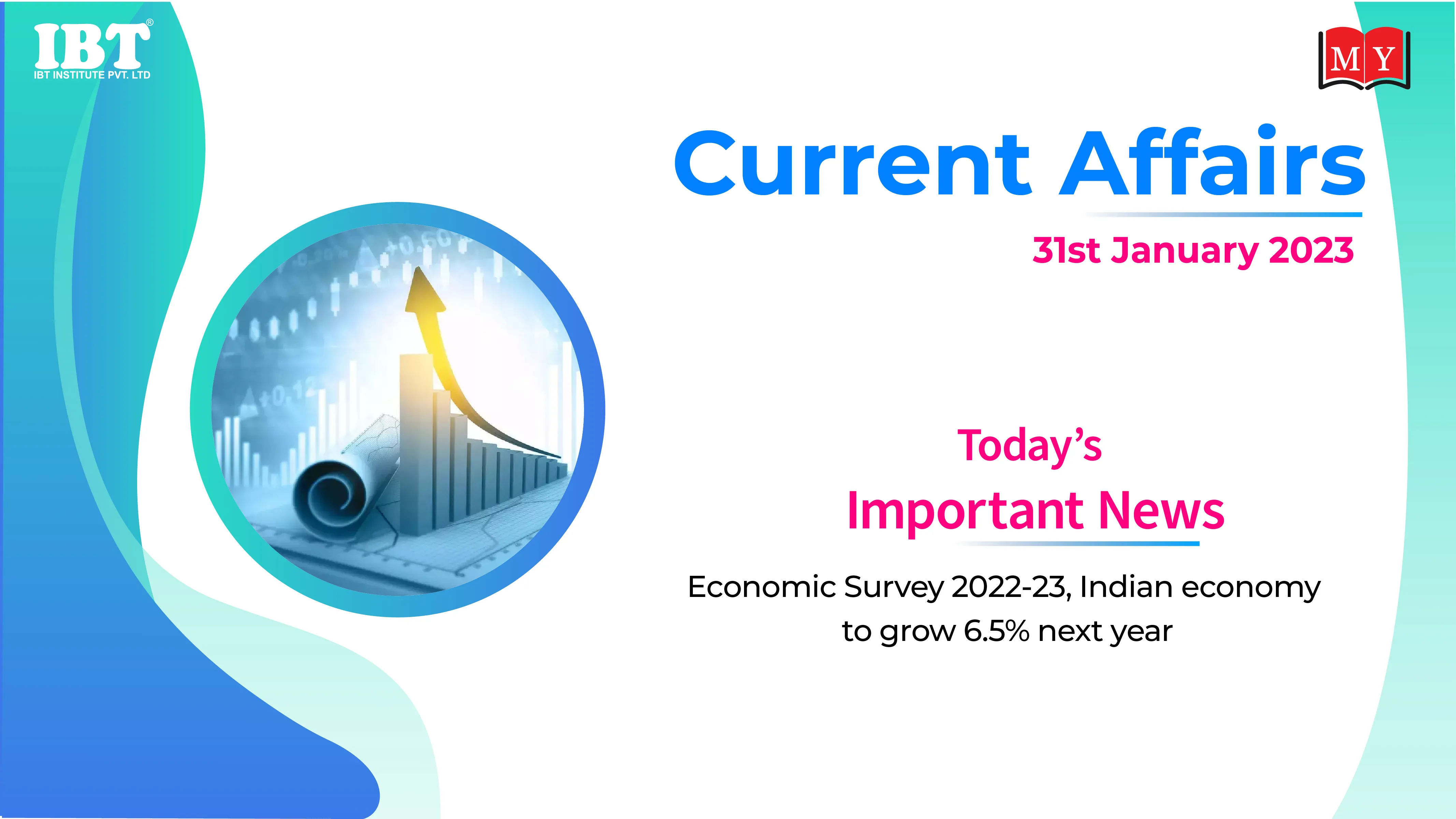 1. Economic Survey 2022-23, Indian economy to grow 6.5% next year
The Economic Survey for 2022-23 has pegged India's GDP growth for the next fiscal 2023-24 in a broad range of 6-6.8 percent. The Survey's baseline forecast for real GDP growth is 6.5 per cent.

The Survey was tabled by Finance Minister Nirmala Sitharaman in Parliament . Indian economy will grow 6% to 6.8% in the next financial year starting April 1, down from 7% projected for the current year, as a global slowdown is likely to hurt its exports. At that pace, India's economic growth next fiscal year will still be the fastest among major economies.
2. India's G-20 Sherpa Mr Amitabh Kant inaugurates India's first Model G-20 Summit
India's G-20 Sherpa Mr Amitabh Kant inaugurated India's first Model G-20 Summit organised by Rambhau Mhalgi Prabodhini's Indian Institute of Democratic Leadership.

The two-day Model G-20 Summit has been organised at the Rambhau Mhalgi Prabodhini's Uttan campus near Mumbai to celebrate India's presidency and take the idea of G-20 to the youth. Dr Vinay Sahasrabuddhe, President of ICCR and Vice Chairman of Rambhau Mhalgi Prabodhini chaired the inaugural ceremony.
3. Assam's Bioethanol Unit Will Be Set Up By October 2023
The minister of state for Petroleum and Natural Gas, Shri Rameswar Teli revealed that India's first ever bio-refinery unit for production of bioethanol from bamboo is expected to be set up by October 2023 in Assam.It will be the country's first unit for producing ethanol from bamboo.

He mentioned this while addressing the 'Evolve-2023', an international e-mobility and alternative fuels conference organised by the Kerala Motor Vehicles Department.
Capital : Dispur
Chief Minister : Himanta Biswa Sarma
Governor : Jagdish Mukhi
4. Chouhan declares Khelo India Youth Games open in Bhopal, 6,000 athletes to take part in 27 sports
Madhya Pradesh Chief Minister Shivraj Singh Chouhan inaugurated the fifth edition of the Khelo India Youth Games (KIYG) at a glittering function here, kick-starting a sporting extravaganza that will see participation from nearly 6,000 athletes from across the country in 27 disciplines.

The CM declared the Games open at the Tatya Tope stadium in the state capital Bhopal. "The Khelo India Youth Games will be historic in Madhya Pradesh," Chouhan said on the occasion.
Capital: Bhopal
Chief Minister: Shivraj Singh Chouhan
Governor: Raj Bhavan
5. Rashtrapati Bhavan's Mughal Gardens renamed as Amrit Udyan
The Mughal Garden, located within the grounds of the Rashtrapati Bhavan in New Delhi, is one of the most popular tourist attractions in the city.The garden, known for its beautiful flowers and lush green plants, has now been renamed Amrit Udyan and is set to open its doors to the public from January 31.

The President's secretariat has announced the opening date, ticket prices, and other details for visitors who want to explore the garden's beauty.The Mughal Garden, now known as Amrit Udyan, is a spectacular sight to behold.
6. Unilever appoints Hein Schumacher as new CEO
Unilever announced the appointment of Hein Schumacher as its new Chief Executive Officer, following an extensive, global search process. Hein will replace Alan Jope, who announced in September 2022 his intention to retire from Unilever.

Hein is currently CEO of the global dairy and nutrition business Royal FrieslandCampina and became a Non-Executive Director of Unilever in October last year. He will begin as Unilever CEO on 1 July 2023, after a one-month handover period.

Hein is a business leader with an excellent track record across multiple leading companies in the consumer goods industry. As CEO of Royal FrieslandCampina, an €11bn turnover business operating in over 40 countries, he has delivered significant portfolio and organisation change as part of transforming it into a more focused, growth-driven and sustainable business.
7. Air Marshal AP Singh To Be New Vice Chief Of Indian Air Force
Air Marshal A P Singh has been appointed as the new Vice Chief of the Indian Air Force. He will succeed Air Marshal Sandeep Singh, who will retire from service.

Air Marshal A P Singh is currently serving as the Air Officer Commanding-in-Chief of the Central Air Command. He was commissioned into the fighter stream of the IAF on December 21, 1984.Air Marshal A P Singh is an alumnus of National Defence Academy, Defence Services Staff College and National Defence College.
Headquarters: New Delhi
Founded: 8 October 1932
Commander-in-Chief: President Droupadi Murmu
8. UPSC recommends Rajeev Singh Raghuvanshi as next DCGI
Indian Pharmacopoeia Commission secretary-cum-scientific director Rajeev Singh Raghuvanshi has been recommended to be the next Drugs Controller General of India (DCGI).

The Union Public Service Commission (UPSC) conducted interviews for the appointment of the Drugs Controller General of India (DCGI). The UPSC conducted interviews for the appointment of the DCGI, with the top contenders being Dr. VG Somani, Dr Rajeev Singh Raghuvanshi, and Dr Jai Prakash.
Headquarter: New Delhi
Chairperson: Manoj Soni
Founded: 1 October 1926
9. Murali Vijay announces retirement from all forms of international cricket
Out-of-favour India player Murali Vijay announced he was retiring from international cricket.The right-handed batter who featured in 61 Tests, 17 ODIs and nine T20 Internationals last played for the country in the Perth Test against Australia in December 2018.His Test debut was against Australia in the 2008-09 season at Nagpur as a replacement for Gautam Gambhir.

He featured in first-class and List A cricket for Tamil Nadu late in 2019. As far as professional cricket is concerned, he last turned out for Chennai Super Kings in the Indian Premier League in 2020.
10. Optiver ambassador Anish Giri wins Tata Steel Chess Masters 2023
GM Anish Giri beat Richard Rapport in the last round of the Tata Steel Masters 2023 to win his first Tata Steel Masters event.

The 18-year-old GM Nodirbek Abdusattorov was the leader of the tournament until Round 12 but he lost against Jorden Van Foreest to tie second with Magnus Carlsen.2