Current Affairs 30 September, 2019
Current Affairs 30 September, 2019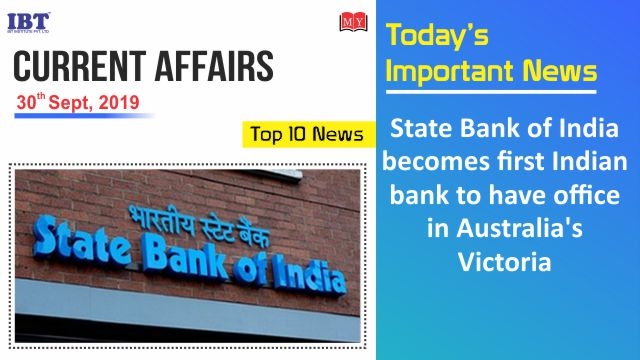 Current Affairs 30 September, 2019
1. International Astronomical Union names asteroid after Pandit Jasraj
The International Astronomical Union (IAU) has named an asteroid after Indian classical singer Pandit Jasraj. The asteroid formally known as a minor planet, is located between Mars and Jupiter.

It was discovered on November 11, 2006, by the Catalina Sky Survey. The privilege of naming a planet is first given to discoverers, who have 10 years to propose a name.

Sangeet Martand Pandit Jasraj is an exponent of Indian classical vocal music. Jasraj is the recipient of numerous awards, honours, and titles, including the prestigious Padma Vibhushan and the Sangeet Natak Akademi Award.
Foot Notes:
About International Astronomical Union
1. Headquarters: Paris, France
2.Founded: 28 July 1919
3. President: Ewine van Dishoeck
4. General Secretary: Maria Teresa Lago

2. KAZIND-2019 Joint Military Exercise between India and Kazakhstan conducted at Pithoragarh
Joint Military Exercise KAZIND-2019 between India and Kazakhstan will be conducted at Pithoragarh, Uttarakhand. The exercise will comprise of nearly 100 soldiers from both Indian and Kazakhstan Army who would be sharing their experience gained during conduct of various counter-insurgency and counter-terrorism operations in the past.

Exercise KAZIND-2019 is the 4th edition of an annual event which is conducted alternatively in Kazakhstan and India. The aim of this exercise is to conduct company level joint training with an emphasis on counter-terrorism operations in mountainous terrain.

During the exercise, aspects of emerging trends of global terrorism and hybrid warfare have also been included. The joint military exercise will enhance the level of defence cooperation further fostering bilateral relations between the two nations.
Foot Notes:
About Kazakhstan
1. PM: Askar Mamin
2. Capital: Nur-Sultan
3. Currency: Kazakhstani Tenge.
3. India Today's Kalli Purie named one of India's most powerful women in media
India Today Group Editorial Director for Broadcast and New Media Kalli Purie was honoured as one of India's most influential women in media, marketing and advertising.

It is noteworthy, that only two weeks back, she was also honored with the 'Outstanding Media & Entertainment Award' at the annual 21st Century Icon Awards in London.
4. Deepak Punia ranked world's best wrestler in 86 kg category, Bajrang loses top rank
Deepak Punia has been ranked world number one in 86 kg category in the latest rankings issued by the International Wrestling Federation. Bajrang Punia, on the other hand, lost his top rank in the 65kg category.

Deepak Punia is also one of the four Indian wrestlers to have secured their place at the 2020 Tokyo Olympic Games. He currently has 82 points, four more than the previously top-ranked wrestler, Hasan Yazdani from Iran.

In other categories, Ravi Dahiya entered the top 5 ranking list in the 57 kg category, while Rahul Aware was pushed to the second rank with his bronze in the World Championship.
5. Veteran Bollywood actor, Viju khote passed away in Mumbai, Maharashtra
Bollywood veteran actor Viju Khote, best known for playing the role of 'Kalia' in the film Sholay, has passed away at his home in Mumbai , Maharashtra due to multiple organ failure.

He was 77.Bollywood actor, Viju khote passed away. Born on 17 December 1941, khote was most remembered for his work in more than 440 films in Hindi and Marathi cinema.

The several popular feature films that Khote was a part of also included , Robert in Andaz Apna Apna (1994), Maan Singh in Qayamat Se Qayamat Tak (1988),Shirish Appa in Ventilator (2016) & TV (Television ) show Zabaan Sambhalke (1993).He was the brother of Bollywood's famous actress Shubha Khote.
Foot Notes:
About Maharashtra
1. Capital: Mumbai
2. Governor: Bhagat Singh Koshyari
3. Chief Minister:Devendra Fadnavis
6. Suresh Chitturi appointed International Egg Commission chief
Suresh Chitturi, Vice Chairman and Managing Director of India's leading poultry firm Srinivasa Farms, has been appointed as chairman of the International Egg Commission(IEC) for the next two years.

The appointment was made at the IEC Global Leadership Conference in Copenhagen in Denmark.

He will be the first chair from Asia in the history of the institution, as he assumes the role of the Chairman of IEC.
Foot Notes:
About International Egg Commission
1. International Egg Commission(IEC) Founded: 1964.
2. International Egg Commission(IEC) Headquarters: United Kingdom.
7. State Bank of India becomes first Indian bank to have office in Australia's Victoria
State Bank of India opened its Melbourne office to become the first Indian bank to have a branch in the Australian state of Victoria. The Melbourne office will assist the growing trade and investment relations between Victoria and India and is the outcome of the state's 10-year India Strategy our shared future. This investment by India's largest commercial bank is a testament to our thriving financial services sector and our highly skilled workforce.

The two-way merchandise trade between Victoria and India was to the tune of 1.76 billion Australian dollars in 2018. The presence of leading Indian businesses, including Cipla, Cyient, HCL, Infosys, Ramco, Samvardhana Motherson Group, TCS, Tech Mahindra, Ugam Solutions, Wipro, Zoonga and Zomato.Victoria's financial sector employs more than 122,000 people and generates around 40 billion Australian dollars every year.
Foot Notes:
About State Bank of India
1. Chairperson: Rajnish Kumar
2. Headquarters: Mumbai
8. Justice Rajendra Menon will be the new Chairperson of Armed Forces Tribunal
Justice Rajendra Menon will be the Chief Justice of India (CJI) Ranjan Gogoi as the Chairperson of the Armed Forces Tribunal (AFT).

Justice Rajendra Menon is the former Chief Justice of Delhi High Court. The current Chairperson Justice Virender Singh is retiring on October 6.

The provisions of Finance Act related to the appointment procedure to members of The Tribunals is under challenge delayed until the matter is decided.
Foot Notes:
About Armed Forces Tribunal
1. The AFT has a power of adjudication or trial of disputes and complaints with respect to appointments, commission, enrolments and conditions of services.
2. Established in : 2009 under the Armed Forces Tribunal Act 2007 at New Delhi.
3. Members: Retired High Court Judges are judicial members of the AFT.
9. Book titled "Lal Bahadur Shastri: Politics and Beyond" authored by Sandeep Shastri set to be released
Book titled "Lal Bahadur Shastri: Politics and Beyond" authored by political analyst Sandeep Shastri commemorating Late Shastri's 113th birth anniversary on October 2, 2019 is set to be released.

It is published by Rupa Publications. It depicts the early influences, political associations and historical decisions of Lal Bahadur Shastri, India's second prime minister.
Foot Notes:
About Lal Bahadur Shastri -2nd Prime Minister of India
1. Born: 2 October 1904, Mughalsarai
2. Died: 11 January 1966, Tashkent, Uzbekistan
3. Nickname: Man of Peace
4. Party: Indian National Congress
5. Books: Selected Speeches of Lal Bahadur Shastri, June 11, 1964 to January 10, 1966
10. International Translation Day is observed on 30 September
International Translation Day observed in bringing nations together, contributing to the development and strengthening world peace and security. This day provides a great opportunity to spotlight the important work of translators, interpreters and others in the language service industry.
Theme
The theme of International Translation Day 2019 is "Translation and Indigenous Languages".
Aim:
It focuses on the indigenous languages that are in danger of disappearing. As it is important to preserve and protect the languages of millions of indigenous people around the world. Languages for indigenous people are an integral part of their culture. And it is said that when a community loses its language, it is on the way to lose its culture too.