Current Affairs 30 July, 2019
Current Affairs 30 July, 2019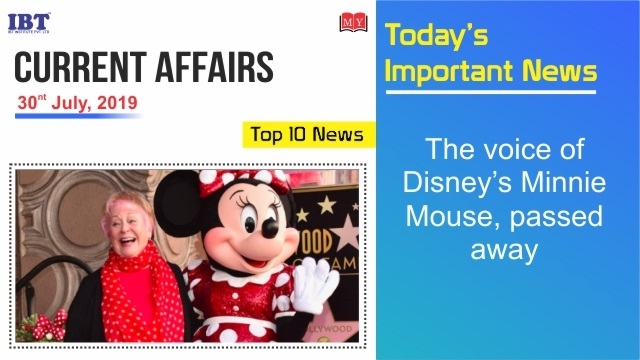 1. J&K District Administration Udhampur launches helpline "Jeene Do"
Jammu and Kashmir, District Administration Udhampur has launched a helpline, "Jeene Do".

The objective is to improve sex ratio and deal with defaulters of Pre-Conception and Pre-Natal Diagnostic Techniques PCPNDT Act under the Centrally sponsored Beti Bachao Beti Padhao scheme.

A Mobile Number 9469793363 has been dedicated to the public to register complaints regarding sex determination during prenatal checkups.
Foot Notes:
About Jammu & Kashmir
Governor of Jammu & Kashmir: Satya Pal Malik.
2. India signs MoUs with Benin
India and Benin signed four MoUs on education, health and e-visa facilities.

The signing of the agreement on mutual exemption of visa requirement for holders of diplomatic and official passports and agreement on the fresh line of credit of 100 million US dollars by India to finance development projects in Benin.

Benin also extended its support for India's candidature for permanent membership of UN Security Council.
Foot Notes:
About Benin
President of Benin: Patrice Talon
Capital of Benin: Porto-Novo.
Currency of Benin: West African CFA franc.
3. DD News received "Champions of Empathy Award" for spreading awareness about hepatitis
DD News(Doordarshan), a 24*7 terrestrial cum satellite News Channel of India has awarded "Champions of Empathy Award" for spreading awareness about hepatitis.

Mayank Agrawal, Director General of DD News has received the Award from Lok Sabha Speaker Om Birla.

Agrawal stated that it is the responsibility of DD News to aware people about various diseases and preventives by showing health-related programs, reports, and policies that help to spread awareness towards health in society.
Foot Notes:
About Hepatitis:
Hepatitis name has derived from the Greek word 'Hepar' meaning liver and 'itis' meaning inflammation. Thus, it is a medical condition in which inflammation occurs in liver cells and its complications vary withthe type of infection. It is mostly caused by a group of viruses called hepatitis viruses. There are 5 types of hepatitis viz. A, B, C, D, and E. Each type is caused by a different hepatitis virus.
4. Scientists from IIT Hyderabad developed an eco friendly solar cell using kumkum dye- DSSC
Scientists from the Indian Institute of Technology (IIT) Hyderabad developed a low-cost, environment-friendly solar cells named Dye-sensitised solar cell (DSSC) by employing an off-the-shelf dye used to make kumkum or vermilion.

DSSC is based on New Fuchsin (NF) dye with aqueous electrolyte and platinum-free counter electrodes.The research was published in the Solar Energy Journal.

The research was led by Professor Sai Santosh Kumar Raavi from the Department of Physics, Indian Institute of Technology (IIT) Hyderabad.
5. ICC officially launches WTC
International` Cricket Council (ICC) officially launched the inaugural World Test Championship (WTC). It will begin from August 1, 2019 where Australia and England will face each other in the Ashes. It will bring relevance and context to bilateral Test cricket over the next 2 years (2021).

WTC will comprise of the top 9 Test teams of the world- Australia, Bangladesh, England, India, New Zealand, Pakistan, South Africa, Sri Lanka and the West Indies.71 Test matches will be played across 27 series over two years. The top two teams will contest in the ICC World Test Championship final from June 14-20, 2021 in the United Kingdom (UK).

Points will be given for grabs during each match. Each team will play three home and three away series.Each series will count for 120 points, distributed over the number of matches in a series.

The matches will be played in the same format as bilateral series.The number of matches in each series can vary between a minimum of two matches to a maximum of five matches.The first cycle of the WTC consists of only five-day matches and will include day-night matches.
Foot Notes:
About ICC:
Motto: Cricket for good
Headquarters: Dubai, United Arab Emirates
Chairman: Shashank Manohar
CEO: Manu Sawhney
6. The voice of Disney's Minnie Mouse, Russi Taylor, passed away in Glendale, California, US
Veteran actor Russi Taylor, who voiced Disney's Minnie Mouse for more than 30 years, passed away in Glendale, California, US. She was 75. Born on May 4, 1944 in Cambridge, Massachusetts, she became the voice of Minnie Mouse in 1986.

She voiced for Martin Prince in The Simpsons, the cartoon character Strawberry Shortcake, Donald Duck's nephews- Huey, Dewey and Louie, in the original "Ducktales" animated series and filled roles in "TaleSpin" and "Kim Possible."She also played a part in different films and voiced for different TV shows & TV animated series.

She was named a Disney Legend in 2008.She was nominated for Annie Awards in 2005 & 2007 and Emmy Awards in the year 2006, 2007 & 2018.
Foot Notes:
About United States
Capital: Washington, D.C.
President: Donald Trump
7. World Day Against Trafficking in Persons: 30 July
United Nations observes 30 July every year as World Day Against Trafficking. In 2013, the General Assembly designated July 30 as the World Day against Trafficking in Persons to raise awareness of the situation of victims of human trafficking and for the promotion and protection of their rights.

On the 2019 World Day UNODC is focusing on highlighting the importance of Government action with a tagline:

Human Trafficking: call your government to action
Foot Notes:
About UN
Headquarters of the UN: New York, USA
Founded: 24 October 1945.
Secretary General of the United Nations: Antonio Guterres.
8. Dalilah Muhammad shatters 400m hurdles World record
Olympic champion Dalilah Muhammad shattered one of the longest standing records in women's athletics with a superb display to clinch victory in the 400m hurdles at US Championships.

Dalilah Muhammad took more than a tenth of a second off a record that had stood for 16 years, clocking 52.20 seconds to beat Russian Yuliya Pechonkina's previous mark of 52.34 seconds.
9. Former Andhra Pradesh state Minister Mukesh Goud passes away
Former Andhra Pradesh congress state Minister M. Mukesh Goud passed away. The Congress leader was suffering from cancer.

He served as BC Welfare and Marketing Minister in Y.S. Rajasekhar Reddy and Kiran Kumar Reddy Cabinets.
10. Former SC judge AK Sikri appointed as Ombudsman officer of Indian Federation of Sports Gaming
India's first and only Sports Gaming self-regulatory industry body, Indian Federation of Sports Gaming (IFSG) has appointed former Supreme Court(SC) judge, Justice A. K. Sikri, as its ombudsman and Ethics Officer.

He will have the responsibility of investigating queries & complaints raised by the users of the online fantasy sports gaming platforms and provide strategic council, resolve disputes brought forward regarding binding rules or financial discrepancies as well as steer hearings and make announcements for smooth operation and ease of functioning.

With sikri as Ombudsman of IFSG, it will be able to frame strong industry benchmarks with great governance protecting its 8crore users and 32 operators interests and create standardized best practices.

IFSG has already emerged as India's 1st Gaming Unicorn (Dream11) and it has the great potential to reach over 10 crore users by 2020.
Foot Notes:
About IFSG
President: John Loffhagen
CEO: Anwar Shirpurwala