Current Affairs 29 November 2022
Current Affairs 29 November 2022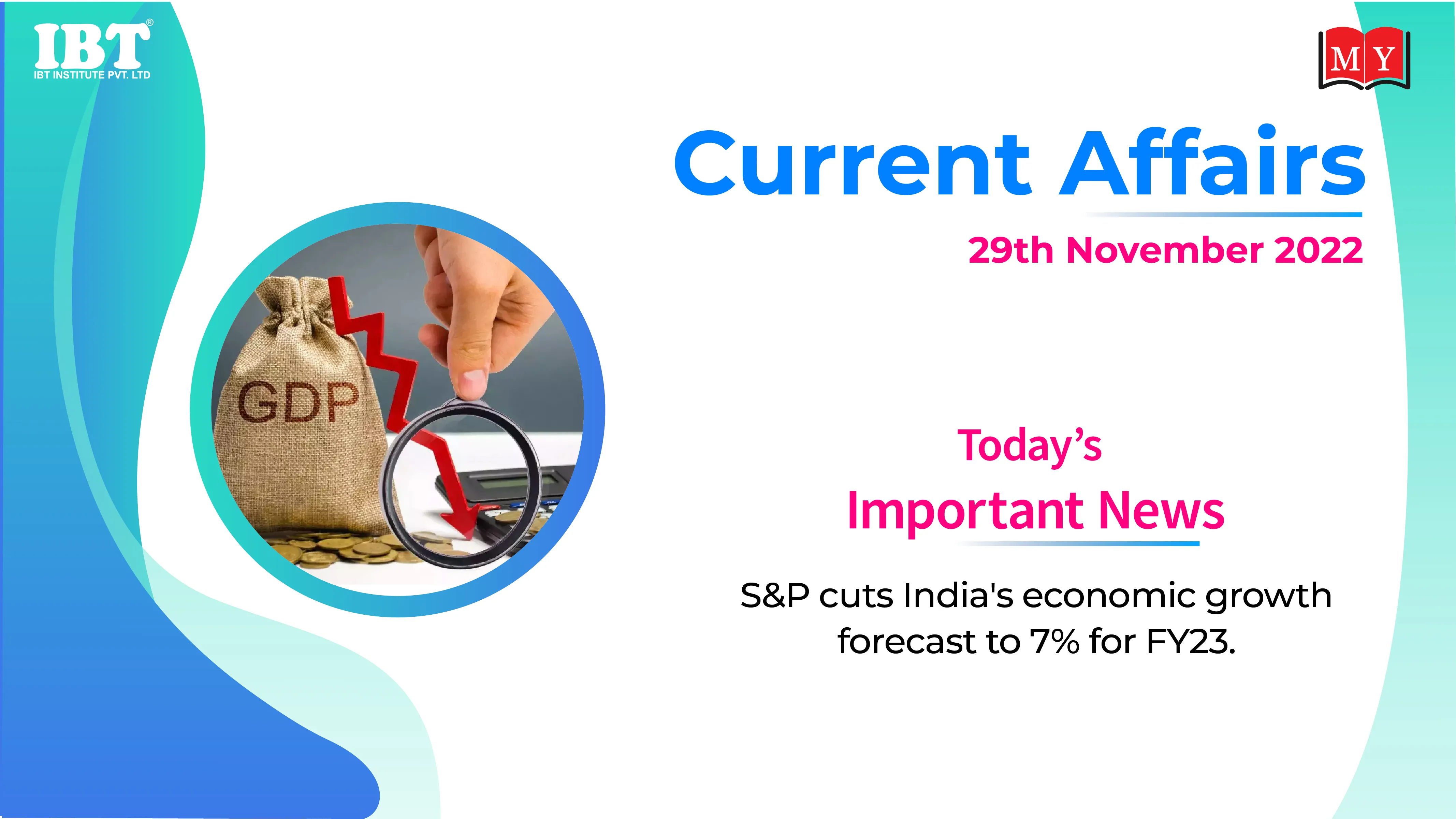 1. S&P cuts India's economic growth forecast to 7% for FY23
S&P Global Ratings cut India's economic growth forecast for current fiscal year to 7 per cent, but the domestic demand-led economy will be less impacted by the global slowdown. S&P had in September projected the Indian economy to grow 7.3 per cent in 2022-23 and 6.5 per cent in next fiscal year (2023-24).

The Indian economy grew 8.5 per cent in 2021. In its quarterly economic update for Asia-Pacific, S&P said in some countries the domestic demand recovery from Covid has further to go and this should support growth next year in India.
2. Uttarakhand CM launches Integrated development scheme for border villages
Uttarakhand Chief Minister Shri Pushkar Singh Dhami is set to launch a new scheme named 'Mukhya Mantri Pratham Gram Samekit Vikas Yojana' ((CM first village integrated development scheme)" to accelerate economic activities in Uttarakhand.

He made the announcement about starting the integrated scheme for the planned development of border villages at a review meeting of the Panchayati raj department.
Governor: Gurmit Singh
Chief Minister: Pushkar Singh Dhami
Capitals: Dehradun
3. Rajasthan govt launches new scheme gives a boost to businesses of Dalits
The Rajasthan government's Department of Industry and Commerce has launched the Dr Bhimrao Ambedkar Rajasthan Dalit, Adivasi Udyam Protsahan Yojana – 2022.

To ensure effective participation of Scheduled Castes (SCs) and Scheduled Tribes (STs) in the development of non-agricultural sectors (manufacturing, service and trade) of Rajasthan.Rajasthan is 7th in regard to India's GDP & its GDP has increased to around Rs 12 trillion.
Governor: Kalraj Mishra
Chief Minister: Ashok Gehlot
Capital: Jaipur
4. India to send helicopter unit to UN peacekeeping mission in Mali
India will send a helicopter unit to the UN peacekeeping operations in Mali, which is facing with a crisis as several countries have withdrawn or announced plans to withdraw from it, according to a UN spokesperson.

Bangladesh and Pakistan will each be sending an armed helicopter unit to the operation known as Multidimensional Integrated Stabilisation Mission in Mali.
Capital: Bamako
5. Telangana to get India's first Integrated Rocket Facility by Skyroot Aerospace
Industry and Commerce Minister of Telangana, K.T. Rama Rao expressed happiness while announcing that India's first Integrated Rocket Design, Manufacturing, and Testing Facility, by Skyroot Aerospace facility will be based in Telangana.

As per the state minister, he promised the startup's co-founders Pawan Chandana and Bharath Daka complete support for establishing the facility to design, manufacture and test rockets in Telangana.
Founded: 2 June 2014
Capital: Hyderabad
Governor: Tamilisai Soundararajan
Chief Minister: K. Chandrashekar Rao
6. Gurdeep Randhawa becomes first Indian to be appointed to a state presidium in Germany
Gurdeep Singh Randhawa, an Indian-origin German national, has been appointed to the Thuringia state Christian Democratic Union (CDU) party presidium.

Randhawa has been an active member of the CDU and has served in the party for several years now. His commitment to the party and hard work has been recognised by the CDU leadership and in August 2022, he was elected as the first representative of the Indian community in Germany.
Capital: Berlin
President: Frank-Walter Steinmeier
7. Sany Bharat signs MoU with Union Bank of India for Equipment Financing
Sany Bharat signed a Memorandum of Understanding (MoU) with the Union Bank of India to make equipment financing an easy, efficient, and simple process.

Dheeraj Panda, Chief Operating Officer (Sales, Marketing & Customer Support) Sany Heavy Industry India Pvt. Ltd.M. Minocha, Chief General Manager, Micro Small Medium Enterprise (MSME), Union Bank of India.
About Union Bank of India :
Founded : 11 November 1919
Headquarters : Mumbai
MD & CEO : A Manimekhalai
8. IIT Guwahati Director Professor TG Sitharam appointed as the new chairman of AICTE
IIT Guwahati Director, T G Sitharam has been appointed chairman of the All India Council for Technical Education (AICTE) for three years or till he attains the age of 65, whichever is earlier.

He replaced UGC chairman Jagadesh Kumar, who was holding the interim charge of the AICTE chairman after the retirement of Anil Sahasrabuddhe on September 1, 2021.T G Sitharam was a professor in the department of civil engineering at the Indian Institute of Science, Bangalore.
9. PT Usha Become First Women President of Indian Olympic Association
PT Usha was elected to become the president of the Indian Olympics Association (IOA). The Minister of Law and Justice of India announced on Twitter to congratulate the legendary Indian athletes. PT Usha becomes the first woman president of the IOA.

She also expressed her intentions to run for IOA on 26th November 2022. She was the only contender for the election of the top position in the sports organization.
10. Tamil writer Imayam selected for Kuvempu national award
Rashtrakavi Kuvempu Prathishtana Kuppali has selected Tamil poet V Annamalai aka Imayam for the Kuvempu National award for the year 2022 at the Kuvempu's 118th birth anniversary program on December 29 at Kuppali in Thirthahalli taluk.

'Kannada National Poet Kwembu Rashtriya Puraskar Award is presented annually in memory of the late poet Kwembu has been announced to Writer Institute for the Tamil language. The award carries a cash prize of Rs 5 lakh, a silver medal and a citation.