Current Affairs - 29 July 2021
Current Affairs - 29 July 2021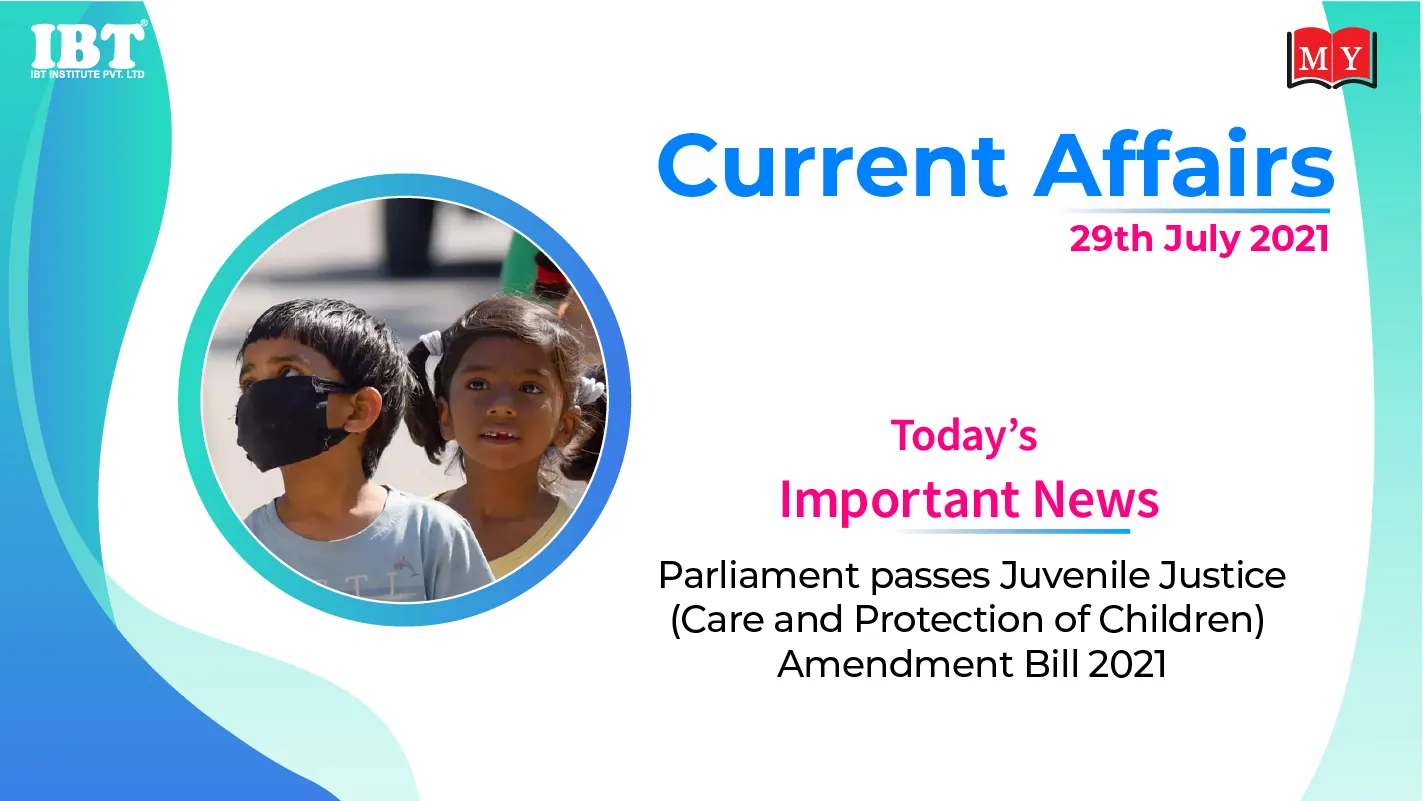 1.Parliament passes Juvenile Justice (Care and Protection of Children) Amendment Bill 2021
Parliament has passed Juvenile Justice (Care and Protection of Children) Amendment Bill 2021 to amend the Juvenile Justice (Care and Protection of Children) Act, 2015.

The amendments include:

Authorizing District Magistrate including Additional District Magistrate to issue adoption orders to ensure speedy disposal of cases and accountability.

Defining eligibility parameters for Child Welfare Committee members and categorizing undefined offences as serious offences.
2.International Tiger Day 2021: 29th July
International Tiger Day (Global Tiger Day) is observed every year on July 29 to raise awareness for tiger conservation

The day was introduced in 2010 at the Saint Petersburg Tiger Summit in Russia to put in place a global system for protecting the natural habitats of tigers

During the Summit, 13 tiger range countries came together to create Tx2 to double the wild tigers by 2022.

Theme for 2021 International Tiger Day celebration: Their Survival is in our hands.
3.Brazil garden Sitio Burle Marx receives UNESCO World Heritage status
Landscape garden in Brazil's Rio de Janeiro, Sitio Burle Marx site has been added to UNESCO's list of World Heritage sites

The garden features more than 3,500 species of plants native to Rio and is considered a laboratory for botanical and landscape experimentation

It has been named after Burle Marx, Brazilian landscape architect whose designs of parks and gardens made him world-famous

It is the 23rd Brazilian location recognized on UNESCO's list of World Heritage sites.
President: Jair Bolsonaro
Capital: Brasilia
Currency: Brazilian real
4.Indore selected for International Clean Air Catalyst Programme
Indore (Madhya Pradesh) or the cleanest city of India has become the only city from India to be selected for International Clean Air Catalyst Programme

Aim: to purify the air in the city with the cooperation of Indore Municipal Corporation and Madhya Pradesh Pollution Control Board.

Clean Air Catalyst: Flagship programme launched by US Agency for International Development (USAID) and led by World Resources Institute and Environmental Defense Fund (EDF).
5.IMF projects India's economic growth forecast for FY22 at 9.5%
IMF has sharply cut India's economic growth projection by 300 basis points, from 12.5% to 9.5% for the financial year 2021-22 (FY22)

Downward trend of GDP growth rate is due to lack of access to vaccines and possibility of renewed waves of coronavirus.

IMF has estimated the GDP of India at 8.5%, which is 160 basis points higher than its earlier projection of 6.9% for FY23 (2022-23)

IMF has projected 6.0% growth in 2021 and 4.9% in 2022 for global economy.
Managing Director: Kristalina Georgieva
Headquarters: Washington, D.C., U.S
Chief Economist: Gita Gopinath
Formation: 27 December 1945
6.Amit Shah inaugurates Greater Sohra Water Supply Scheme in Meghalaya
Union Home Minister Amit Shah along with Meghalaya CM Conrad K. Sangma has inaugurated Greater Sohra Water Supply Scheme at Sohra in Meghalaya

Sohra is also known as Cherrapunji.

Under this, pure drinking water will be provided through taps to Sohra Town and 12 other habitations close to Sohra in East Khasi Hills.

For this, govt will tap the stream sources of Wah Lyngksiar waterfall and Law Sanlait spring.

Apart from this, he also launched 'Sohra Afforestation Project'.
Capital: Shillong
Governor: Satya Pal Malik
Chief Minister: Conrad Sangma
7.Madhya Pradesh announces Ayush scheme named 'Devaranya Yojana'
Madhya Pradesh Govt has prepared Ayush-based economic up-gradation scheme named as Devaranya Yojana to bring together AYUSH and tourism to boost employment opportunities in tribal areas.

This scheme is launched for maximizing Ayurveda benefits in the scheduled tribal areas, increasing employment and livelihood opportunities in tribal-dominated areas.

Under this, medicinal and aromatic plants will be cultivated in the tribal-dominated areas, and industries.
Capital: Bhopal
Chief Minister: Shivraj Singh Chouhan
8.Assam CM lays foundation stone of Bamboo Industrial Park in Dima Hasao
Assam Chief Minister Himanta Biswa Sarma has laid the foundation stone of the first-ever Bamboo Industrial Park of the Northeast at Manderdisa in Dima Hasao, Assam

Bamboo Industrial project will be implemented by Ministry of Development of North Eastern Region at an estimated cost at Rs. 50 crores, over an area covering 75 hectares.

Once completed, it will contribute to the overall economic development of the State apart from developing the bamboo-based industries.
Chief Minister: Himanta Biswa Sarma
Capital: Dispur
Governor: Prof. Jagdish Mukhi
9.China's Yang Qian & Yang Haoran win gold in 1st mixed team 10m air rifle
People's Republic of China team comprising Yang Qian and Yang Haoran have won gold in the first mixed team 10m air rifle final, after defeating USA's Mary Tucker and Lucas Kozeniesky at Tokyo Olympics.

This is the second gold for Yang Qian, who won the first gold of Tokyo Olympics in the women's individual event

The teams were locked at 9-9 after 10 series, but the Chinese pulled away outscoring the Americans in three straight series and four of the last five.
Currency: Renminbi
Capital: Beijing
President: Xi Jinping
10.Arjuna Award-winning Badminton Legend Nandu Natekar passed away
Legendary Indian badminton player Nandu Natekar (88 years) passed away in Pune due to age-related ailments.

He won over 100 national and international titles for India in his career spanning 15 years.

He was the recipient of first Arjuna Award, instituted in 1961.

He won the Men's Singles title in the Selangor International Tournament in Kuala Lumpur to win the first international title by an Indian badminton player in 1956.