Current Affairs 29 July, 2019
Current Affairs 29 July, 2019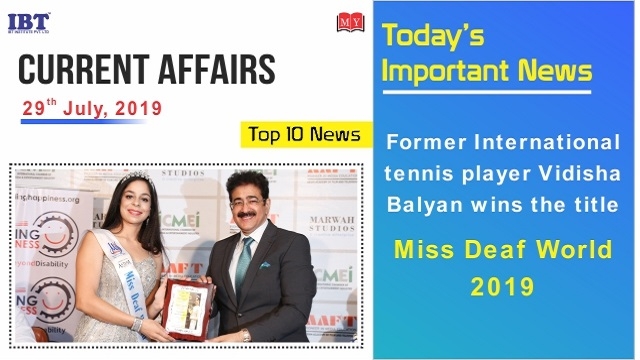 1. NITI Aayog partners with WhatsApp to promote women entrepreneurs
NITI Aayog and Facebook-owned WhatsApp, under the aegis of its Women Entrepreneurship Platform (WEP), have announced a partnership to support the growth of a robust ecosystem to promote women entrepreneurs in India.

WhatsApp, in collaboration with NITI Aayog, will announce an annual calendar of events aimed at capacity building of women entrepreneurs and develop specific programmes aimed at addressing challenges faced by women entrepreneurs.

The initiative would target the registered users of WEP.
Foot Notes:
About NITI Aayog
Formed: 1 January 2015
Objectives: Foster involvement and participation in the economic policy-making process by the State Governments of India
Jurisdiction: Government of India
Headquarters: New Delhi
CEO: Amitabh Kant
2. Lt Gen Paramjit Singh to be new DGMO of Army
Lt Gen Paramjit Singh, who has vast experience in counter-terror operations, will be the next Director General of Military Operations (DGMO) of the Indian Army.

Lt Gen Singh, currently serving as General Officer Commanding of the Army's Nagrota-based XVI Corps, will take over as the new DGMO on October, succeeding Lt Gen Anil Chauhan.
3. "Pink coaches" introduced for women by the Northeast Frontier Railway zone
As a new initiative that would enhance the security of women, the Northeast Frontier Railway (NRF) zone has introduced pink colored SLRcoach (second Class -cum- Luggage-cum Guard's Coach) for women. NRF Chief Public Relations Officer (CPRO)PranavJyoti announced that these pink coaches will help women passengers to identify their coach during rush hours.

Railway Police Force (RPF) and ticket checking staff will be deployed by the railway authorities to stabilize the new system. Initially a total of 8 trains in Rangiya district have begun the operations.
They are-
i. 6 trains between New Bongaigaon and Guwahati
ii. 2 trains between Rangiya and Murkongselek.
Foot Notes:
About Indian railways
The section 58 of the Railways act 1989 provides earmarking of accommodation for female passengers in trains.

Headquarters- New Delhi

Employees- 13,08,000

Headquarters- New Delhi

Railway minister- PiyushGoyal

Indian Railways is the world's largest employer by number of employees.
4. Bangladesh records highest level of Dengue cases in 18 years
According to Directorate General of Health Services (DGHS) of Bangladesh, 10528 patients were infected with dengue and nearly 700 more people were reported with dengue infection across Bangladesh. It is the highest in 18 years. Dengue cases in Bangladesh were first detected in the year 2000.

8 people were dead in the current spate of dengue outbreak.Dhaka Medical College and Hospital (DMCH) data revealed that out of 800 beds in the medicine department, 561 were occupied by dengue patients .

In 2018, a total of 10,138 Dengue patients were hospitalised.72 cases were reported in Dhaka division (except Dhaka city), 142 in Chittagong, 71 in Khulna, 40 in Rajshahi, 35 in Barisal and 13 in Sylhet division accounting for 373 cases.
Foot notes:
About Bangladesh:
Capital: Dhaka
Currency: Bangladeshi taka
Prime Minister: Sheikh Hasina
5. 7th Economic Census began from Tripura
7th Economic Census (EC) for the year 2019 which is conducted by the Ministry of Statistics and Programme Implementation (MoSPI) commenced from Tripura on July 29, 2019. It is held after a gap of 5 years. This is done to get a complete count of all economic units in India. After Tripura, it will be launched in Puducherry, and in other states and union territories in August and September, 2019.

Implementing Agencies: Common Services Centers (CSC) e-Governance Services India Limited, a Special Purpose Vehicle (SPV) formed under the Ministry of Electronics and Information Technology (MeITY), are the implementing agencies for the development of Information and Communications Technology (ICT) platform system and conduction of fieldwork for the 7th Economic Census.

Method: 7th EC will use technological interventions in the fieldwork and develop a nationwide Business Register for dynamic updation. The data will be collected through door to door survey of each household and commercial establishments under the provisions of Collection of Statistics Act 2008.

iv. Schedule: The fieldwork is expected to be completed by December and the results at the national level is expected to be available by March 2020.
Foot Notes:
About EC
It is the census of the Indian economy through counting all entrepreneurial units in the country which are involved in any economic activities of either agricultural or non-agricultural sector engaged in production and/or distribution of goods and/or services not for the sole purpose of own consumption.
6. Priya Priyadarshini Jain facilitated with "Indian Women of Influence" award
Social entrepreneur philanthropist and eminent fashionista Priya Priyadarshini Jain was conferred with the prestigious "Indian Women of Influence" award at the House of Lords, The United Kingdom Parliament, London.Priya Priyadarshini Jaini.

She was also one among the others featured in the coffee table book on '50 most influential Indian women worldwide' featuring top indian women like former Indian president PartibhaPatil, Nita Ambani, MP Caroline, HemaMalini, Shilpashetty.
Foot Notes:
About Indian Women of Influence Awards
The award recognises the power of Indian women residing in different parts of the world and it is presented by the Barons of the UK parliament.
7. Former International tennis player Vidisha Balyan from Uttar Pradesh wins Miss Deaf World 2019 title
21 year old VidishaBaliyan from Muzaffarnagar,Uttar Pradesh became the firstIndian, crowned Miss Deaf World 2019 which was held in Mbombela, South Africa. S

he is a former International tennis player who represented India in the Deaflympics.

Vidisha Balyan from Uttar Pradesh wins Miss Deaf World 2019 title Mr. Deaf World 2019 was won by South Africa's Phumelela Mapukata
Foot Notes:
Miss Deaf World

It is a beauty pageant award managed by the Miss & Mister Deaf World, a non profitorganisation ever since 2001

Official language- International Sign Language
First Miss Deaf World- Viktoriaprytychenko from Ukraine
8. North Korea successfully test fired two short range ballistic missiles off its East coast
North Korea successfully test fired two short range ballistic missiles off its east Coast. They were fired from mobile launch vehicles.

The first short-range missile, launched from Wonsan, a coastal town east of the capital, Pyongyang, flew 430 kilometers (267 miles), reaching a height of 50 kilometers (31 miles) before landing in waters between North Korea and Japan.

The second missile flew 690 kilometers (430 miles).
Foot Notes:
About North Korea:
Currency: Pyongyang
Capital: North Korean won
9. Former CM of Meghalaya Donkupar Roy passes away
Meghalaya Assembly Speaker and former Meghalaya Chief Minister Donkupar Roy passed away.

He was head of the United Democratic Party (UDP).
10. Former Gujarat MP Vitthal Radadiya passes away
Former Gujarat MP Vitthal Radadiya passed away. He was one of the Saurashtra's most prominent politicians and was former Member of Parliament from Porbandar in Gujarat.

Vitthal Radadiya also served as a director of IFFCO and was the chairman of the Rajkot District Co-operative Bank.