Current Affairs 28 November 2022
Current Affairs 28 November 2022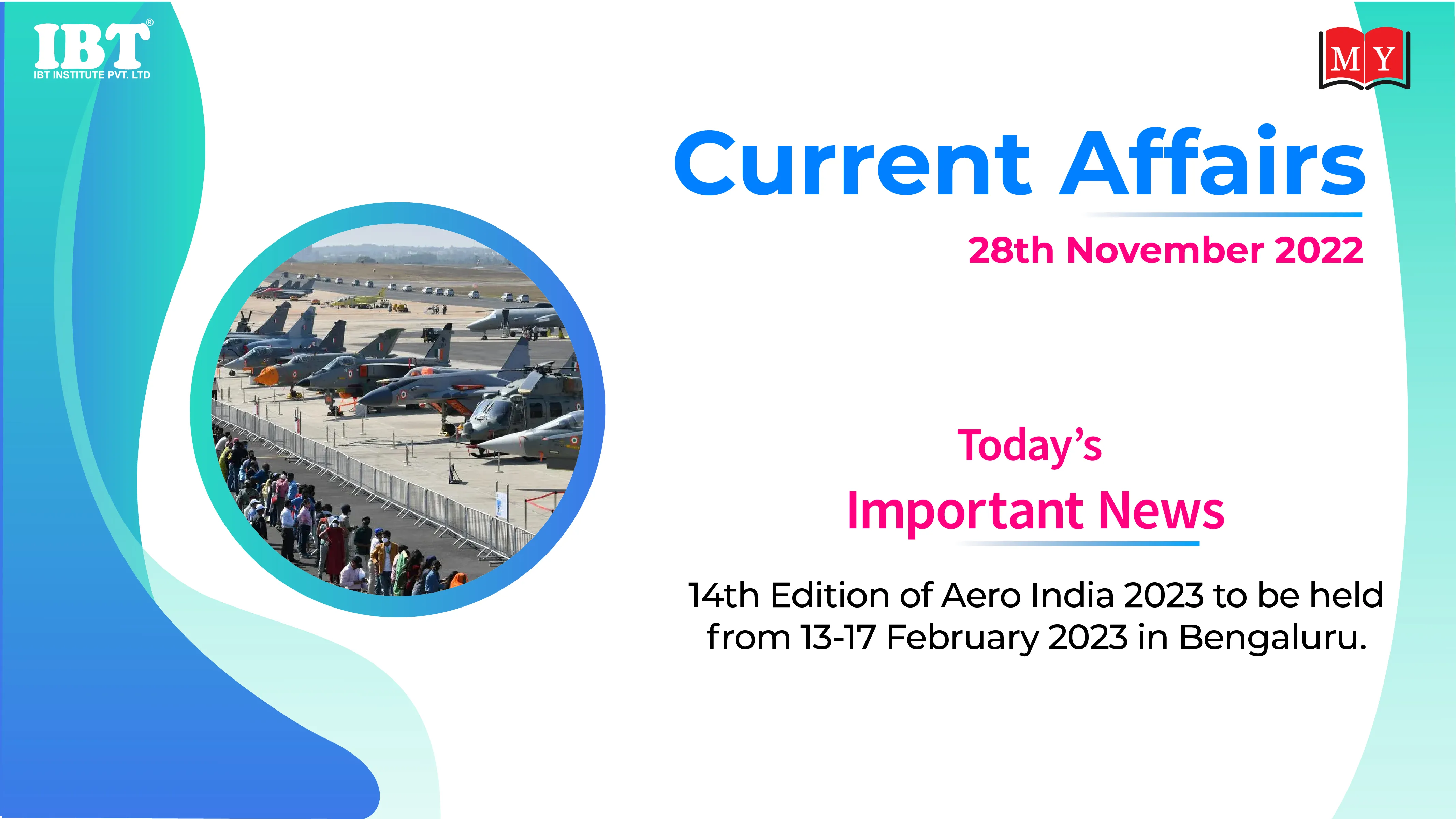 1. 14th Edition Of Aero India 2023 to be Held From 13-17 February 2023 in Bengaluru
The 14th edition of Aero India, Asia's largest aero show, will be held at the Yelahanka Air force Station in Karnataka's Bengaluru from February 13.

The 14th edition of Aero India, India's biggest airshow, will be held on schedule at its traditional location, Bengaluru's Yelahanka airbase from February 13 to 17, India's Ministry of Defence announced on November 27.
Capital: Bengaluru
Governor: Thawar Chand Gehlot
Chief Minister: Basavaraj Bommai
2. Odisha CM launches AMLAN, mission to eradicate anaemia
Odisha Chief Minister Shri Naveen Patnaik launched AMLAN (Anaemia Mukta Lakhya Abhiyan) a multi-pronged approach in a bid to ensure the complete eradication of the anaemia problem among women and children.

Several departments including Health and Family Welfare, School and Mass Education, Women and Child Development, Mission Shakti and Scheduled Tribes (ST), and Scheduled Castes (SC) Development Department will carry out the program.
Governor: Ganeshi Lal
Chief Minister: Naveen Patnaik
Capital: Bhubaneswar
3. India's first private Agri mandi set to come up in Nashik
The Sahyadri Farmer Producer Company (FPC) becomes the first company in India to bag the license for setting up a private agricultural mandi at Dindori, in Nashik district, Maharashtra.

The market will come up over the next three months at Rs 25 crore.The private agri-mandi will have a 100-acre dedicated market space integrated with world-class infrastructure, services from banking to storage, processing, and packaging under one roof, options for offline and online trading, legalization of field trade, and ownership of farmers.
Capital: Mumbai
Governor: Bhagat Singh Koshyari
Chief Minister: Eknath Shinde
4. U.S. Bans Sale of Telecom Equipment from Huawei, ZTE
The U.S. is banning the sale of communications equipment made by Chinese companies Huawei and ZTE and restricting the use of some China-made video surveillance systems, citing an "unacceptable risk" to national security.

It's the latest in a years-long escalation of U.S. restrictions of Chinese technology that began with former President Donald Trump and has continued under President Joe Biden's administration.
President: Joe Biden
Capital: Washington, D.C.
5. Egypt's President Abdel Fattah al-Sisi to Be Chief Guest at 2023 Republic Day Celebrations
Egypt's President Abdel Fattah al-Sisi will be the chief guest at the Republic Day celebrations in January.

This is the first time that the President of the Arab Republic of Egypt will be the Chief Guest at our Republic Day. PM Narendra Modi had sent a formal invitation to al-Sisi which was handed over to the Egyptian president by external affairs minister S Jaishankar on October 16.
6. Union Health Ministry appoints Deepa Malik as Nikshay Mitra ambassador
Union Health Ministry designated Padma Shri, Khel Ratna Arjuna Awardee and the President of the Paralympic Committee of India Deepa Malik as Nikshay Mitra ambassador in New Delhi on November 26.

Nikshay Mitra is an initiative under Pradhan Mantri TB Mukt Bharat Abhiyaan.Deepa Malik expressed her commitment to the TB Mukt Bharat (TB-free India) campaign, launched by Prime Minister Narendra Modi in March 2018.
7. Film 'Dear Diary' wins 53-Hour Challenge for 75 creative minds
Team Purple, with its newly minted "Dear Diary" was named the winner of the 75 Creative Minds of Tomorrow talent campus, a segment of the International Film Festival of India. The winning film "Dear Diary" told a story of a woman who is forced to confront her past trauma when she meets with her sister, who wants to visit the same venue where her abuse previously took place.

The films were judged by a three-member jury chaired by celebrated filmmaker Mani Ratnam along with CEO and Shorts TV founder Carter Pilcher and Armstrong Pame, deputy secretary (Films-I) at the Ministry of Information and Broadcasting.
8. Canada defeats Australia to claim first Davis Cup title
Felix Auger-Aliassime gave Canada an invincible 2-0 lead against Australia in Malaga , advancing his country to its first Davis Cup Finals victory by defeating Alex de Minaur 6-3, 6-4.

The World No. 6 won both of his singles and doubles matches to guarantee Canada a spot in the championship match, and he followed that up with a resounding victory over de Minaur. Auger-Aliassime won after firing 22 winners and maintaining composure in important situations in a match that lasted an hour and 42 minutes.
Capital: Canberra
Prime Minister: Anthony Albanese
9. Shri Dharmendra Pradhan Has Released India: The Mother of Democracy
In New Delhi, Union Education & Skill Development Minister Shri Dharmendra Pradhan launched the book India, The Mother of Democracy, which was prepared and published by the Indian Council of Historical Research (ICHR).

The book is an attempt to highlight the democratic attitude that has been instilled in India since the birth of civilization.This book demonstrates that India has been permeated with democratic ethos since the dawn of civilization.
10. Veteran Bollywood Actor Vikram Gokhale passed away
Veteran Bollywood actor Vikram Gokhale passed away recently at the age of 77. He was seen in many popular Bollywood movies like Hum Dil De Chuke Sanam, Mission Mangal, Aiyaary, Bhool Bhulaiya, and others.

For his contribution to Theatre acting, India's National Academy of Music, Dance and Drama, Sangeet Natak Akademi, conferred him with the Sangeet Natak Akademi Award in 2011. A veteran of screen and stage, Vikam Gokhale was a noted actor in Marathi theatre and cinema before making his debut in Hindi films at the age of 26 in Amitabh Bachchan-starrer Parwana (1971).